BEIRUT — Beirut's alleyways and streets are peppered in bright, detailed and provocative graffiti. Street artists use the medium, which exists in a legal grey area, to express their identity and give voice to political frustrations.
Lebanon's street art and its political roots are the subject of a new book "Drawing Lines," launched on Oct. 25 at the museum and cultural center Beit Beirut, followed by an Oct. 31 exhibition of the artists and photographers featured.
The book, authored by Tamara Zantout, founder of an online platform for urban design-turned-publisher called The Urban Fusion, documents the history of graffiti in Lebanon and how it has influenced and influences Lebanese identity.
Born in Lebanon, Zantout left for the United Kingdom during the civil war and was raised with a "nostalgic love" of her homeland.
On return to Beirut, she said she "lost that love" in the chaos of city life. To reconnect with her country, she began to investigate the notion of identity through the medium of graffiti, and she spent two years of interviewing artists and photographing graffiti.
Throughout the book political issues are a consistent subject for the street artists, and the art often addresses issues plaguing Lebanon.
"When you are talking about identity in this country, you have to touch on politics," Zantout told Al-Monitor, adding that the graffiti tends to be "intensely political without specifically referencing a political party … [or] this party against another."
The first instances of street art in Lebanon appeared during the civil war. Tags, simple artist signatures and the most basic form of graffiti, were common at this time, as the expertise and materials for more complex works were not available. Militias would tag areas of Lebanon to mark territory, and Zantout pointed out this is similar to how graffiti was used by gangs in 1960s New York.
Following the 2008 Doha agreement, the Lebanese government decided to erase and prohibit all graffiti that was deemed to favor a particular political faction or religious sect. However, artists have used this constraint to their advantage, overcoming the laws by addressing broad political issues.
Zantout explained, "The level of sectarian partisanship has served to benefit political patrons [and led] to the subservience of the people. What [street artists] are trying to achieve is a revolt from that, without breaking the law."
Said Mahmoud, a graffiti artist featured in "Drawing Lines," told Al-Monitor,"I think [the laws] get the best out of our creativity, to send a message without harassing someone. … To put the blame on the people is better than to put the blame on someone [specific]."
Mahmoud began to paint in the mid-2000s, while he was still in school. His interest in graffiti was piqued following the 2005 assassination of Lebanese Prime Minister Rafik Hariri, a "turning point for free speech in the country."
While honing his skills at university, Mahmoud and his partner Karim Tamerji were shocked by a spate of suicide bombings in Beirut from late 2013 to early 2014. These attacks spurred the young artists to create "Evolution" in the Verdun neighborhood of Beirut.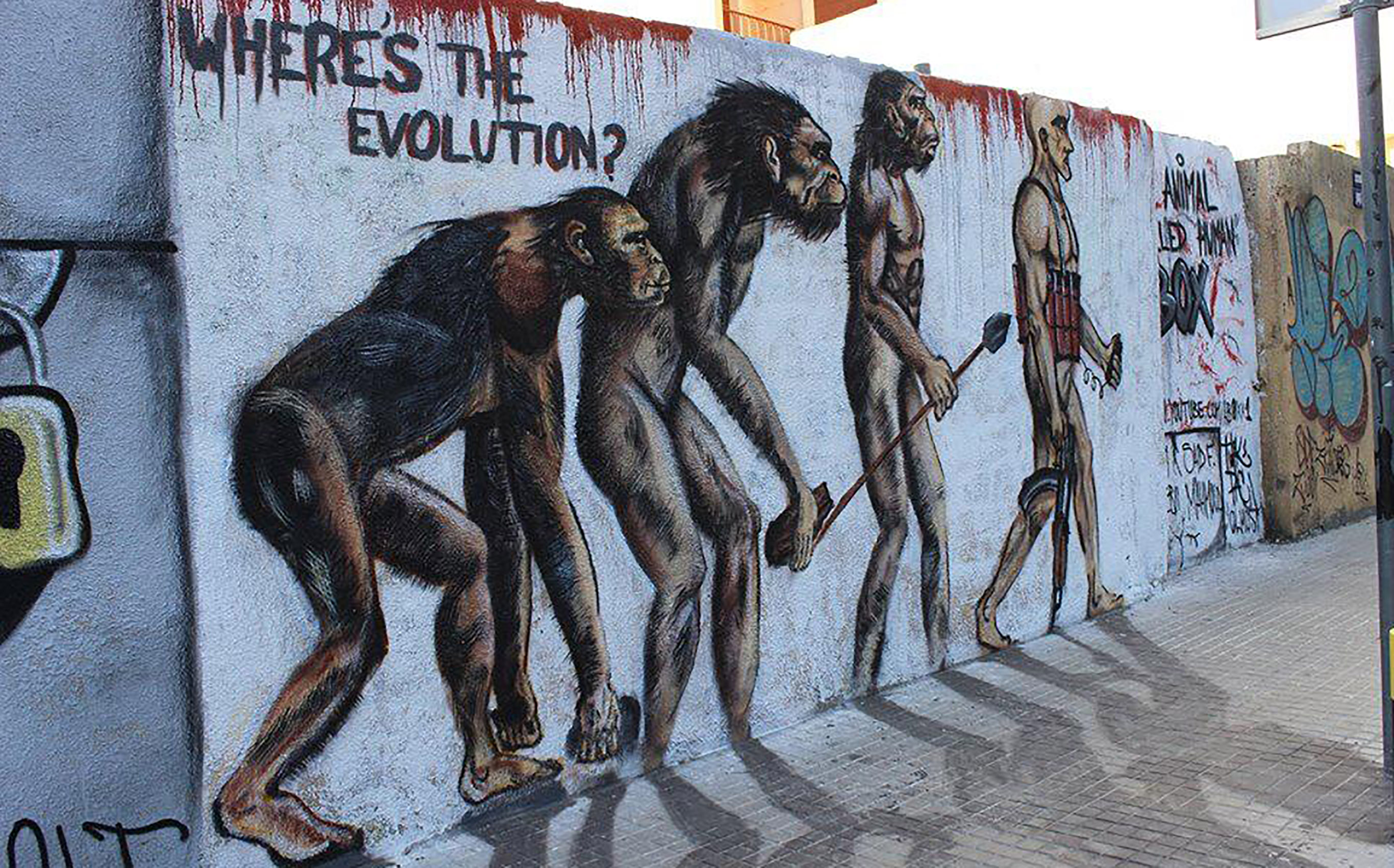 "Evolution"
Based on the illustration "The Road to Homo Sapiens," the final figure in Mahmoud's work is not modern man, but a suicide bomber. In the top left of the painting is a question "Where's the evolution?" Mahmoud told Al-Monitor, "There is no evolution if you blow yourself up; you are still an animal."
Within a week the artwork had a large X painted over it, and a message denouncing it not for its depiction of a suicide bomber but for its apparent endorsement of the theory of evolution. Mahmoud, who took care not to "characterize" the last figure as from any particular religion, was confused, saying "I think they didn't get the meaning." However, the work was quickly restored.
"It was a turning point for me," Mahmoud said, adding, "After the impact of that graffiti we wanted to draw again." In late 2014, they produced "Change What the Elders Couldn't," depicting an old man wearing a tarboush, a traditional Lebanese hat, locked in a pillory, a key painted on the pavement.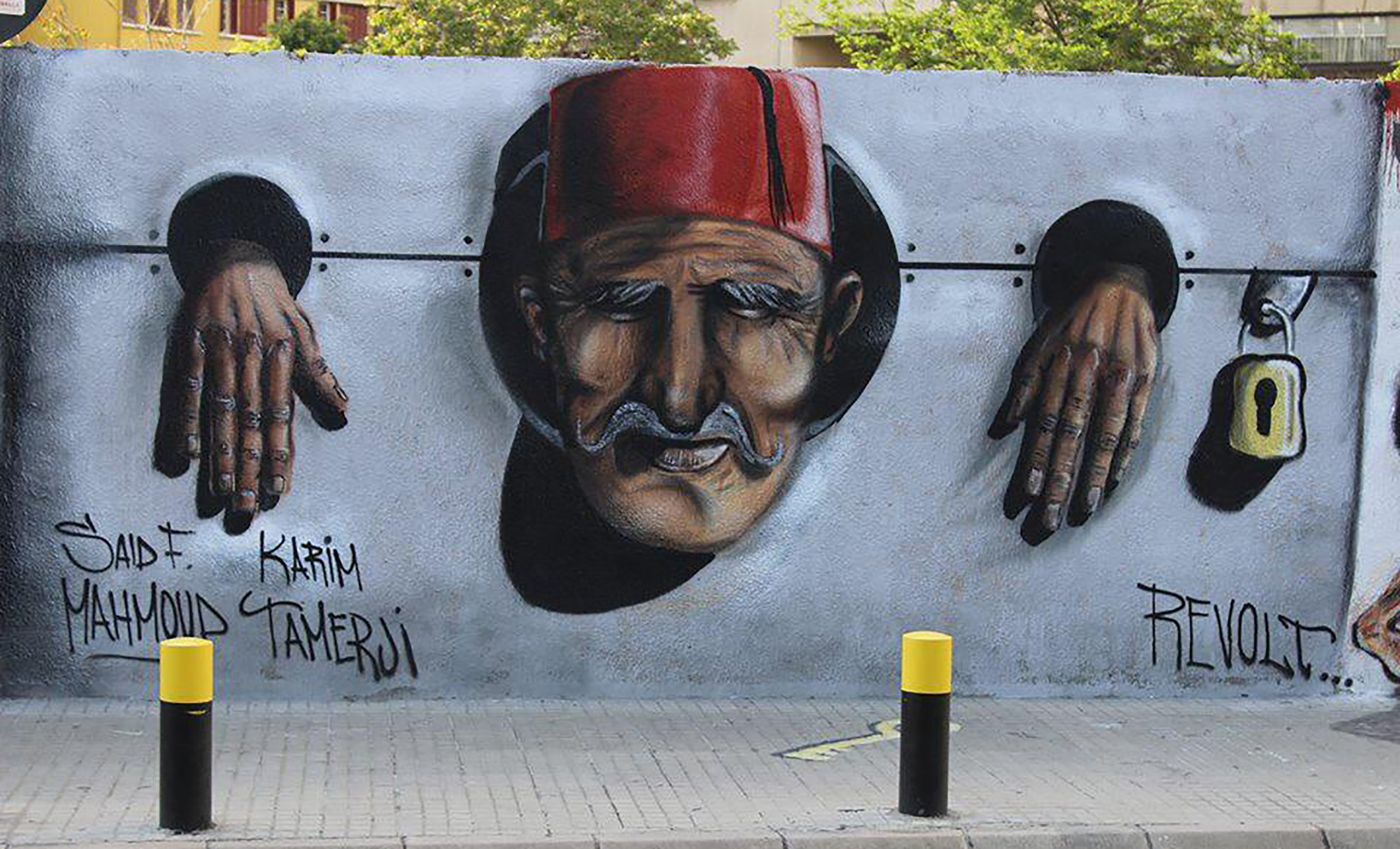 "Change What the Elders Couldn't"
Mahmoud said, "There was a feeling of stagnation" during the presidential vacuum that lasted from 2014 until 2016. "We felt that the Lebanese people were chained and the key was right in front of their eyes. They were chained to their religious status, to their political status."
Zantout said works such as "Change What the Elders Couldn't," are emblematic of graffiti in the country that "proactively seeks revolt and awareness" outside of Lebanon's confessional political system.
As long as graffiti artists avoid focusing on a specific sect or party, they are free to paint. This freedom is unique not only when compared to other countries in the region such as Iran, Egypt and Turkey, but also globally, and has attracted international artists.
A French national who goes by the artist name Mueh commented on the street art culture in the country. While expressing amazement at the freedom to "paint in broad daylight," he also spoke of the respect artists show each other.
"You don't write over each other's graffiti," Mueh told Al-Monitor, adding this was a common occurrence in other cities with often grim consequences. "In Paris I heard about a lot of people getting beaten up over graffiti. … They don't really care about the art."
After moving to Lebanon in 2014, Mueh quickly began painting, often writing questions or phrases next to his art. He and his crew, a group of street artists who often paint together under the name REK, would often write "Old Beirut Matters" over condemned buildings or districts with high demolition rates to protest the gentrification of the Lebanese capital.
However, even the simple act of writing their name is a political act to Mueh, who said, "To go to the streets and paint for absolutely free, to spend your time painting, I see it as political."
This sentiment is shared by Zantout, who said graffiti artists in Lebanon are all "about resisting an existing status quo, bypassing the political sphere and the enchainment we are in."