SHARYA CAMP, Iraq — Thousands of Yazidi families currently face a dire humanitarian situation. They have been scattered in refugee camps, while the fate of hundreds of Yazidi girls who were kidnapped by the Islamic State (IS) remains unknown.
Not only has IS abducted hundreds of Yazidi women, it has also killed, expelled, seized the properties of and and set fire to the homes of other Yazidis. This occurred when IS took control of Sinjar and the Ninevah Plains after the withdrawal of peshmerga forces.
In a speech addressed to the public of Iraqi Kurdistan, President Massoud Barzani said that he dismissed all security, military and partisan officials who were in charge of protecting Sinjar. A fact-finding committee has been formed to determine the punishment of all officials found guilty of neglect in their task of protecting citizens.
The control of IS over Sinjar has forced thousands of Yazidis to flee to the Sinjar Mountains, their only escape from death. Youssef Qarmo's family was among those who headed to the mountains in the hope of cheating death.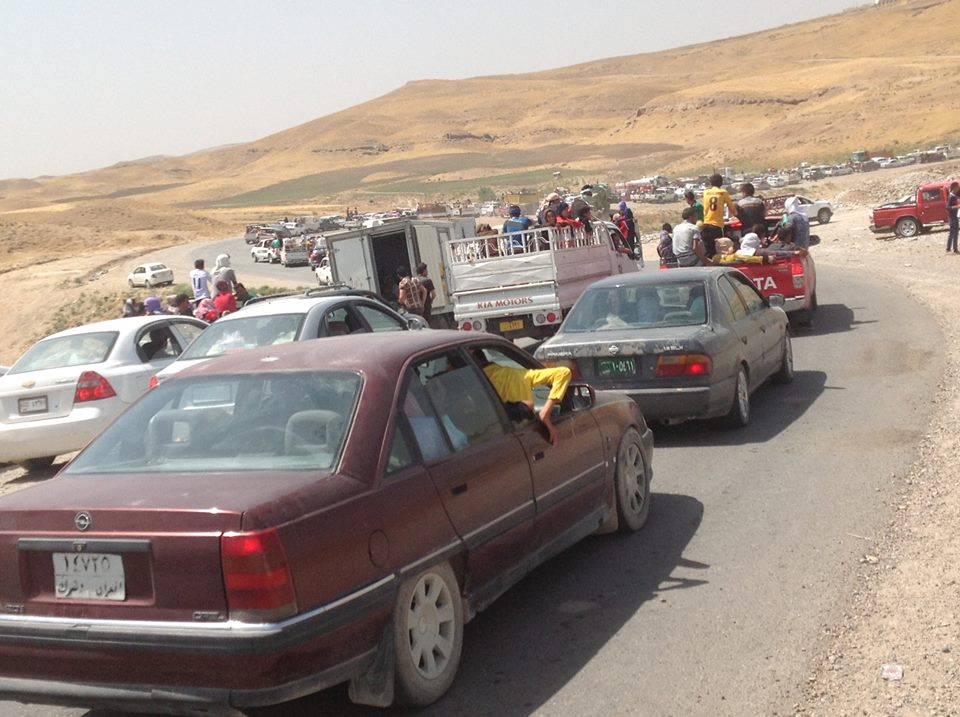 Cars wait in line on the first day of evacuations to the Kurdistan Region. (Shaida al-Ameen)
Qarmo, 50, told Al-Monitor, "On Aug. 3, we ran away after IS militants besieged our village of Siba Sheikh Khdr and peshmerga forces withdrew. We left our money and official documents and headed to the mountains before IS could enter."
The five-member Qarmo family remained for nine days in the Sinjar Mountains amid hunger, thirst and high temperatures. These terrible conditions claimed the lives of hundreds of children and the elderly. They were all waiting for the arrival of an aid helicopter to rescue those who survived.
"The days we spent in the mountains were difficult. Our food and water supplies ran out after a few days. Many children died of thirst and hunger. The natural milk of mothers ran dry. We were drinking the polluted water of the springs, and in the final days we were compelled to eat grass. When the helicopter came, we ran to hold on to it, since it could only transport a small number of people. We saw from the mountain our houses being plundered and destroyed at the hands of IS," Qarmo said.
The view inside the Sharya refugee camp. (Shaida al-Ameen)
Qarmo, who now lives in the Sharya refugee camp in Dahuk, called on the Kurdistan government to expel IS so they can return home. "I implore the government to liberate our areas from IS. We want to go back. The displacement is dire. It is true that they offered food and water, but such aid is not enough for big families," said Qarmo.
UNICEF considers the Iraqi Yazidis' situation a humanitarian catastrophe. Marzio Babille, representative of Iraq's UNICEF office, said the violations against children, women and minorities in Iraq constitute the worst events of this century.
Maisar Hajji Saleh, district president of Sinjar, told Al-Monitor, "We were subject to the worst crime in human history. IS took our women hostage and killed our men. We have information that hundreds of girls are being sold cheaply. There are markets in Mosul set up to sell them. The problem is that a number of the residents of Sinjar villages cooperated with IS to kill us and plunder our homes. We know them all, as they appeared in videos IS posted on the Internet, and know by their dialect to which tribes they belong."
Yazidi activist Khoder Dumali denounced the silence of Muslim clerics and the Iraqi government toward the genocide of Yazidis. He told Al-Monitor, "Decision-makers and official institutions have only issued embarrassing statements. This is raising the ire of Yazidis who are questioning the subpar reaction of competent institutions, religious guides and political parties in Iraq. They did not even bother to denounce the horrendous situation we are going through."
Dumali said, "There is still an opportunity to save large numbers of Yazidis who are in danger and who are close to the Iraqi government-controlled areas in Mosul, Qayyarah and Sinjar. The Iraqi government can conduct a military operation to save them."