GAZA CITY, Gaza Strip — Umm Rami al-Shaiwa keeps trying to calm her four children, who scream and cry whenever they hear the sound of Israeli aircraft bombing the houses around them. She takes simple safety measures, hoping to protect her children from Israeli bombs.
Shaiwa, who lives in al-Daraj neighborhood in central Gaza City, said, "Whenever I hear the sound of an Israeli plane, I think that it will drop its bombs over our heads and turn us into charred bodies at any moment."
She told Al-Monitor that she tries to keep her children next to her at all times and tell them fairy tales like Cinderella and Snow White to take their minds off the bloody scenes surrounding them. She also puts cotton in their ears to muffle the bombing noise.
"These measures usually don't succeed because of the intensity of the endless bombing. So I tell my kids that this is the sound of fireworks from the neighborhood celebrating the nights of Ramadan. But the repetitive bombing quickly makes them cry again," she said.
The Israeli aggression on the Gaza Strip that started on July 8 has resulted in 630 deaths as of the evening of July 22, mostly women and children, and about 4,010 injured citizens, Health Ministry spokesman Ashraf al-Qadra told Al-Monitor.
According to Qadra, Israel has committed more than 41 massacres of Palestinian families in which half or more of the family members were killed.
He stressed that most of the dead were killed while they were with their families in their homes. They were hit by bomb or rocket shrapnel or directly targeted by warplanes. He pointed out that the lack of warnings or shelters are resulting in higher numbers of civilian deaths.
Palestinian children take refuge at a UN school after evacuating their homes at the Jabaliya refugee camp in the Gaza Strip, July 15, 2014. Photo by Wissam Nassar
The family of Anwar Mehdi listens to the radio, anxiously awaiting an announcement of a cease-fire and the end of the Israeli aggression.
Sitting with his eight-member family as they await the unknown, Mehdi said, "We abandoned the bedrooms and the rest of the house's rooms to spend most of our time in this tiny room in the center of the house. All we have is some blankets and candles for lighting." He noted that they try not to light up the rooms to avoid being directly targeted.
Mehdi, who lives in the Sheikh Radwan neighborhood north of Gaza City, told Al-Monitor that these simple measures are all his family has to protect itself, adding that his family members are even afraid of going to the bathroom for fear of being hit.
Mohammed Okaila, 81, lives on the ground floor in an apartment building that he owns. His four sons and their families live on the upper floors. To protect them from Israeli fire, he had to move them all to his modest apartment.
Okaila, who lives in al-Nasr neighborhood in Gaza City, told Al-Monitor during an interview, "The Israeli aggression has led to an absence of security and to an increase in the likelihood that anyone may be injured or die in his home at any moment. So I had to put 24 persons — my sons, their wives and their children — in a small, 140-square-meter [1,507 square foot] house to try to provide minimal protection."
He pointed to a piece of shrapnel on the table next to him and said, "This piece of shrapnel penetrated the wall of my son's house. He lives on the third floor. [The shrapnel] injured one of his children. But by God's kindness, his injury was superficial."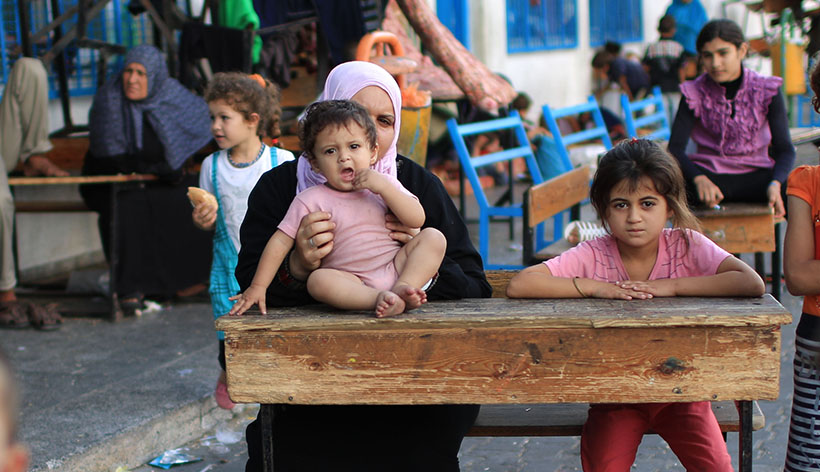 Palestinian children take refuge at a UN school after evacuating their homes at the Jabaliya refugee camp in the Gaza Strip, July 15, 2014. Photo by Wissam Nassar
Okaila's son Murad said that his own son Muhammad, 11, was asleep on his small bed when the piece of shrapnel penetrated the wall and hit him in the hand. He pointed out that the repeated airstrikes nearby have shattered all his windows.
Samir Zaqout, a legal researcher at the Al Mezan Center for Human Rights, said that Israel has systematically targeted civilians in the Gaza Strip and has hit installations such as houses, civil institutions and hospitals. Zaqout told Al-Monitor, "These incidents can be deemed crimes against humanity under international law."
Thousands of families living in the border areas of the Gaza Strip lack even minimal protection. They live in areas that are directly targeted, forcing many of them — at least 118,000, according to United Nations Relief and Works Agency for Palestine Refugees (UNRWA) spokesman Chris Gunness — to flee to UNRWA centers.
Although Zaqout stressed the need to hold Israel accountable for its crimes against Palestinian families, Shaiwa is not placing too much hope on its prosecution. "The US bias toward Israel puts them above the law. … It does not care about the bloodshed of Palestinians," she said.
Given the absence of shelters where Gaza residents might protect themselves from Israeli raids, Palestinian families remain stuck under their own roofs, which might collapse over their heads at any time.