BEIT LAHIYA, Gaza Strip — About 800 people were at the Beit Hanoun preparatory school for refugees, operated by the UN Relief and Works Agency for Palestine Refugees (UNRWA) in the northern Gaza Strip, when Israeli tanks shelled it on July 24.
Sixteen Palestinians were killed and hundreds were wounded, according to the Palestinian Ministry of Health. They had been displaced from their homes in Beit Hanoun.
This was not the first time that Israeli artillery has struck a school housing refugees who fled unsafe areas in the Gaza Strip. In the 2008-2009 war, on Jan. 6, 2009, a mortar round landed near the UNRWA-affiliated Fakhurah school in the Jabaliya refugee camp, killing 43 refugees, including 14 children.
On the afternoon of July 24, Al-Monitor went to the nearby town of Beit Hanoun, which had become a ghost town with only a few donkeys on the main street. Factories and installations were devoured by flames, with nobody trying to put them out.
Palestinian women weep after what medics said was an Israeli shell hit a UN-run school sheltering Palestinian refugees, at a hospital in Jabaliya in the northern Gaza Strip, July 24, 2014. Photo by: Wissam Nassar
Trying to reach the shelled school was a dangerous undertaking. Israeli tanks that were no more than 300 meters [984 feet] from our vehicle fired another volley of shells. It seemed that we had entered the wrong place. We drove away at full speed, fearing one of the shells would land on us, and thus failed to reach the school. We only saw one person: a young man with a white piece of cloth on a stick riding in a donkey-pulled cart.
We felt some reassurance when we approached the nearby town of Beit Lahiya, some 4.2 kilometers (about 2 ½ miles) from Beit Hanoun. We saw locals filling bottles with water in preparation for the Ramadan iftar in the evening. We then headed to Beit Lahiya's Kamal Adwan Hospital, whose courtyard was filled with the refugees that fled the bombed school.
At the hospital's entrance was Hussein al-Shinbari, 21, whose shirt was bloodstained. He had injured his hand and his relatives were with him at the hospital. He was shouting, "My mother and brothers died! My mother and brothers died!"
Shinbari told Al-Monitor that they were evacuating when the Israeli shells struck. "We were sitting in the school when the Red Cross came and warned us to vacate the place. Minutes later, shells started falling on us from everywhere. I saw my mother, Fatima al-Shinbari, die in front of me, as well as my father's wife Falasteen, and my brother Ali, who is less than 10 years old, Mariam, 12, and my brother Abed Rabbo, 16. They all died." Hussein broke down crying, his relatives trying to calm and comfort him.
According to UNRWA, this was the fourth time that UNRWA schools sheltering refugees were shelled by Israeli forces. On July 23, a school for girls in Deir el-Balah sheltering about 1,500 people was bombed. And on July 21, al-Ghazi girls school in central Gaza was bombed, wounding one girl. When UNRWA staff returned the next day to investigate, the school was struck again despite the visit being coordinated with Israeli authorities.
The people of Beit Hanoun were still in the hospital's corridors and didn't know where to go. Some of them decided to go to the UNRWA school in Beit Lahiya. Others went to schools in Jabaliya. UNRWA opened 77 schools to receive more than 118,000 displaced persons.
The wailing of women from inside the hospital kept rising and rising. They were mourning their brother Bilal al-Shinbari, 21, said his sister Marwa, 29, as she cried while her children, still in a state of shock and despair, were tugging at her clothes. "We were all standing in the schoolyard when an official car came to us and told us that the Red Cross will be sending 10 buses to take us outside the school. A few minutes after the car left, shells started falling from everywhere on the school, the schoolyard and the classes. I hid with my sons and I saw my siblings die in front of me," she said.
Marwa and her sister Sabreen, 23, hugged their father and they all cried for the martyr Bilal, the cousin of Hussein, and for their brothers who were taken to the hospital in critical condition.
The father, Ahmed al-Shinbari, 48, was in shock when we tried to speak to him. "I went down and we all sat. I told my children that this time we'll go to a safe school because the Red Cross is protecting us. We felt reassured. But just two minutes [later], shells started falling from every side on the refugees in the school. I saw my children lying on the ground. Bilal was martyred. The head of my daughter Ikram was [shredded]. Mohammed [was hit] in his neck and Marwan [was hit] in his side. They were all bleeding. I went to [check on] this one, then to that one, and I screamed as I saw my children die in front of me."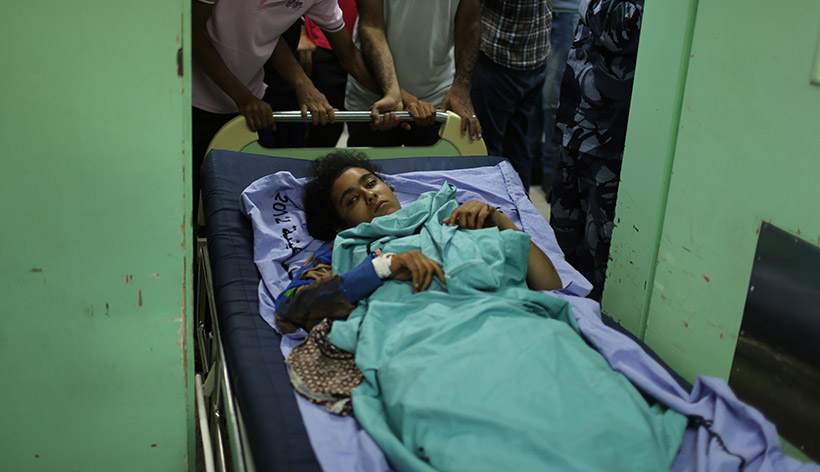 A young Palestinian girl lies on a hospital bed in Kamal Adwan Hospital in Beit Lahiya, Gaza Strip, July 24, 2014. Photo by: Wissam Nassar
The Red Cross spokesman in the Gaza Strip, Nasser al-Najjar, denied that anyone went to the school or warned the families there to evacuate, He told Al-Monitor, "The agency has the right to reply on that matter. The Red Cross doesn't move civilians against their will from any region. We are a neutral humanitarian institution and we don't take orders from the army or from anyone else."
He said it is incredibly important to make sure that people have access to hospitals and receive health care. The Red Cross is evacuating the wounded and the dead, as happened in al-Khuzaa area, south of Khan Yunis.
The UNRWA spokesman in Gaza, Adnan Abu Hasna, told Al-Monitor, "We strongly condemn what happened in the school. This was the fourth time in three days that UNRWA schools sheltering refugees were fired upon during this war."
He explained that they had informed the Israeli army 12 times about their intention to move the refugees from the Beit Hanoun school to coordinate, but the Israelis did not respond, adding, "We came back today and at 11 a.m. we asked for the possibility to evacuate 800 refugees in the school as the area was not safe, but to no avail."
Abu Hasna said the school was sheltering civilians and was not used for any other purpose.
We left the wailing families as they kept receiving news about their lost loved ones, as the father Ahmed shouted, "All my sons for the sake of Palestine!"