GAZIANTEP, Turkey — Trendily clad young men and women chat animatedly at a sidewalk cafe. A girl with bare tattooed arms parks her bike and joins the crowd. Such scenes are common from Barcelona to Berlin. But this is Gaziantep, a Turkish city less than an hour's drive from Syria, where a brutal 3-year-old conflict still claims scores of lives every day.
Since opening its doors three months ago, the cafe, called Nihavent (Persian for the musical key G minor), has become a refuge for educated, secular Syrian youths traumatized by the war. "These kids are the forgotten face of Syria. We want to give them a sense of normalcy, a taste of home," explained Yasser Birro, a former executive from Aleppo who launched Nihavent with two other partners. The menu offers an array of beautifully presented traditional dishes prepared by the all-Syrian staff at affordable prices.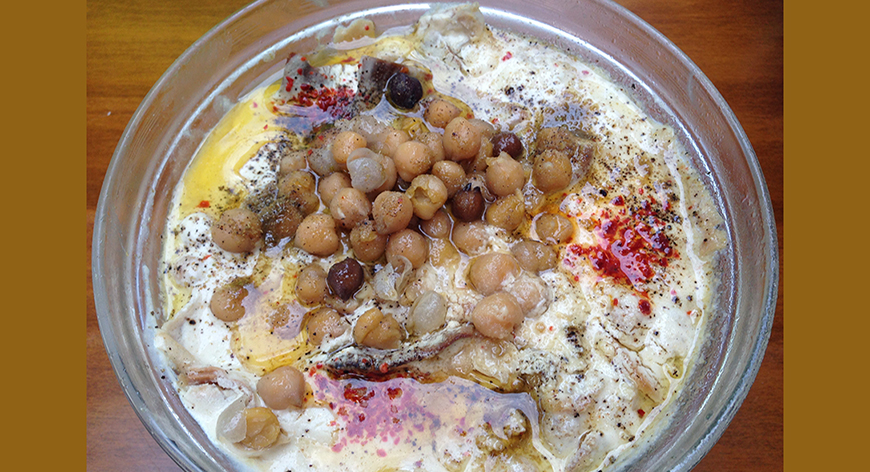 A dish of fatteh
"This is fatteh, just like we have in Damascus," grins Salam, a Damascene banker, tucking into a yogurt-coated mélange of fried bread and chickpeas. Kabseh, a tribal dish from eastern Syria made from rice, vegetables, beef and currants, is another favorite. Yet Nihavent offers more than just authentic cuisine.
Other offerings at the cafe include lamajun
Several times a week, the cafe hosts performers on a small stage erected on its top floor. The walls are lined with poignant photographs of child refugees. There is no mistaking where the clientele's sympathies lie. On this particular evening, the dissident Syrian poet Wafa Layla takes the podium. "Oh killer, I pity you," he intones. A bearded youth seated by him slowly strums a lute.
"You know who he's talking about, right?" whispers Abed Allatif al-Jeemo, a painter. "Assad." Radical Islamic fighters from the Islamic State of Iraq and Al Sham (ISIS) chased Jeemo out of the northern town of Jarabalus a year ago.
"They threatened to kill me because I painted anti-regime graffiti on a wall, so I was forced to come to Turkey," Jeemo tells Al-Monitor. "I feel safe here." It was the graffitti considered sinful, not its substance, that had triggered the jihadis.
A man who is filming the event is less sanguine. "There are regime spies everywhere," he hisses.
"Don't use my name." He says he's a journalist working for the Istanbul-based opposition television news channel Orient News, funded by the exiled Syrian tycoon Ghassan Aboud. "We will broadcast Layla's recital during our special Ramadan program," the journalist reveals, adding that Orient News will set up an office in Gaziantep "very soon."
Photos of young Syrian refugees hang on the walls
This makes sense. Counted among Turkey's most modern cities, Gaziantep is home to over 250,000 Syrian refugees, more than in any other Turkish city, including Istanbul. Indeed, Gaziantep is often referred to as the "Turkish Aleppo." Many Syrians have set up small businesses here, including grocery shops and restaurants. With the bold Arabic lettering on their signboards, they are hard to miss.
Gaziantep is the main hub for Syrian opposition groups and also for Western nongovernmental organizations delivering aid to Syria and labeled "spies" by the Syrian regime. Nihavent regulars who work for Western aid agencies worry that if their identities are revealed, it might imperil loved ones who stayed behind. "This is why you must not use my surname," warns Salam, the banker.
The Turkish government has ramped up security in recent months and the number of police checkpoints has palpably increased. 
"There is creeping concern that the Syrian opposition's efforts to establish a government in exile in Gaziantep is turning the province into a target for the regime and other hostile elements," the International Crisis Group observed in a recent report. But jihadist groups such as ISIS and Jabat al-Nusra also pose a threat.
As the night wears on and talk shifts toward the future, a hint of gloom pervades the cafe. "Of course I believe in the revolution, but in the revolution of the beginning, not now," said Salam. "It started in a right way, in the colleges. But someone stole our revolution. There is a lot of blood between the sects and different ethnic groups. Assad is mainly to blame."
Zaher Sa'id, a young activist from Latakia who took part in student demonstrations in the early days of the uprising — nearly losing an eye when he was stoned by government troops — agrees. "I saw my friends die around me for freedom, for democracy," he recalls. "But now the revolution has lost all of its ideals."
While many young Syrians here express alarm over the rise of Islamic militant groups in their country, they remain confident that the bloodshed will end some day. "It will take at least a decade for Syria to heal its wounds, for a new and democratic Syria to emerge," predicts Salam. The long wait, hopes Birro, will be rendered somewhat more bearable by his Nihavent cafe.