For three hard years, Halise Aksoy searched for the remains of her son after learning that the young Kurdish rebel had fallen in battle against Turkish security forces on May 23, 2017. Her quest for Agit, which means "brave" in Kurdish, ended on April 10 at the central courthouse in Diyarbakir, the informal capital of the mainly Kurdish southeast. "Aunty, look! Your son's bones are there," said a court official, breezily motioning toward a plastic bag with a yellow tag attached. The bag was on a table and contained a rectangular box.
"They offered me a glass of water," recalled Aksoy in a telephone interview from her native village of Elmabahce in neighboring Mardin province. "I said, 'I don't want your water, keep it to yourselves,' and took my son and left."
Images of a dazed Aksoy sitting in her living room with the bag on her lap surfaced on social media soon after, triggering uproar. "My mother was in a state of shock," said Mizgin, the sixth of Aksoy's four daughters and three surviving sons. "Now she is angry. Very angry."
Aksoy's case is not unique. It fits a broader pattern of the state dehumanizing Kurdish rebels even in death and denying families the opportunity to accord them a proper burial and grieve in peace.
"Aunty, look! Your son's bones are there," said a court official, breezily motioning toward a plastic bag with a yellow tag attached.
Initial media reports suggested that Agit's remains had been couriered to his mother's home by the state postal service — cash on delivery.
The claims were swiftly rebuffed by the chief prosecutor's office in Tunceli, the southeastern province where Agit had died in a clash with Turkish security forces. The office said in a statement that it had confirmed his identity on Aug. 28, 2019, based on a blood sample provided by Aksoy. It went on to assert that authorities in Tunceli had contacted Aksoy but that she had declined to fetch "the body tissue" because she lived in Diyarbakir. Critically, however, the statement did not say when it had contacted Aksoy.
"The Tunceli prosecutor's office is openly suggesting that Halise Aksoy doesn't care about her son, that she didn't bother," Abdullah Zeytun, the head of the Turkish Human Rights Association in Diyarbakir, told Al-Monitor in an interview.
Aksoy disputes the official version of events. She insists that the Tunceli prosecutor's office contacted her by telephone in February while she was visiting her children in Istanbul. She said the official told her they had a "document" for her and asked if she would collect it. When Aksoy asked whether they were referring to the remains of her son, the official on the line refused to disclose any information. He insisted it was "secret."
"I implored him for an answer but he wouldn't give me one," she said.
Aksoy had had her hopes dashed once already last year, when a captured Kurdistan Workers Party (PKK) militant said he knew where Agit was buried and led officials to what he claimed were his remains. But a letter dated Aug. 1, 2019, addressed to Aksoy and seen by Al-Monitor, stated her DNA sample did not match that of the bones that were retrieved.
Aksoy ekes out a living selling embroidery and crotchet she does at home. Her husband deserted her and the children 20 years ago. "Agit was her favorite child. He promised to look after her," Mizgin said.
Agit Aksoy's face is pictured in the Aksoy home, Elmabahce, Mardin, Turkey, April 11, 2020. Photo via Mesopotamia News Agency.
The 53-year-old had made multiple trips to the city of Malatya, where the bodies of militants who die in the region are gathered for identification at a government-run forensic medicine institute. She would scour the morgue for Agit but return empty handed each time. Her hopes of ever finding him began to fade.
Her spirits battered, Aksoy told the prosecutor's office that she would fetch the "document" from Diyarbakir as soon as she returned from Istanbul. "Had I known it was my Agit I would have been on the first plane to Tunceli," Aksoy said.
By the time Aksoy made it to Diyarbakir, the remains had traveled back and forth multiple times between Istanbul, Tunceli and Diyarbakir "like a ping pong ball," Mizgin said.
Kurdish lawmakers in the Turkish Parliament bombarded Justice Minister Abdulhamit Gul with demands for an explanation — and redress.
"Anyone with a shred of decency or the slightest hint of humanity would feel shame before this photograph" of Aksoy with the box on her lap, thundered Hisyar Ozsoy, of the Kurd-friendly opposition People's Democracy Party (HDP), in a letter addressed to Gul.
"What is the reason Agit's body was not handed over in 2017, despite his family's concerted efforts to recover it, and held for three years?" Ozsoy asked.
For Ozsoy, the issue is deeply personal. He is a direct descendant of Sheikh Said, who led what is often described as the first Kurdish rebellion in the early days of the republic. The uprising was quelled and Said was hanged in Diyabakir's Dagkapi Square in June 1925. The whereabouts of his body remain a mystery.
The lawmaker filed a motion in 2017 demanding his great great grandfather's remains be found and accorded a proper burial. No action has been taken so far.
Ozsoy is also still awaiting a formal response from Gul to his questions about why Agit's remains were treated "with such utter disrespect." But 'the answer is clear," Ozsoy told Al-Monitor in a telephone interview from Ankara. "Such actions are in keeping with modern Turkey's nation-building project" which was "erected on the violent and systematic suppression of Kurdish identity," he contended.
"The Turkish state dictates who among the dead deserve humane treatment, who can be properly grieved and who cannot. Agit was deemed to be among those who do not. Yet under international humanitarian law it's the state's duty to treat all its citizens equally in life as in death," Ozsoy said. "The state has committed a crime."
The Human Rights Association's Zeytun, who is representing Aksoy, agrees that the state's handling of Agit's bones constitutes a crime. Zeytun told Al-Monitor that he had filed criminal charges with the Diyarbakir prosecutor against those responsible. They include subjecting Aksoy to "mental torture" and the "gross violation" of Agit's right to "proper and dignified interment." Zeytun concedes, however, that the charges will probably be dismissed.
"The Turkish state dictates who among the dead deserve humane treatment, who can be properly grieved and who cannot." – HDP politician Hisyar Ozsoy
The official view is that the outlawed PKK is a terrorist group. The militants are similarly designated by the European Union and the United States. Their corpses have become a lever through which the Turkish state asserts its power and stigmatizes the rebels and their families. Allowing a normal funeral for Agit, who joined the PKK in 2010, was out of the question, Zeytun said.
"When I arrived in the village with, you know, the package, it was besieged by police," recounted Aksoy, her voice faltering. "We were told that no more than three of us could be present at the burial. They wouldn't even allow us to call an imam to perform the funereal prayers."
"I couldn't bring myself to open the box and look at what was left of my son. It was a small box. We wrapped it in a shroud and buried it in a hurry."
Aksoy might count herself fortunate to have recovered her son at all.
Butchers' Creek
The rebels launched their fight in 1984 for an independent Kurdish state carved out of Turkey, Iran, Iraq and Syria. They now say they will settle for autonomy inside Turkey.
At its peak in the mid-90s, the insurgency raged across the mountainous Kurdish heartlands in Turkey's southeast. Thousands of villages were razed and emptied by Turkish security forces. Between 900,000 to 1.2 million people were forced to flee, marking the biggest human displacement in Anatolia since the Armenian Genocide of 1915 and the Greek and Turkish population transfer of 1923.
A map of southeast Turkey. © Mapbox, © OpenStreetMap
Abuses were committed on both sides, but disproportionately by Turkish security forces. Reports of desecrations of PKK corpses and mass graves began to seep out despite the military's aggressive censorship of the Turkish press.
"We were later told that the ears were booty for soldiers who took part in the operations. They would dry them, lacquer them and use them as keychains, necklaces and the like." – Veteran Kurdish journalist Nezih
Every so often, the military would organize press junkets to boast of its victories. Veteran Kurdish journalist Nezih, a pseudonym, has vivid memories of one such macabre tour. He told Al-Monitor in a telephone interview, "It was late October or early November in 1996. A big operation in which a top PKK commander was killed had been carried out in Kulp," a PKK stronghold in Diyarbakir province.
"Some 30 PKK fighters were declared 'neutralized.' We saw a dozen or so lined up on the ground. They were all male. They had without exception either one or both of their earlobes neatly sliced off. Some had bloody boot prints on their faces. We were allowed to take photographs. When we asked one of the officers why part of their ears had been removed, he said they had 'probably been chewed off by wild animals.' We were later told that the ears were booty for soldiers who took part in the operations. They would dry them, lacquer them and use them as keychains, necklaces and the like."
Nezih still has the photographs.
"Reports of Turkish soldiers mutilating PKK corpses, whether true or not, has fed into the anger and frustration that is one part of what leads Kurdish youth to join the PKK," said Aliza Marcus, author of "Blood and Belief," one of the most authoritative accounts on the PKK to date, in emailed comments to Al-Monitor.
In 1988, journalist Evin Cicek uncovered the story of Kasaplar Deresi or Butcher's Creek, a dried riverbed on the edge of Siirt in the southeast where dozens of PKK fighters' bodies were dumped along with the town's garbage. "Corpses flung into the garbage heap were dismembered by stray dogs and dragged by them into the city center. People would weep in silence. Women would beat their chests to grieve," she said.
Journalist Gunay Aslan, who published the story in January 1989 after secretly inspecting the site, was bundled into a van, beaten and detained by Turkish special forces in Siirt. "They said they would behead me if I ever came back," Aslan told Al-Monitor from Germany, where he eventually fled.
In a 2011 interview with the now shuttered Turkish daily Taraf, Cicek revealed for the first time that a local bureaucrat had shared with her in 1989 the names of 80 people killed between 1984 and 1988 whose bodies had been cast into the refuse pile. Only six had been handed over to their families after Gunay exposed the scandal.
It's no surprise that it took her so long. Journalists were routinely jailed or murdered for reporting on the government's abuses against the Kurds. Seven reporters from the pro-Kurdish Ozgur Gundem alone were killed by unknown assailants between July 1992 and July 1993.
A Turkish Spring
By 2011, however, the climate in Turkey had shifted dramatically. A right-wing conservative party led by Turkey's current President Recep Tayyip Erdogan had already been in power for nine years. The Justice and Development Party vowed to shut the generals out of politics and carry Turkey into the European Union. For a while, it seemed like Erdogan was sincere. A blizzard of ground-breaking reforms shamed the EU into to opening full membership talks with Ankara in 2005. Previously taboo subjects like the mass slaughter of Armenians, bans on the Islamic-style headscarf and LGBT rights began to be openly debated. Aslan collaborated with a group of filmmakers to produce a documentary on Butchers' Creek.
"I was able to return to Turkey after 11 years and we were allowed to screen the film in Diyarbakir. It was quite extraordinary," Aslan said.
In 2008, Erdogan authorized the national intelligence agency MIT to initiate direct talks with the PKK. The goal, or so it appeared, was to end to the decades-long conflict that had cost more than 35,000 lives, bleeding the country of billions of dollars and wrecking its global image. The first round, held secretly in Oslo, collapsed after being leaked, allegedly by saboteurs in the security establishment who opposed the talks. 
A second round, conducted with the imprisoned PKK leader Abdullah Ocalan launched in 2012, seemed distinctly more promising. In a letter read out before hundreds of thousands of Kurds gathered in Diyarbakir on March 21, 2013, to mark the Kurdish new year, Ocalan called on his fighters to withdraw from Turkey and to end the war.
 "A door is opening to a process of democratic politics from a period of armed resistance," he declared. "It is not the end of our struggle; it is the start of a new sort of struggle."
Demonstrators hold Kurdish flags and flags with portraits of jailed Kurdistan Workers Party (PKK) leader Abdullah Ocalan during a gathering to celebrate Newroz in the southeastern Turkish city of Diyarbakir March 21, 2013. Photo by Reuters/Umit Bektas.
Emboldened by the mutually observed cease-fire, Kurds across the southeast began hunting for the remains of loved ones who had died fighting in the ranks of the PKK. Some dug up the bones of Kurds killed by the thousands during a 1938 revolt in Tunceli, then known as Dersim. New cemeteries to house the remains began dotting far flung corners of the southeast.
The authorities mostly looked the other way, intervening only occasionally when statues of prominent guerrillas or other symbols glorifying the PKK were erected.
Kurdish anthropologist Derya Aydin has written extensively about the social impact of the cemeteries. "Kurds from across the country began flocking to these memorials. It became a sort of pilgrimage. For the first time, Kurds were allowed to bury their dead with dignity and mourn them in peace," Aydin told Al-Monitor in a telephone interview.
In many cases, the burials took place without DNA testing to establish who the bones belonged to. "For many it was a largely symbolic affair, a form of collective closure," Aydin noted. She reckons at least 13 cemeteries were built — one on the edge of a dense forest in her native Bitlis, where she conducted much of her research.
Starting in 2014, fresh bodies began to arrive from neighboring Syria, where the Islamic State had declared war on the Kurds. In September that year, the jihadis laid siege to the town of Kobani, a bastion of Kurdish nationalism on the Turkish border.
Hundreds of Turkish Kurds, some volunteers, others from the PKK, joined the fight against the jihadis. Many had been galvanized by Erdogan's perceived schadenfreude when he declared, "Kobani has fallen, it will fall." Deadly riots erupted in Diyarbakir as thousands took to the streets in protest.
Aksoy's youngest child, Shinda, decided she wasn't going to take it.
"She was only 16. She couldn't bear the injustice. I couldn't stop her. She took up and left." Aksoy last saw her daughter on Sterk TV, a pro-PKK channel that is formally banned in Turkey but captured by satellite dishes jutting from rooftops and balconies across the southeast. Shinda was being sworn in along with other fresh recruits and had been assigned the code name "Nuda." Aksoy believes her daughter is still alive.
The battle for Kobani was bloody and protracted and won by the Kurds. Veteran Kurdish politician Lezgin Bingol lost his daughter there in October 2014. Dilan had dropped out of high school in Istanbul and joined the PKK in 2009, a year before Agit. Both were 15 when they took up the fight.
"In 2012 we heard that Dilan had crossed over to Syria. She rang us 10 days before her death. She said she was in Kobani," Bingol told Al-Monitor. It was the first time the Bingols had heard from her since she had "vanished without a word." "Dilan had told her comrades that she wanted to be buried in the cemetery in Bitlis if she died. We fulfilled her last wishes."
Bingol secured her death certificate and held her funeral unhindered. A small mosque had been erected next to the cemetery that was locally known as Garzan. Dilan's body was cleansed according Islamic rites. An imam led the prayers. She was laid to rest under a gray marble headstone.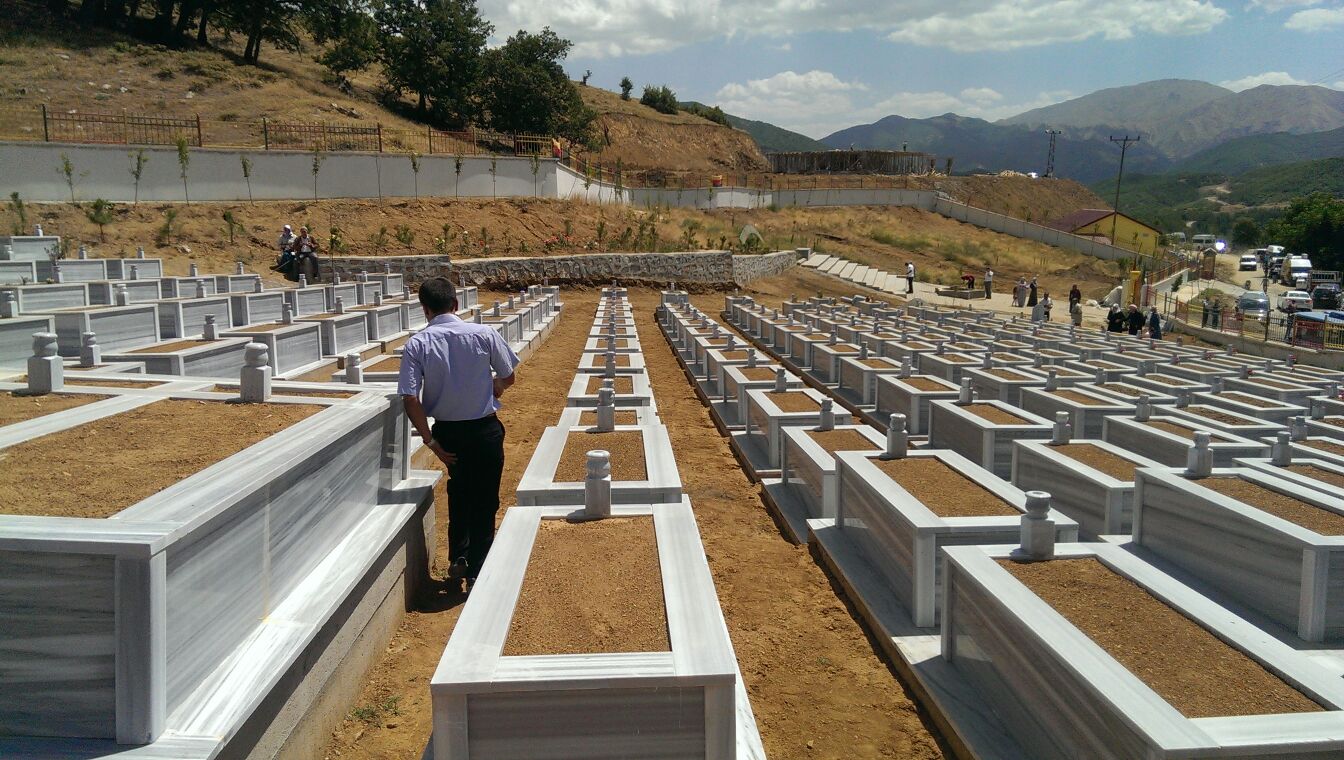 The cemetery at Garzan is pictured when it was first built. Photo courtesy of Lezgin Bingol.
Bingol and his family were frequent visitors at the cemetery near the village of Yukari Olek, lying 15 kilometers (nine miles) south of Bitlis. "We found these moments deeply comforting. Our pain was eased," he reminisced.
Their solace was short-lived. The peace process began to unravel.
The PKK had spurned Turkey's demands that it join Syrian Sunni opposition rebels fighting to topple Syrian President Bashar al-Assad. Erdogan was losing support from Turkish nationalists. Their backing was critical for his plans to boost his presidential powers in a 2017 referendum. He feigned ignorance of a deal struck after months of shuttle diplomacy between MIT, Ocalan, HDP lawmakers and PKK commanders in Iraqi Kurdistan that was unveiled amid much exuberance at the Dolmabahce Palace in February 2015.
By the summer of 2015, the cease-fire was in tatters and the PKK recklessly carried its battle to towns and cities in the southeast, plunging the region into a fresh cycle of violence and triggering a brutal state response.
No rest for the dead
Security forces began vandalizing the cemeteries, destroying headstones and mosques. At least one of the cemeteries, which the government said was being used as a PKK camp, was destroyed in an airstrike.
Erdogan said the graveyards doubled as training grounds and arms caches for the PKK. "We are destroying them," he bragged. Garzan was among those targeted.
In June 2015, a criminal court in Bitlis slapped Bingol and his wife Netice with charges of "irregular burial" of their daughter, a case that is still pending. But the worst was yet to come.
In July 2016, a group of officers accused of links to the Pennsylvania-based Sunni preacher Fethullah Gulen mounted a coup attempt against Erdogan. The government declared a state of emergency and used its powers to summarily purge and arrest tens of thousands of civil servants, police officers and politicians, many on a panoply of often flimsily evidenced terror charges. Bingol, who was working for the Bitlis municipality, was among them.
He was freed in March 2017, pending trial on charges of membership of a terrorist organization. The first thing Bingol wanted to do was to visit his daughter's grave. But it was unclear whether access to the area, like so many others, had been frozen under emergency rule. Nobody dared to ask.
In December 2017, Bingol wrote to the local governor requesting clarification.
The response he got was heart stopping. The remains in all 268 graves in Garzan had been unearthed that same month in keeping with a court order and transferred to the government's central forensic medicine institute in Istanbul, where Agit's bones had been tested.
A dumbstruck Bingol decided to see for himself. "I could not believe what I saw," he said. "The entire cemetery had been leveled. The mosque, the graves, everything. They had come in with earth movers and bulldozers. What kind of human does this without even informing us? I felt shame on their behalf," Bingol recalled. Satellite images of the cemetery corroborate his description.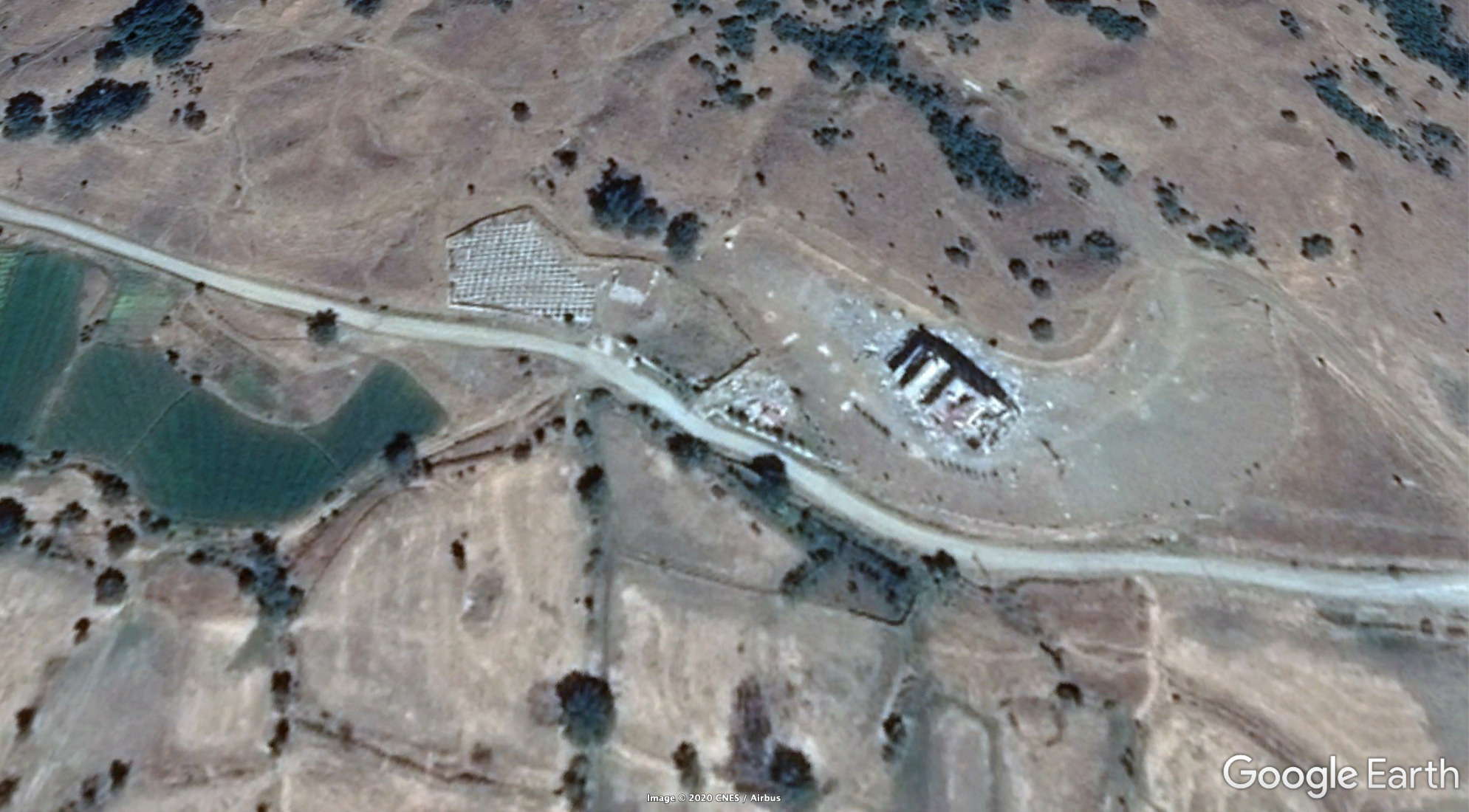 Three sateillite images taken in July 2013, September 2017 and September 2019 show the construction — and destruction — of the cemetery at Garzan. Photos via Google Earth and CNES/Airbus.
In a January 2018 press release, the Bitlis governor's office justified the move on the grounds that the "so-called cemetery … adorned with illicit symbols" had been built on usurped pasture land. The bones, removed in the presence of an imam, would be returned to families whose DNA matched them once testing was complete.
Armed with documents proving that Dilan's burial had been formally sanctioned, Bingol headed for the local prosecutor's office. In mid-January, the state admitted it had made a mistake and returned her remains to him in a bag. "He's a well-known and respected personality in the area so they probably did so hoping that the affair would die down," speculated Serzan Cakmak, a lawyer who has filed a criminal case against the state on behalf of the Garzan families.
Dilan Bingol is pictured in an undated photo (courtesy of Lezgin Bingol)
A further shock ensued with news that a large number of the remains had been transferred from Istanbul in plastic boxes and buried in a paupers' graveyard in the Black Sea town of Kilyos, north of Istanbul.
Cakmak says such actions violate Article 8 of the European Convention on Human Rights pertaining to the right to respect for private and family life. The chief prosecutor in Bitlis, however, dismissed the charges. Cakmak has since lodged an appeal with the Bitlis magistrate's court and says he will take the case all the way to the European Court of Human Rights if need be.
In a telephone interview with Al-Monitor, Cakmak said that 29 families had provided DNA samples to the authorities to help identify their loved ones. Of them, 25 families have retrieved their remains so far. Around 12 sets of body parts were brought back from the graveyard in Kilyos, Cakmak said. Among them was Bingol's nephew, Faysal, who had also died fighting for the PKK. Families "had to wait for months before they got their kids back," Cakmak said. Most were too afraid to make a claim, he added.
Such delays are often deliberate, according to the Istanbul-based Anatolian Association of Solidarity and Assistance for the Families of Missing Persons. The group's co-chair, Seyhmus Isik, told Al-Monitor, "it's a form of psychological pressure that's applied to slain PKK fighters' families." Since the failed coup, he says, the authorities typically try to prevent imams from performing their last rites. Ordinary citizens and even relatives are not allowed to attend their burials. Armoured vehicles stand in the way, Ozsoy the lawmaker said.
Coming full circle
The targeting of the cemeteries continues. Last week, security forces in the southeastern township of Ercis smashed the headstones of two PKK fighters in full view of their families, telling them to "never again" inscribe code names on headstones or decorate them with PKK symbols, the online KrdNews news site reported.
"There isn't the slightest pity felt for a mother who has lost her child. There is no respect for the dead," observed Osman Baydemir, a former mayor of Diyarbakir who is living in exile in Europe. "I know of many instances when authorities told the families of PKK fighters to repay the government for the bullets used to kill them," he told Al-Monitor in a Skype interview.
Baydemir is among scores of HDP officials who are being prosecuted for taking part in PKK funerals and assisting in their burials even though there are no laws proscribing such acts. "There are so many such charges filed against me I have lost count," said Baydemir.
"I know of many instances when authorities told the families of PKK fighters to repay the government for the bullets used to kill them."
"One of the charges jailed mayors have faced is that they have either attended funerals of PKK members or they have failed to prevent the appearance of PKK-related symbols, flags and slogans at the funerals of PKK members," said Human Rights Watch Turkey director Emma Sinclair-Webb in emailed comments to Al-Monitor.
"Such charges are usually a means of padding weak indictments and accusing the mayors of 'spreading terrorist propaganda,' an offense that is often applied in an overly broad manner to link the mayors to terrorism without evidence they have actually incited violence. The European Court has ruled that such charges can be a violation of freedom of expression," Sinclair-Webb added.
The demonization of the HDP has been carried to such extremes that when a jailed former HDP lawmaker, Aysel Tugluk, was allowed to take part in her mother's funeral in Ankara, she was mobbed by a crowd chanting racist slogans. Some bore clubs and pelted mourners with stones. 
"Terrorists and Armenians cannot be buried here," they shouted. Tugluk's mother was exhumed and reburied in her native Tunceli.
Erdogan's spokesman Ibrahim Kalin condemned the incident and the Interior Ministry launched a criminal probe. Three of the perpetrators were arrested. 
Bingol reburied his daughter in a cemetery in the city of Tatvan in Bitlis province on the western shores of Lake Van. "Why did the state treat my child like a criminal? She died fighting the Islamic State," he lamented. "I haven't placed a headstone on her new grave yet. I fear they will destroy it again."
Aaron Schaffer and Alex McKeever assisted in the production of this article.