Every year since 1955, the famous Amsterdam-based World Press Photo Foundation has curated an exhibition of images picked from that year's World Press Photo contest and showcased the exhibition in different locations around the world — from Singapore to Kenya to Brazil. Yet in its 64-year history, the exhibition has never been to Iraq — until now.
Iraq and Iraqis have often been the subjects of the photos submitted to the contest, which in 2019 received 78,801 submissions from 4,738 photographers from over 120 countries. In 2004, French photographer Jean-Marc Bouju won the contest with his picture of an Iraqi prisoner of war with a hood over his head, comforting his young son at a US holding center near Najaf.
For the first time in 2019, a special exhibition was on a three-city tour of Iraq - Baghdad, Erbil and Sulaimaniyah-  showcasing award-winning photography chosen from the 2017, 2018 and 2019 World Press Photo contests. This is due to the lobbying of Metrography, Iraq's first photo agency.
Established in 2009 in Sulaimaniyah by Kamaran Najm, a Kurdish photojournalist, and Sebastian Meyer, an American photojournalist, the agency aimed to train talented photojournalists and link them with international media.
A visitor looks at photographs from the 2017, 2018 and 2019 World Press Photo contests, Erbil, Iraqi Kurdistan, July 29, 2019. (Metrography Agency)
Most of all, though, they wanted to help the photographers tell the most intimate day-to-day stories about Iraq. Kamaran had long since been a war photographer and, as he said in his 2012 TEDx talk, he hated having to compete with other photojournalists by the number of dead bodies they captured on film. "There are not only bombs; there is not only blood. There are other stories of Iraqis we need to tell," he said to rapturous applause. Kamaran added, "Where is the beauty?"
For five years, everything was great. The photographers' work quickly appeared in top publications, the agency grew in size and became renowned, and the Metrography office became the busy, bustling center of a vibrant, exciting and fun community.
On June 12, 2014, everything changed. Kamaran disappeared. He had gone to Kirkuk to follow Kurdish peshmerga forces in what he was told by a contact would be a counterattack against the so-called Islamic State (IS). But just outside the village of Mullah Abdullah, Kamaran was shot in the neck. Apart from one urgent phone call Kamaran made the next day saying he was in Hawija, he has not been heard from despite a desperate search for him in the months and years after. Meyer's recent podcast with NPR and one of his articles describes his and others' anguish at hearing the news, the doomed negotiations conducted between Kurdish Commander Sarhad Qadir and Kamaran's IS captors, and ultimately the evaporation of information leading to what is now — five years later — a permanent and tortuous state of not knowing.
After Kamaran's disappearance, his younger brother, Ahmed, became key in rebuilding life at Metrography. He took the reigns as managing director, and it was Ahmed who managed to persuade World Press Photo to finally come to Iraq because it was something that Kamaran had always dreamed of.
"There were always photography books [at the Metrography office], and most of them were from the World Press Photo Foundation. Kamaran was always interested in the contest, and he was encouraging the photojournalists to participate in it," Ahmed told Al-Monitor.
After months of hard work, the "Best of Three Years" special exhibition was born, featuring images on themes from climate change to conflict. With support from the Dutch Embassy in Iraq and the Consulate in the Kurdistan Regional Government, it toured Baghdad in June; Erbil in June and July; and Sulaimaniyah — Metrography's home — in July and August, where it has just wrapped up.
There were approximately 18,000 visitors to the Baghdad exhibition, 4,000 to Erbil and 9,000 to Sulaimaniyah.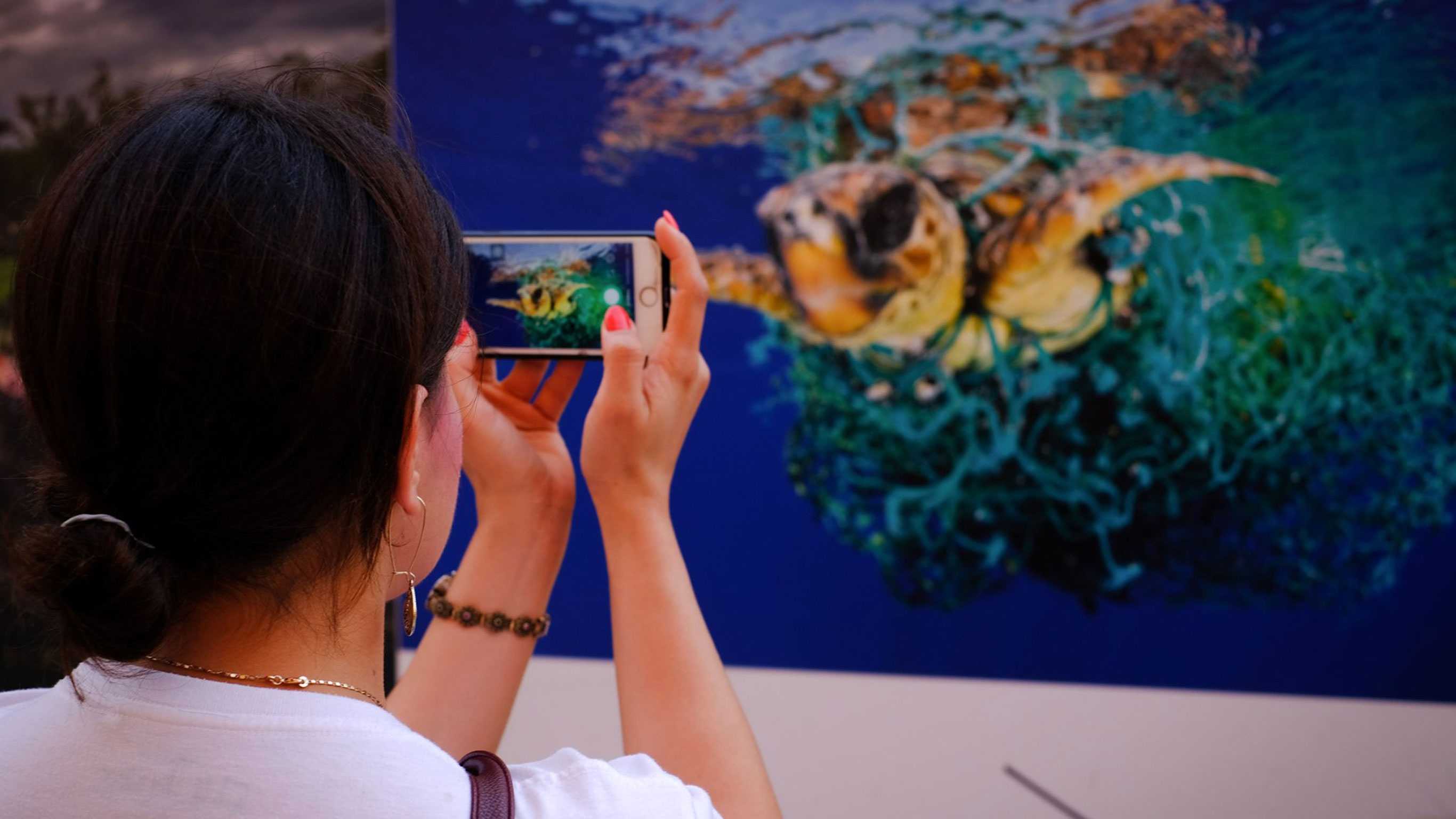 A visitor looks at photographs from the 2017, 2018 and 2019 World Press Photo contests, Erbil, Iraqi Kurdistan, July 29, 2019. (Metrography Agency)
Ahmed is delighted with this result. "Iraqi people deserve to see what's happening all around the world," he told Al-Monitor.
But the unique aspect about this exhibition, he explained, is that it also gives Iraqis a chance to see how they are being framed from the outside. "Foreign photographers are always coming to Iraq … but we are always wondering how we look through their eyes," he said.
Sanne Schim van der Loeff is an exhibitions manager and curator with World Press Photo Foundation; she was part of the team working on the exhibition. She agreed that this is a landmark moment, saying, "Much [photojournalism] and visual journalism in the news, as well as the World Press Photo contest and exhibitions, has focused on Iraq in the past. … For us, being able to organize the exhibition in a country where many of the stories within the exhibition have come from is extremely important and valuable."
As van der Loeff also pointed out, Iraq is ranked #156 on the World Press Freedom Index, so the exhibition represents freedom and liberty, which is exactly what Metrography — and Kamaran — stand for.
For Ahmed, the exhibition has not only been an extraordinary achievement for Iraq, but it has also helped him through another painful year of Kamaran's absence. "It's been five years that I've been looking for my brother, and we never got happy with the results. But when we brought this exhibition to Iraq, it has been like pure rehabilitation for me. I enjoy every second of it," he said. "Even while I'm answering your questions, I'm living Kamaran's dream. He's supposed to be here to present the exhibition to his family, friends and the Iraqi people, but he is not. I hope this exhibition reminds us of all the beautiful souls that left us just to bring us some independent news. This exhibition is dedicated to them."