Emil Masud is an Arab Druze who identifies as "forever Syrian," and Ofer Megged is an Israeli settler in the contested Golan Heights. They might seem unlikely partners, but a fight to save the environment against Israeli big business has thrust Masud, a local farmer, and Megged, a physics professor, into a burgeoning alliance that is shifting mutual perceptions between the Golan's Druze and Jews.
"Our lands will be destroyed," Masud told Al-Monitor at his family home in Masa'de. "We cannot allow this disaster to happen. Druze, Jews, [there is] no difference. We have joined hands against a common enemy to stop it."
It all began when one of Israel's "green" energy companies set its sights on the cherry and apple orchards owned by the Druze. Energix wanted to erect dozens of towering wind turbines, some of them 64 stories high, on the farmers' land. Company officials began quietly courting Druze locals, promising them jobs and other incentives, like yearly payments of around $11,000 for letting them build the turbines on their individual plots. Six hundred square meters per turbine — or about 6,500 square feet — that was all Energix needed, the operatives said. 
The civil war in Syria was raging. Farmers could no longer sell their produce there after Sunni jihadis hostile to the Druze seized control of the border. Incomes melted, and the offer sounded good. So a steady trickle of farmers signed contracts with Energix. As many as 40 Druze landowners are believed to have taken the bait.
Then news of the alleged health hazards posed by the project spread. Topping the list was infrasound, low frequency sound waves emitted by the turbines that are said to cause headaches, nausea and dizzy spells. Fertility in the farmers' bountiful agricultural lands was also at risk. The Druze found out because Jewish settlers in neighboring kibbutzim had launched their own battle against another predator, Enlight Energy, which is planning to build the country's biggest wind farm there. Megged, a resident of El-Rom, a kibbutz located in the northern Golan Heights close to the Druze village of Bouqaata, was leading that campaign.
"The Druze heard about my activities against other windmill projects in the Golan Heights and visited me in order to get some advice," Megged said. "In that meeting I raised the idea to give a lecture to the people in villages, and was invited to give a talk in front of their elders and religious people." As a result, he said, "barriers dropped, friendly relations evolved in the face of the common threat," and "mutual respect, care and an exchange of ideas" ensued.
One of those ideas was to petition the government to block the project, just as Megged and his fellow settlers had. Lawyers were hired and Masud and fellow Druze farmers presented their objections to Israel's National Planning and Building Committee for National Infrastructure in Jerusalem. "We had four meetings and they appointed an inspector to investigate the file," Masud said.
At the third meeting on July 17, Masud and Megged felt it was time to go big. The Druze showed up in force: Some 150 of them packed into six buses. "The Jews came in their own cars," Masud said. They all sat in a large auditorium in Jerusalem before a panel that included bureaucrats, security officials and Knesset members. 
Masud continued, "From the beginning, the company claimed it was working in cooperation with the Druze population. They were lying. That's why we brought the crowd." Wasn't this democracy in action? "Yes, we are benefiting from Israel's democracy," he responded.
As for many adherents of this ancient religion in the Golan Heights, this admission sits uneasily with Masud's politics. Large portraits of Syrian soldiers stare from the walls of their living room. A photo of Syrian President Bashar al-Assad with a Druze holy man is crammed into a china cabinet along with faux Grecian urns and amber beads.
Emil Masud at his house in Masa'de, Aug. 4, 2019. (Photo by Amberin Zaman)
"That's Ihsan Zahruddin, a major in the Syrian Arab Army. He's a martyr," Masud said, gesturing toward a uniformed man sporting dark sunglasses, a machine gun and a salt and pepper beard. "He was killed in an ambush by [jihadi rebels from] Jabat al-Nusra."
Assad's forces wrested back the border region, Quneitra, in July 2018 from an Islamic State offshoot that later prevailed.
But the Druze continue to seethe at the government's decision to treat Syrian opposition rebels wounded in battle against the Syrian army in the nearby Sfat hospital together with Syrian civilians caught in the crossfire — all part of "a humanitarian operation."
The Druze viewed things differently: "[Jabhat] al-Nusra was attacking Druze villages and Israel was supporting such aggression," Masud charged. Israel denies the claims.
The resentment runs deep. Israel captured 1,200 square kilometers (460 square miles) of the Golan from Syria in the 1967 Six Day War and passed a law that effectively annexed it in 1981. The move was never recognized internationally — the Golan Heights are deemed to be under Israeli occupation. The government's ham-fisted stabs at trying to impose Israeli citizenship on the Druze deepened the wounds. In the four decades that have elapsed, Golan's estimated 25,000 Druze are caught between loyalty to the Syrian motherland and the creature comforts — and relative security — of their Israeli lives.
In Mas'ade, smoothly paved roads are lined with sleek new houses. Local grocery stores brim with a wealth of choices, from Damascene confections to French cheese. Many of the local farmers have white collar jobs by day, which helps explain the aura of prosperity.
Rania Ibrahim, a 28-year-old mother of two, was filling her basket on a recent afternoon when she paused for a chat with a reporter. Her father, a former general in the Syrian army, was brought to Mas'ade by the UN in 1971, but "hates living under Israeli occupation." Ibrahim told Al-Monitor that she and her engineer husband, however, "like our lives here."
Another Druze woman, who identified herself only as "Rahab, a school teacher" concurred. "I feel safe, its a good life," she said. "There's a sense of community. Everything is available here. But I don't want to become Israeli because in my heart I don't feel Israeli." Her "primary identity" she marveled, as if realizing this for the first time, is "Golani. Golan is paradise on earth." 
Many others — typically men — emphasized that they would never relinquish their Syrian selves. "We are Syrians and this land is our honor, it's our life," said farmer Faried Alsaid Ahmad, as he tended to his cherry trees in an orchard overlooking the Marj Yaafouri valley. "We have owned it for 600 years," he said. Ahmad, who is also the director of Cultural Forum, a civic rights group in Mas'ade, said he had not signed with Energix but that the owner of a nearby plot had. "I come here to relax, the whirring noises will make it hell."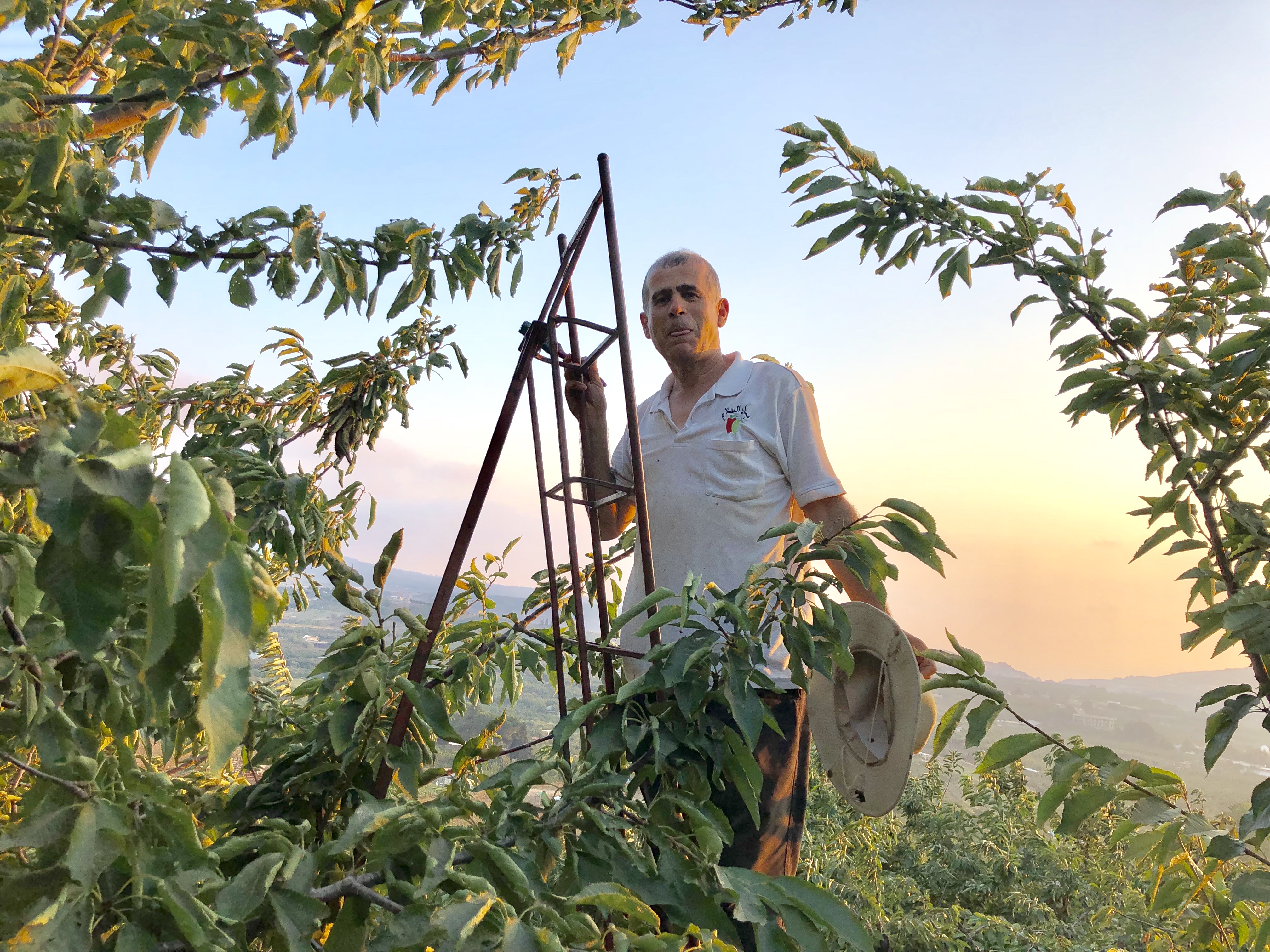 Faried Alsaid Ahmad in his orchard overlooking the Marj Yaafouri valley, Aug. 3, 2019. (Photo by Amberin Zaman)
But Salman Shams, 67, a proud grandfather of 12 who runs a roadside falafel stall called Aunty's Pita, was more equivocal. "I haven't taken [Israeli] citizenship, partly out of pride and partly out of fear," he said.
Between 12-15% of the estimated 25,000 Syrian Druze living in the Golan have acquired Israeli citizenship over the years, but it comes at a heavy price. They are said to be excommunicated by Druze spiritual leaders and treated as outcasts. The community is doggedly hermetic, making it hard for outsiders to gauge the internal divide.
The formal Israeli narrative is that, much like the Druze majority who reside in Israel proper, the Golan Druze are "secretly happy" to live under Israeli rule. But with family members still living in Syria and the Golan's status unresolved, many are "too scared" to say so openly. Tobias Lang, a Vienna-based researcher and author of a book on the Druze in Syria and Lebanon, described this account as misleading. "Since the 1970s there's recurring evidence for resistance against Israeli occupation with regular demonstrations against the annexation, and it's real," he said.
The civil conflict that erupted in 2011 in Syria, Lang noted, added a further layer of complexity. When Quneitra fell to the opposition rebels it seemed like they might win the war. The number of Golan Druze applying for Israeli citizenship abruptly went up. Yet, as Assad clawed his way back with Russia's help, his brutality did not go unnoticed here.
Outside Masud's house in Masa'de, the words "Syria Running for Freedom," are etched on a wall in English. Masud agreed that they were a rebuttal of Assad. "Being opposed to [Jabhat] al-Nusra doesn't mean we don't want democracy in Syria," he said.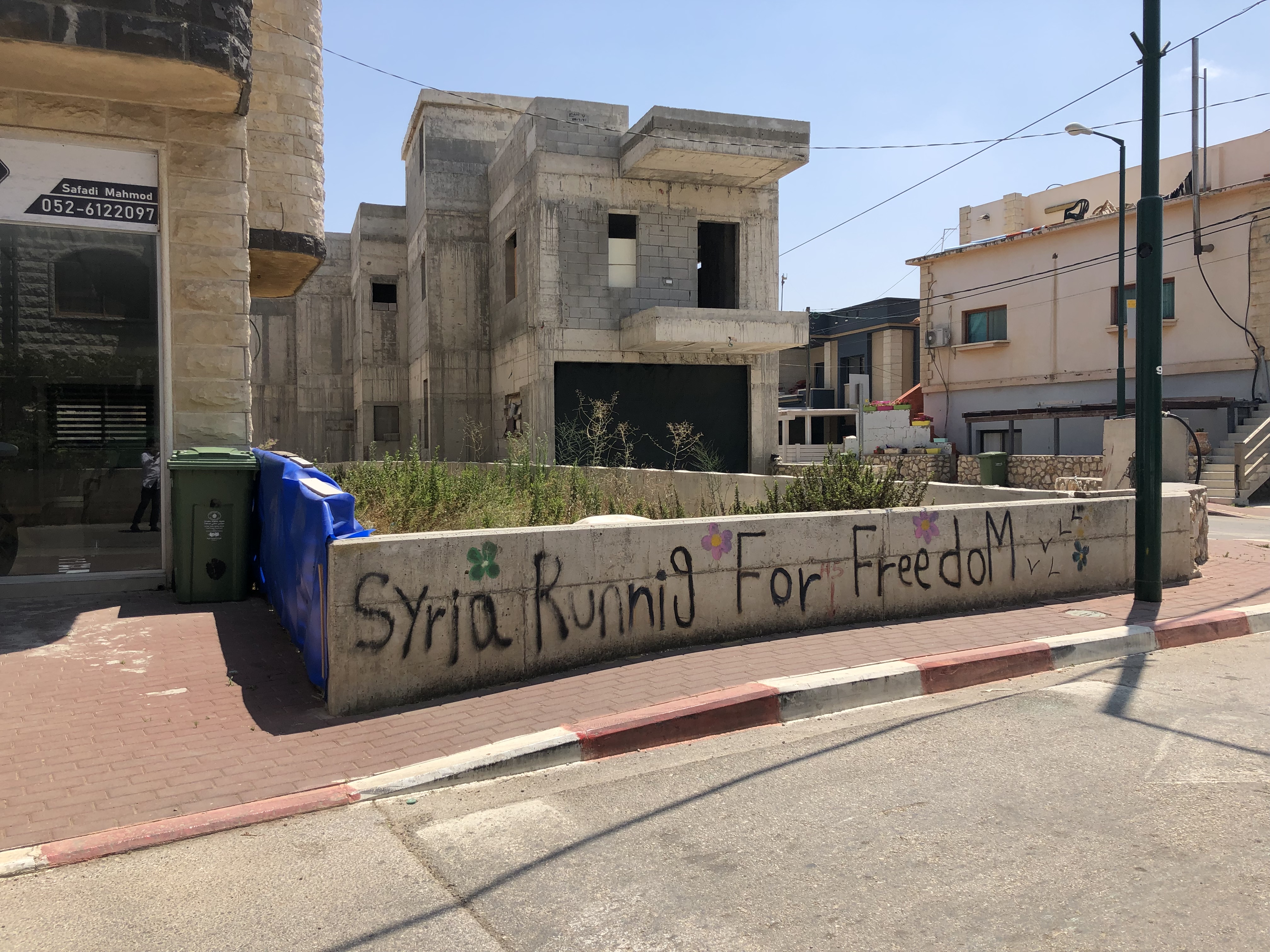 A photo of a slogan on a wall in Mas'ade, Aug. 4, 2019. (Photo by Amberin Zaman)
Also in Mas'ade, Najdat Rada, 16, was visibly torn. "We would like to live in Syria," Rada said. "I think it's beautiful. The people in Syria are good. But Assad is bad. He is killing everybody. Here we feel like second class, they treat Jews better. But I would rather live here if Assad doesn't change." 
Najdat Rada and his friends in Mas'ade, Aug. 3, 2019. (Photo by Amberin Zaman)
Salim Safadi is a Druze lawyer and state-appointed former mayor of Mas'ade. He is unabashedly pro-Israel and pooh-poohs the notion that his brethren are not. "They are angry on camera and in private its totally different. Oh, and the young kids, they don't listen to the sheikhs anymore," he said. "The best place to live in the Middle East is Israel. Here you have a Supreme Court. In Syria you have helicopters bombing you." Safadi, whose brother Nadim works for Energix, is an avid supporter of the project, arguing that the claims about infrasound are untrue. "I am for clean energy, and the people here who oppose it are doing so for political reasons," he said.
The wind farm scheme has left the community divided, and Druze who cut deals with Energix are feeling the heat. "Those people can't set foot in this shop, and we will not give them our girls," exclaimed Ziad Mahmoud, a religious man, as he perused golden ornaments in a jewelry store in Mas'ade. "They took the money and now they want to give it back."
Indeed, many of the farmers who signed contracts for the wind turbines are said to have reneged and Energix is reportedly preparing to file lawsuits. In the meantime, a Tel Aviv-based law firm allegedly acting on the company's behalf has sent threatening letters to the Druze. Masud, who received a letter, said, "They are trying to connect us to the [Palestinian-led boycott, divestment, sanctions] movement and painting us as anti-Semites." 
Energix did not respond to Al-Monitor's request for comment.
The Arab Human Rights Center in Golan, better known as al-Marsad, believes that Israel's efforts to cement its occupation of the Golan Heights — not clean energy — is what underpins its support for the scheme. In a scathing report titled "Windfall" al-Marsad observed, "Israel has prioritized developing natural resource-based industries in occupied regions because such industries are physically embedded in the land. This is why Israel, since 2013, has scoured the occupied Syrian Golan ('Golan') for oil. Now, Israel has turned toward a new opportunity to strengthen its hold on the Golan: wind farms." Safadi disputes this, saying the contracts are being signed with a private company, not the Israeli state, and involve a 24-year lease, not an outright sale of land.
Ein Zivan, a rustic kibbutz in the Golan, is awash with sunlight and the trill of birds. "Look, he's come to greet you," cries a young woman pointing toward the sky. A large eagle circles lazily above. The woman is Jewish and works for the Israeli government. She therefore demands that she not be identified by name. In her spare time, she helps run The Golan Guardians, an advocacy group established to protect the Golan Height's natural wealth. She confirms they joined forces against the wind turbines with the Druze. "We are friends with the Druze. I hitchhike in this area and they often give me a ride," she adds with a smile.
"All the winged creatures in the Golan will be affected by the wind turbines, vultures, eagles, songbirds," she says. "Gazelles, wolves, foxes, coyotes, the fauna, the flora, the bio-diversity is dizzying here … it's very hard to fight this because the profits for the companies are so huge."
The Trump Heights minefield, located near a settlement named after US President Donald Trump. (Photo by Amberin Zaman)
The disruption to the ecosystem will harm crops. Eagles who fly with their heads facing down are likely to be slashed to death by the turbine's giant propellers. Fewer eagles will mean more mice and snakes. Fewer bats and birds will mean more harmful pests. It's also bad news for Trump Heights, the desolate settlement that was renamed by the Israeli government to celebrate President Donald Trump's decision to recognize the Golan Heights as part of Israel. Inhabited by elderly Jews, the place is encircled by minefields and is apparently infested with poisonous snakes. "There are many vipers here, big ones, I saw one," said Hussein Kabha, a laborer who was refurbishing the soon-to-be inaugurated community center along with fellow Palestinians from nearby Ba'arta.
Paradoxically, Israel's Defense Ministry has voiced its opposition to building wind farms in the Golan on the grounds that they compromise Israel's security by interfering with the army's radar systems. Haaretz reported Aug. 12 that Enlight's project continues to be held up precisely over such objections.
"The Defense Ministry decided to exploit the veto power they have over the Genesis Wind and other wind farms to wring money to fund the 280 million shekel ($80.5 million) cost of upgrading the radar system needed to overcome the disruptions," Haaretz reported.
The Israeli inspector tasked with delivering his verdict on the Energix project "rejected all of our objections," Masud told Al-Monitor via WhatsApp Aug. 21. In a further complication, the Israeli Land Authority is claiming ownership of 12 plots of land where the turbines are planned. The case will likely drag on. To signal their unhappiness, the Druze are planning to not send their children to school Sept. 1, the beginning of the academic year. "Even if Assad were to support this project I would still continue to fight it. It's a dagger to our heart," Masud vowed.
Correction: Aug. 23, 2019.  An earlier version of this piece placed Emil Masud in Majd al-Shams. He was interviewed in Masa'de. Masud's reference to a dagger in a quote in the earlier version was a connection to the project itself, not to President Bashar al-Assad.