JERUSALEM — In a remote corner of northern Israel, the words "Seni Seviyorum" — Turkish for "I love you" — are scrawled on a roadside wall. Until a decade ago, they would have reflected popular feelings for Turkey, the first Muslim country to have recognized the Jewish state. Those were the "golden years" when Israeli fighter jets trained in Turkish skies and Turkey benefited from Israel's intelligence on its Kurdish rebel foes and from Israel's influence in Washington. The now-defunct defense protocols forged in the mid-1990s between the Middle East's two most powerful militaries caused jitters in Damascus and Tehran and quiet satisfaction in Washington and Brussels. 
Nowadays, however, Israel is lobbying the Trump administration to curb arms sales to Ankara and says Turkey has become an operational base for Hamas with around 400 members of the Palestinian group plotting terror activities there. Israeli officials say these Hamas members helped organize the recent spate of attacks against Jewish settlers in the West Bank. Turkey dismisses the allegations as dark propaganda and charges in turn that Israel is treating Palestinians in Gaza as the Nazis did the Jews.
The two countries have not had ambassadors in their respective capitals since May 2018, when the Israeli envoy in Ankara, Eitan Na'eh, was to told to "leave temporarily" in response to the deaths of more than 60 Palestinian demonstrators at the hands of Israeli forces in Gaza. 
The downgrading of diplomatic ties has seen Turkey and Israel settle into rival regional blocs for the first time in modern history. One unites Israel, Egypt, Saudi Arabia and the United Arab Emirates, primarily against Iran. The other comprises Turkey, Qatar and their Muslim Brotherhood-linked allies, who say they are being targeted along with Iran.
Is the unraveling irreversible, and if so, how will this affect regional security — and Western interests? The question is growing more pressing as the conflict in Syria takes new and alarming turns, with Iranian entrenchment, not the Islamic State, the new source of worry. The greater if rarely articulated concern is whether the freeze will descend into open hostility between the two countries. 
Many say such fears are overblown. Turkey and Israel have weathered bigger crises in the past. But others point to a dangerous complacency that, when coupled with Washington's apparent indifference, is allowing the breach to deepen unchecked.
Gallia Lindenstrauss, a senior research fellow at the Institute for National Security Studies in Tel Aviv and a leading Israeli expert on Turkey, is one of them. She cautioned, "The damage that has been done in the past decade — not just in government-to-government level relations but also in the people-to-people ones — is real." So is the drift toward a jingoist populism egged on by Turkish President Recep Tayyip Erdogan and Israeli Prime Minister Benjamin Netanyahu, who share the distinction of being their countries' longest serving leaders.
The blame game 
In Turkish eyes the animosity flows chiefly from Israel. Galip Dalay, a Turkish expert on the Middle East and a visiting scholar at Oxford University, told Al-Monitor, "The axis formed by Israel, Saudi Arabia, Egypt, the United Arab Emirates and Bahrain is anti-Iranian and anti-Islamist but it is also is ineluctably anti-Turkish because in the final analysis it envisions a regional order in which not only Iran is pushed back, but in which Turkey's role is reduced as well." 
The conviction that mutual security interests would always trump other differences and that together Turkey and Israel would contain Iranian influence used to be a central pillar of Turkish-Israeli ties. Today it's met with derision on both sides. Dalay said, "Turkey is uneasy about Iran's role in Iraq and Syria. Yet when it places Iran in the broader regional context and looks at the [Israeli led] bloc opposing it, Turkey views it as being more dangerous than Iran."
As for the "golden years" of the mid- to late 1990s when Turkey's generals still ran the show, ramming through defense cooperation agreements with Israel just as the country's first Islamist prime minister, Necmettin Erbakan, rose to power, "They were an anomaly, not the norm in Turkish-Israeli relations," Dalay said.
Israel sees things differently.
The prevailing consensus is that Erdogan and his Islamist ideology are at the root of the rot. "The fact that we lost Turkey because of Erdogan is a bad thing," said Yaacov Amidror, a former Israeli general and national security adviser. "Until Erdogan goes, nothing will change."
"Turkey is part of the problem; it's no longer part of the solution [in the Middle East]," said Yossi Kuperwasser, a former general and intelligence expert who served as the director general of the Israeli Ministry of Strategic affairs, in an interview with Al-Monitor.
Amidror — who remains an informal, and critical, adviser to Netanyahu — formed his views on Erdogan when he led tortuous negotiations with Ankara on compensation for the nine Turkish citizens who were killed by Israeli forces on board the Mavi Marmara in 2010. The vessel was part of a flotilla seeking to bust the Gaza blockade. It remains unclear to this day whether Erdogan endorsed its actions, though he appeared to distance himself from the Gaza activists during a 2016 iftar dinner: "Did you consult me before you sent the ship?" he snapped.
Netanyahu apologized for the affair — with much prodding from US President Barack Obama — in a March 2013 telephone call to Erdogan. But amid all the pressure, the Israelis forgot to close the deal on compensation for the victims' families when Netanyahu made the call. Erdogan, a hard-nosed bargainer, wanted $34 million; Israel was offering $20 million. The haggling carried on for three years before ambassadors were exchanged in December 2016. The thaw was short-lived. The ambassadors were forced or ordered to return home again in less than two years, leaving a further bitter taste.
Israel has, nonetheless, continued to provide vital intelligence to Ankara, allowing it to avert at least 18 Islamic State attacks so far, an Israeli official told Al-Monitor on condition that he not be identified because of the delicate nature of the subject. But Erdogan's anti-Israeli tirades, calculated in no small measure to shore up his domestic base, have continued unabated, sharpening Israel's sense of injury.
Lindenstrauss said, "There is a sense of betrayal among Israeli Jews. How did Turkey, with which Israel has such good relations in the 1990s, change its attitude in such a way? Among ordinary Israeli Jews, the one to blame for all of this is Erdogan."
The resentment cuts both ways. 
Erdogan is said to have never forgiven Israel for launching Operation Cast Lead against Gaza in December 2008 just as he thought he had finalized a peace deal between Israel and Syria. That is when relations under the famously vindictive Erdogan took their first big hit and cooperation between the two militaries was axed. 
Menashe Carmon, a Turkish Jew who presides over the Israel Turkey Business Council, agrees that the relationship between the two countries is emotion-charged. "It's a pride thing, with each side behaving as if they have been jilted by their lover." 
A roadside wall with the words "Seni seviyorum" — Turkish for "I love you" — is seen in the Golan Heights, Aug. 4 (photo by Amberin Zaman/Al-Monitor)
Yet "many Israeli Jews long to return to vacationing in Turkey and the interest in Turkish culture and cuisine remains," Lindenstrauss said. They continue to tune in by the tens of thousands to "Istanbul Bride," a Turkish mini-series about love and revenge that may have inspired the Turkish graffiti spotted by this reporter.
Israel has found new friends, including Turkey's traditional foes, Cyprus and Greece. Israeli commandos train in Cyprus, Israeli planes train over Romania, Bulgaria and Greece and India is the new market for Israeli weapons. But Turkey used to be a one-stop shop, offering all of the above and more. 
New darling of the Palestinian street
In Ankara, the commonly held view is that Netanyahu's aggressive settlement policy in the West Bank, and his aversion to a Palestinian state more generally, have made matters worse. But absent sustained US pressure, Israel's approach to the Palestinian issue will remain unchanged, no matter who is in charge. And until such time, Turkey's approach to Israel will not fundamentally change, either. "The Palestinian question has and will continue to shape Turkish-Israeli relations," said Dalay.
Turkey downgraded ties with the Jewish state following the 1956 Suez war and again in 1980 when the Israeli Knesset passed the Jerusalem Act, which affirmed a united Jerusalem as the capital of Israel. In 2002 — seven years before Erdogan stormed off a stage at the World Economic Forum in Switzerland after telling Israeli President Shimon Peres, "When it comes to killing, you know well how to kill" — Erdogan predecessor Bulent Ecevit accused Israel of genocide against the Palestinians.
Indeed, Erdogan has emerged as the new darling of the Palestinian street. In Kafr Kassim, an Israeli Arab town 12 miles east of Tel Aviv, crimson Turkish flags flutter above residential buildings. Issa Atta, a Palestinian pensioner, carries a key ring emblazoned with Erdogan's face. "I go six times a year to Turkey," he said. His cousin, Yusuf Issa, chimed in, "I love Erdogan, he built a strong country. I think he's the best."
Posters of Turkish leader Recep Tayyip Erdogan, including one showing him with Barack Obama when Obama was president, are seen in a restaurant in Jerusalem, Aug. 8, 2019 (photo by Amberin Zaman/Al-Monitor)
The sentiments were echoed in Jerusalem, where posters of Erdogan adorn the walls of shawarma restaurants and travel agencies. One shows Erdogan with Obama and is captioned "May God guard you from the evil of others." The Turkish narrative that the United States helped orchestrate the failed 2016 coup against Erdogan seems to have caught on here. But it's more than that. Israeli officials allege that Turkish agent provocateurs under the guise of tour guides are stoking anti-Jewish sentiments and spreading pro-Hamas propaganda in Jerusalem.
Cemil Tekeli, who teaches law in Turkey, was snatched by Israeli security in January 2018 as he was boarding a flight home at Tel Aviv airport on suspicion of aiding Hamas. 
Tekeli had attended a workshop with fellow Palestinian legal experts and then went on a tour of the Al-Aqsa mosque in Jerusalem, a former Ottoman dominion. Tekeli protested his innocence, but said he was held in an "ice cold cell" where he crouched in fetal position with his hands and ankles chained. He said he was blindfolded, stripped naked by Israeli interrogators who questioned him about his social media content and denied access to the Turkish Embassy. "I thought I would never get out of there," Tekeli said of the ordeal.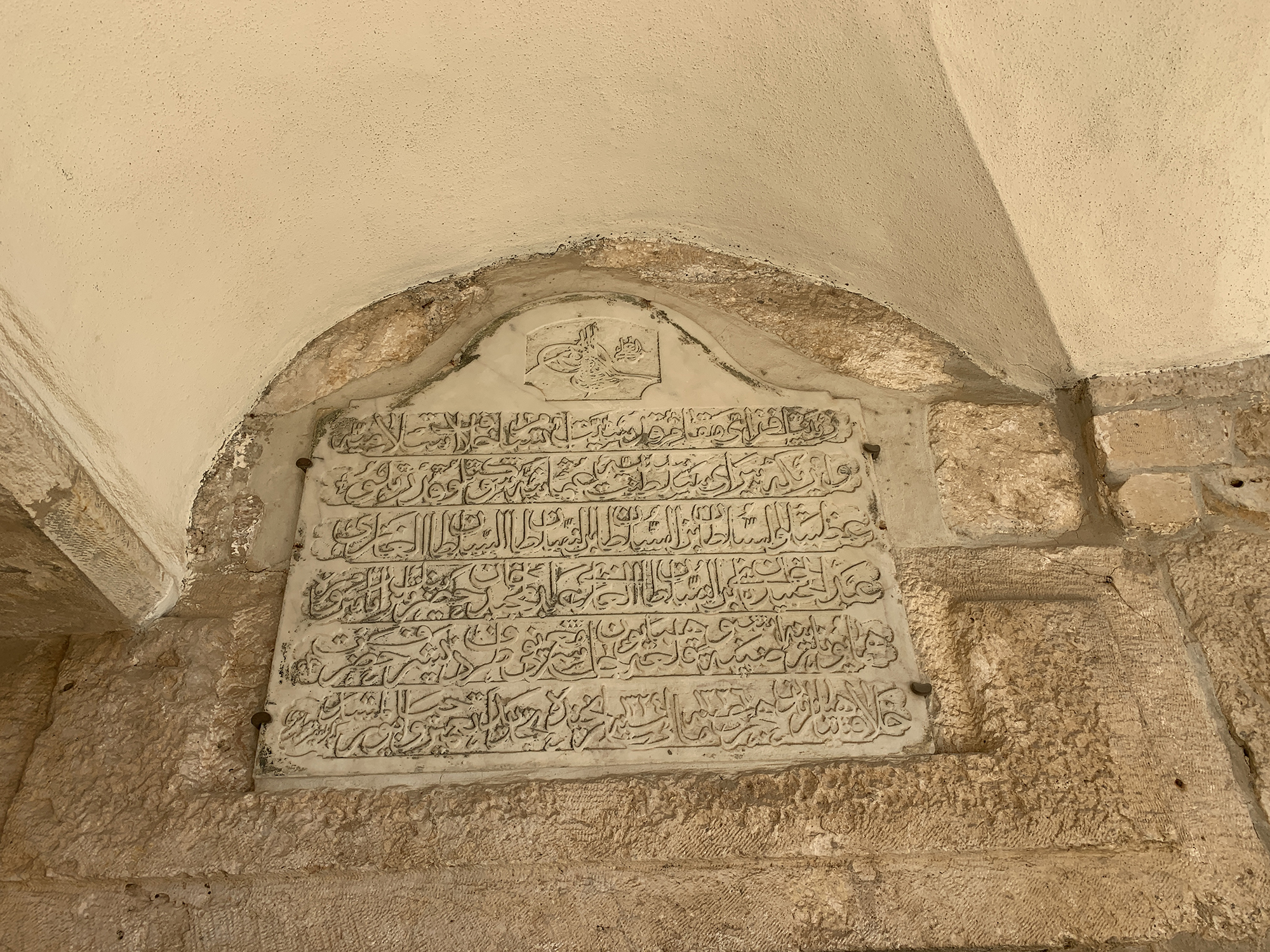 Ottoman inscriptions bearing the Ottoman sultan's seal are seen at the Citadel of Jerusalem, Aug. 10, 2019. (photo by Amberin Zaman/Al-Monitor)
Israeli officials countered that Tekeli's interrogation had revealed that Turkey was helping Hamas build its military strength and facilitating residency for Hamas operatives in Turkey.
Israel's internal security agency Shin Bet said in a statement: "The findings of the investigation underscore the fact that Hamas' ramified economic and military activity in Turkey takes place unhindered as Turkish officials turn a blind eye and — on occasion — encourage it, and with the assistance of Turkish nationals, some of whom are close to the government." An Israeli official speaking not for attribution said Tekeli "sang like a canary." The official added, "We suspect that Hamas recruits terrorists from among Palestinian students studying in Turkey."
Ebru Ozkan, another Turk, was arrested in July 2018 on charges of carrying money — and a phone charger — to Hamas. She denied all the accusations and was freed after President Donald Trump personally intervened on her behalf in the erroneous belief he had a deal with Erdogan to free, in exchange, a US pastor who was being held in Turkey on outlandish terror charges. 
In an apparent escalation, Israel's Foreign Minister Israel Katz announced in an Aug. 26 tweet that he had ordered his ministry to come up with a plan to "to stop Turkey's incitement and subversion in East Jerusalem." He said more details of the plan would be revealed later. Turkish Foreign Minister Mevlut Cavusoglu shot back with a tweet of his own. "A dirty game is once again being played in #Israel at election time." Cavusoglu was alluding to Israel's Sept. 17 redo of parliamentary elections. 
Cavusoglu added, "Will never give up supporting our Palestinian brothers & sisters in East Jerusalem, capital of #Palestine under occupation and defending the Palestinian cause." 
Islamist ideologue or pragmatic businessman? 
At Yilmazlar, the Turkish construction group that has erected many of the futuristic skyscrapers dotting Tel Aviv's skyline, the mood is palpably twitchy. Yilmazlar's general manager, Ahmet Ariklar, said in an interview with Al-Monitor that the souring of political ties had not hurt business. "We continue to land prestigious contracts and for sensitive military projects, the Israeli state prefers working with Turkey, not the Chinese." Navigating the Israeli bureaucracy to sort out glitches was growing more difficult, however. "We have no Turkish ambassador here to help us out." 
The same goes for Israeli businessmen competing for Turkish state tenders. Ariklar said they were being shut out. "Erdogan is very sensitive on the Palestinian issue. You know his ideological makeup," Ariklar said.
Yet trade ties between the two countries remain as robust as ever. Annual volume stands at $5.5 billion and could swiftly double, Carmon said, "because Turkey and Israel don't produce the same things." Turkish Airlines flies to Tel Aviv's Ben Gurion airport nine times per day. 
This is cited as proof that Erdogan is more of a pragmatist than an ideologue — that for all his inflammatory rhetoric on a permanent rupture, profit comes first. Israel's top diplomat hinted as much. Briefing the Knesset earlier this week on his meetings with United Arab Emirates officials in Dubai, Katz said of Erdogan, "We don't like him, nor does he like us." Yet despite there being "clear hostility between Turkey and Israel, trade continues to grow." Katz hinted that Erdogan might be benefiting personally. "Perhaps even some of his family is involved in bringing trucks to Haifa port," the minister said
Katz, who served as transport minister for nine years, was alluding to Turkish trucks that arrive on board ferries and carry Turkish goods to Israel, Jordan and the Persian Gulf countries. 
Turkish officials may well riposte that Netanyahu is enmeshed in corruption scandals of his own.
Katz failed to mention another persistent allegation, that Erdogan's family receives a cut from the growing oil trade between Israel and the Kurdistan Regional Government (KRG) in Iraq. Some 40% of Israel's crude imports now come from the Kurdistan Region of Iraq, an Israeli official speaking on background told Al-Monitor. "We are pretty certain that Erdogan's family is involved in the trade but it's difficult to prove," an official at Ashdod port speaking on background, said in a telephone interview with Al-Monitor.
Turkish journalists who have sought to probe allegations of Erdogan's corruption have found themselves jobless, or worse, behind bars. 
A collective of European investigative journalists called the BlackSea.eu, however, uncovered evidence that Erdogan's brother-in-law secretly owned an oil tanker, but they did not mention the Kurdish oil trade in their reports. 
The crude flows via a pipeline to export terminals on Turkey's southern Mediterranean coast and is carried by tankers to Israel. The trade is linked to an opaque multibillion oil-and-gas deal inked between Turkey and the KRG in 2013. 
Louis Fishman, an associate professor at Brooklyn College and the author of an upcoming book titled "Jews and Palestinians in late Ottoman Era," points to a paradox. While Erdogan has allowed his Islamist supporters "to spread anti-Israel and vile anti-Semitic hate speech in the public sphere," Israel has in turn allowed "economic ties to continue, knowing that Erdogan's ties with the Palestinians is also greatly dependent on his retaining ties to Israel." Erdogan is now stuck in "a trap" where he has to be "the main voice against Israel, which is crucial to curb internal criticism against him for fostering strong economic ties with Israel," Fishman said in emailed comments to Al-Monitor.
Gas for peace?
Israeli officials hoped that Erdogan's commercial flair would lead him to embrace another energy project — to build an undersea pipeline to carry Israel's vast offshore gas riches in the eastern Mediterranean to energy-hungry Turkey and eventually into Europe. 
For a while, it seemed like he might bite. The gas talks kicked off ahead of Netanyahu's 2013 apology. According to an Israeli source with close knowledge of the dealings, "The strategic incentive for the apology was energy." The source, who asked not to be identified so he could speak freely, said, "It was believed that once the price was right, Erdogan would embrace it." Israel threw in a carrot: The pipeline would connect to the breakaway Turkish Republic of Northern Cyprus, recognized solely by Turkey. The calculation proved wrong. "Erdogan marked down the apology as merely another win rather than a move to normalize relations," the source said.
Many Israeli officials believe the deal collapsed over price. Others speculate that it was blocked by Erdogan for "ideological reasons." Either way, Israel's plan B to join forces with Egypt, Greece and Cyprus to sell their gas to Europe is unlikely to materialize without Turkey's assent. 
Amid all the gloom, a small band of Israeli experts believe the relationship could yet be turned around. Dore Gold is a former Israeli ambassador to the UN and a close associate of Netanyahu who signed the compensation agreement with Turkey for the Mavi Marmara affair. "I have been at different times a strong advocate for reconciliation with Turkey," he said during an interview at the Jerusalem Institute for Strategy and Security, which he chairs.
Gold hinted that Erdogan's survival instincts could yet lead him to reevaluate the benefits of good ties with Israel. "If you want to reestablish your status in certain circles and with certain countries it's easier when Turkish-Israeli relations are back on track," Gold said. He was alluding to Turkey's turbulent ties with Washington. Israel would benefit from normalization, too, when it comes to Iran. "Iran is a mortal threat to the state of Israel," Gold said.
Efraim Inbar, a prominent academic who runs the similarly hawkish Jerusalem Institute for Strategy and Security, concurs. "Turkey is a very a important country with a military that is ready to fight. Turkey is the only country that can balance Iran," he said. 
Micha'el Tanchum, a senior associate fellow at the Austrian Institute for Security Studies, said, "A common concern about the expansion of Iranian power across Iraq and Syria was a motivating factor" in propelling the gas pipeline talks between the Netanyahu and Erdogan governments. "Turkey and and Israel continue to share this strategic interest," Tanchum said.
As Turkey and Israel continue to spar, Turkey's dwindling Jewish community is feeling squeezed. Hay Eytan Cohen Yanarocak, a Turkey expert at the Moshe Dayan Center for Middle Eastern and African Studies, said, "Many Turkish Jews are being held responsible for Israel's policies even though they have no formal ties with [the Israeli government]. In this tense and negative environment many Turkish Jews lost their jobs or have lost business," Yanarocak said. 
Carmon summed up their feelings: "This crisis has gone on for too long. Both sides need to wake up."