"Space is no scientific object removed from ideology or politics. It has always been political and strategic," the French philosopher Henri Lefebvre asserted. Nowhere does this seem to reverberate more today than in Ankara, Turkey's often forgotten and somber capital.
Once a remote backwater in the Anatolian heartland, Ankara became the showcase of the newly forged Turkish Republic established in 1923. Modern Turkey's founder, Kemal Ataturk, envisioned the capital of the new nation-state as the antithesis of the grandiloquent Istanbul, and it certainly doesn't compete for pomp with its bigger sister.
During the interwar years, republican elites commissioned German, Swiss and Austrian architects and urban planners to erect a new city that would embody the Kemalist project. Instead of awing with the resplendent mosques and splashy palaces favored by the Ottomans in Istanbul, Ankara would be designed along the rationalist and functionalist lines of European modernist architecture. 
To this day, Bosphorus-enthralled sightseers continue to be struck by Ankara's austere and minimalist flavor. Among its drab architectural landmarks are the national parliament, the railway station and several administrative buildings. To Ankara denizens, however, these buildings are far more than a few slabs of unadorned gray stone. They are the icons of an era, cherished and disdained.
For more than a decade, Ankara's modernist edifices have been at the heart of a culture war pitting adamant defenders of Ataturk's secular and Westernizing legacy against officials of the Justice and Development Party (AKP) keen on reviving Turkey's Ottoman and Islamic past.
"Since 2006, a process of systemic destruction of republican-era buildings was set in motion by the AKP," Tezcan Candan, head of the Ankara branch of Turkey's Chamber of Architects, told Al-Monitor. A proud Ankara native, Tezcan has led an indefatigable campaign to fend off attempts by authorities to raze modernist constructions.
"The government is taking its revenge on modernity and the republican period," said Candan. "That's why it is trying to obliterate the constructions that symbolize that historical era. It's completely ideological."
In her office in Kizilay, the capital's bustling epicenter, Candan takes out a record of all the court cases she has initiated to block the demolition of the city's architectural heritage. They total 850, a remarkable 90% of which she had won.
The steely Candan's most recent victory came in June, when the Chamber of Architects managed to save Saracoglu, a leafy neighborhood famous for being Turkey's first public housing project. Planned by the German architect Paul Bonatz and built in the 1940s, it was slated to be scraped and turned into a parking lot until Candan and her associates won a court case to safeguard it.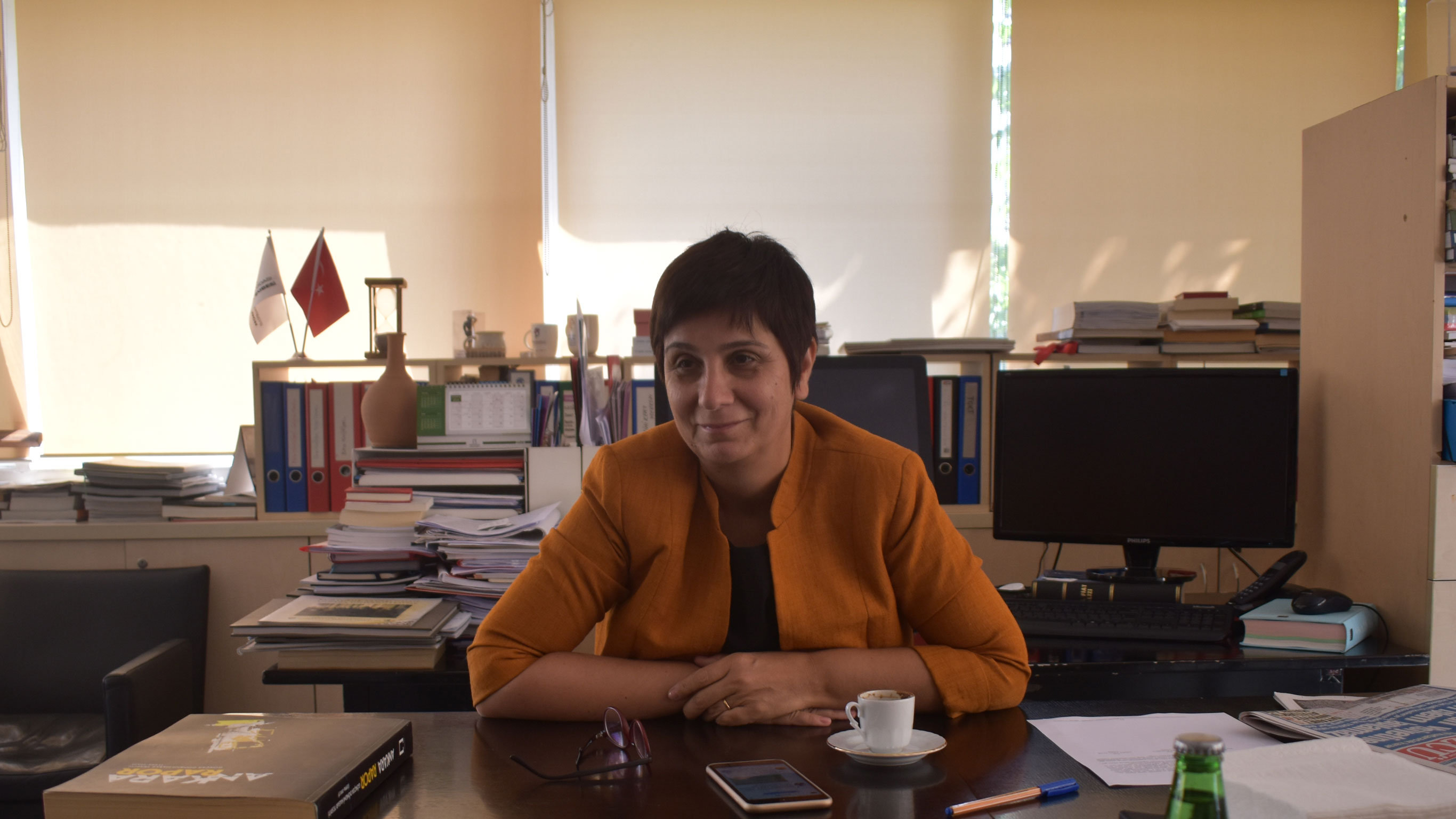 Tezcan Candan, head of the Chamber of Architects, Kizilay, Turkey, Aug. 22, 2019. 
Since then, the chamber has filed lawsuits to thwart the transfer of Ankara's historic railway station — a modernist gem built in 1937 — to a private university. It is also fighting to protect some of the capital's green space, including the Ataturk Forest Farm and the Youth Park. Both are places for public recreation and serve as reminders of the rationalist ethos of the 1930s and 1940s that held sway in much of Europe. As in Italy and Germany at the time, Turkey's republican elites embraced a cult of health and youthfulness, the parks fulfilling a ritualistic function in that regard.
The mosque at the Turkish parliament has emerged as another battleground. An idiosyncratic structure completed in 1989 and with a minaret represented by a tall poplar tree, the mosque received the Aga Khan Award for Architecture for the boldness of its design. Though this late addition to the modernist movement was built under a conservative prime minister, many pious parliamentarians see it as a hoax by the secular establishment.
"It's a beautiful design, but the minaret is a tree! Because of this, they want to tear it down," Candan explained.
The AKP's urban crusade is not only about erasure. "In accordance with this policy of making neo-Ottomanism the new lingua franca in architecture, the aim is as much about erasing buildings as adding new ones," explained Esra Akcan, a professor at Cornell University and the author of several books on architecture.
In this regard, although Candan can avert some of the bulldozing through the courts, there is little she can do to stop new buildings from sprouting up around the city.
Melih Gokcek, Ankara's wacky mayor between 1994-2017, was one of the primary engineers behind efforts to recast the city's visual identity. In 2017, he blew up an 82-year-old modernist bank to clear the view of an Ottoman-style mosque. In a move that many saw as a direct provocation, Gokcek had his picture taken flashing a thumbs-up in front of the bank's debris. He also presided over the construction of the tawdry gates that now greet visitors as they enter the city from the airport.
"God willing, our gates, with their particular attributes will become symbols of Ankara," said the conservative mayor upon their completion. "Our gates carry the new wind of Seljuk and Ottoman architecture which reflects our history."
In April 2019 Ankara elected a new mayor, from the opposition Republican People's Party (CHP), Ataturk's historical party. Despite this development, Candan maintains that there is little the new mayor can do given the sweeping powers of President Recep Tayyip Erdogan, including over local issues, since the introduction of a presidential system in 2017.
Perhaps the most galling taunt was the erection in 2014 of a presidential palace — a stupendous Seljuk-inspired behemoth with 1,150 rooms — made to order for Erdogan. Of all places, the palace was built in the midst of the Ataturk Forest Farm, Kemal Ataturk's private farm established in 1925.
"That was like a direct insult to Ataturk," said Zeynep, a young Ankara resident who was evicted along with her family from Saracoglu in 2014. A staunch Kemalist, she is deeply saddened by the remodeling of her city's urban landscape.
"The modernist buildings are beautiful and represent something," Zeynep lamented to Al-Monitor. "Now we see these wannabe-Ottoman buildings popping up everywhere."
In the same way the buildings of the 1930s and 1940s were the artificial copycats of a desired but non-existent modernity, today's constructions are also contrived replicas of a bygone epoch.
"If the devil himself came to Ankara, I would prefer him to Melih Gokcek at this point," Zeynep asserted. "They're erasing our memory and everything Ataturk stood for."
Thanks to Candan's efforts, there is some hope that Ataturk's legacy will survive the current threat. The battle over Ankara's architectural landscape has yet to be won. In the meantime, a unique architectural jumble prevails in which cubic severity meets ornate profligacy.