How a referendum in Turkey tore apart a village and a family
---
The warning signs were evident long before the residents of Yabanardi began lining up to cast their ballots at the hilltop village's tin-roofed school. After a particularly nasty political campaign, each side was convinced that no less than the future of the Turkish republic hung in the balance. Many suspected that the opposition — their friends, neighbors and relatives in a village of barely a couple hundred people — were ready to steal the vote. "When I arrived at the school there were eight or 10 armed people waiting," the mayor, Hidir Yildiz, recalled in an interview with Al-Monitor.
A stocky man with a thick, gray mustache, the mayor is a staunch supporter of President Recep Tayyip Erdogan and his Justice and Development Party, or AKP. On that fateful April 16, 2017, the mayor stood firmly behind Erdogan's referendum push to consolidate his power. "I've voted for Erdogan ever since he came to power. My supporters vote for him, too," the mayor said. "Right now, the only solution to Turkey's problems lies with the AKP."
Yabanardi mayor Hidir Yildiz sits
in his home.
 Murat Can Bilgincan
for Al-Monitor
Those were fighting words for other members of the Yildiz family. The leader of the "no" camp in Yabanardi was the mayor's older brother, Abdurrezzak Yildiz, whose partisans avidly support the country's largest Kurdish party. They felt the government had only stepped up its repression of the minority group following the failed coup attempt against the president in July 2016.
As the hamlet's residents made their way to the school, both factions set up camp inside the classroom housing ballot box 1115, the only one for the entire village. Hidir Yildiz insists that voters felt intimidated by his brother's supporters. Alarmed, he called the local military garrison. Several soldiers arrived 20 minutes later. "Because of the fear they are causing, the villagers are not coming out to vote," the mayor told their commander. "We cannot live like this." Abdurrezzak Yildiz's family denied the mayor's allegations that they posed any sort of threat. Apparently convinced, the soldiers refused to intervene, according to the mayor.
A few hours later, Abdurrezzak Yildiz's daughter — who is also the mayor's daughter-in-law — arrived at the polling station. The moment Havva Yildiz attempted to cast her vote was the beginning of the family's undoing. As she extended her arm to drop her ballot, the mayor intervened. "She had folded the envelope," the mayor recalled. "I told her to unfold it and drop it in the box that way so that it would fit."
Alarmed, Havva Yildiz screamed and slapped her father-in-law "with both hands," he recalled. The mayor blames a misunderstanding. But a mobile phone video that appeared on the Internet months later shows that the envelope was not folded, lending credence to accusations that he was trying to see how she had voted. Almost immediately, a fight broke out among family members. As concerned villagers removed Abdurrezzak Yildiz's entourage, the mayor bolted the school's metal door from the inside.
What happened next is under dispute.
Ozlem Yildiz said she heard screams. She remembers sprinting to find her husband, Mehmet Yildiz, the mayor's son, about to be lynched among the schoolyard's thorny bushes. "I threw myself over him so that they couldn't beat him up," she told Al-Monitor. "As I was about to pull him away from the mob, I suddenly heard gunshots."Mehmet Yildiz had fatally wounded his uncle Abdurrezzak and his cousin, Seyhmus — Abdurrezzak's son.
Shooting victim Seyhmus Yildiz
 Facebook/Seyhmus Yildiz
Two witnesses who did not want to be identified challenged Ozlem Yildiz's account in an interview with Al-Monitor. Mehmet Yildiz, they said, entered the schoolyard with a gun hidden under his vest. He started shooting without provocation, they said, and was attacked in retaliation. "Did Mehmet take the gun from them? Did it fall from someone's waist? Did Mehmet own it? I'm not sure how it happened," his father said.
One thing, however, seems clear: The poisonous political climate in the village had played a part in the Yildiz family's bloody unraveling, which would claim one more life before day's end. During Mehmet Yildiz's initial deposition, a gendarmerie commander asked him to explain his actions. "I shot them for the state," he answered, according to court documents. "I know I'll serve prison time."
Longtime grievances among the Yildiz family were an open secret in Yabanardi, a relatively lush piece of grazing land two hours west of Diyarbakir in Kurdish-heavy southeastern Turkey. The mayor and his brother did not get along, according to family members on both sides of the divide. Their arguments were personal as well as political.
As Yabanardi's elected head, or mukhtar, Hidir Yildiz serves as the local power-broker and liaison to Ankara for the hardscrabble village of about 40 stone and concrete homes. While most villagers rely on remittances from younger relatives who have migrated to Germany or large Turkish cities, the mukhtar enjoys additional income from the state, which has the power to suspend him. In Yabanardi, Hidir Yildiz's status is further highlighted by his imposing home at the end of the single dirt road that cleaves the town down the middle.
"In small villages with a very strict hierarchical structure, incidents like this have always broken out in election times," said Ilter Turan, an emeritus professor of political science at Istanbul Bilgi University. "Such incidents are not particular to this referendum," said Turan, though he added that the nationwide number of violent incidents linked to the April 2017 vote was actually rather low.
In Yabanardi, however, the heightened tensions and acerbic rhetoric surrounding Erdogan's policies exacerbated family divisions to the breaking point.
The Yildiz family belongs to a Kurdish minority known as the Zaza, whose language differs from the more commonly spoken Kurmanji Kurdish. The Turkish government's renewed crackdown on the Kurds following the breakdown of peace talks in 2015 outraged many Zazas, including Abdurrezzak Yildiz's side of the family. With the resumption of hostilities between the military and the terrorist Kurdistan Workers Party (PKK) and the declaration of a state of emergency following the July 2016 coup attempt, the overbearing influx of soldiers and police was particularly noticeable in Turkey's southeast.
Three months after the failed coup, Erdogan announced plans to hold a referendum on his longtime vision to replace Turkey's nearly century-old system of parliamentary democracy with one that gave the president more power. The package of 18 proposed constitutional changes included eliminating the post of prime minister, giving the president more power to appoint top judges and increasing the number of seats in parliament.
The following month, Ankara expanded its war against the PKK to the country's main pro-Kurdish party, the Peoples' Democratic Party (HDP). As Yabanardi headed to the polls, the party's Zaza co-chairman, Selahattin Demirtas, remained in prison on terrorism charges, along with several of the party's members of parliament. For HDP supporters such as Abdurrezzak Yildiz and his son Seyhmus, it had become impossible to vote "yes" on a proposal to hand Erdogan yet more power.
That political backdrop and the history of violence between the state and the PKK dating back decades make Turkey's Kurdish heartland fertile ground for political violence, according to criminal sociologist Can Kozanoglu. "Southeastern Turkey is the region of the country where the highest levels of social tensions have been endured for the longest amount of time," Kozanoglu told Al-Monitor. "If someone in her neighborhood draws a gun, the child of a middle-class family in Istanbul could be traumatized, but for a kid who lives in a southeastern village, his parents sleeping with a Kalashnikov by the wall is just normal."
Even for children who grew up around guns, seeing the bleeding bodies in the school courtyard was deeply traumatizing. "I was shocked to see my great uncle Abdurrezzak dying on the ground," 13-year-old Dilek Yildiz, the daughter of murder suspect Mehmet Yildiz, recalled in an interview. "Everybody started to cry, because the deceased were our close relatives."
The village was to witness one more death on Referendum Day. As Idris Yildiz prepared to take his mortally wounded relative Seyhmus Yildiz to the hospital, his vehicle came under machine-gun fire. Idris Yildiz was killed. One of Seyhmus Yildiz's own brothers, Mehmet Emin Yildiz, is a suspect in the ongoing investigation into that shooting, according to a defense lawyer for Abdurrezzak's side of the family, Mehmet Emin Aktar. Mehmet Emin Yildiz may have mistakenly thought that the murderer was trying to escape the scene of the school shooting.
As chaos engulfed Yabanardi, the army took charge. Soldiers from the local garrison took the suspect, Mehmet Yildiz, to the hospital. Their commander decided to stay in the village to prevent further violence. That night the sounds of military radio echoed in the valley below.
Police investigators found Mehmet Yildiz's black pistol and determined that it had fired the fatal shots. They also discovered gunpowder residue on his clothes. He was arrested on April 20, 2017, and has been behind bars ever since.
During his trial, Mehmet Yildiz pleaded not guilty. But after spending six months in jail, he wrote a letter to the then-prime minister of the AKP government, Binali Yildirim, doubling down on his political convictions, a Turkish news agency reported. "If paying our dues for having believed in you both with our hearts and minds is our destiny," he reportedly wrote, "I want you to know that I am ready to pay without any hesitation."
| | |
| --- | --- |
| President Recep Tayyip Erdogan addresses supporters in Izmir, Turkey, during an April 9, 2017, rally for the referendum taking place a week later. |  Reuters/Umit Bektas |
For Murat Paker, a clinical psychologist and assistant professor at Istanbul Bilgi University, political polarization appears to have opened up a new venue within the Yildiz family to seek revenge for previous scuffles. "In this family, the 'yes' voters probably thought that they were strong and that the government was behind them," Paker told Al-Monitor. "They had been hearing on TV that 'no' voters were traitors and they might have thought that the time had come to face off."
With sitting politicians acting like the rightful owners of the state, Paker said, it's only a matter of time before each side begins to see their opponents as a threat to be countered by any means necessary. "Shades of gray usually dominate social discourse," he said. "However, if polarization increases, people begin to see the opposition as the enemy and the shades of gray start to disappear into blacks and whites. Once we are inside this vicious cycle, violence is imminent."
Recent Turkish history bears out that explanation. A 2016 poll by the German Marshall Fund, a US think tank, found that 74% of Turkish respondents did not want their children to play with children whose parents voted for an opposing party. And professor Oguz Isik of the Middle East Technical University in Ankara has shown that Turkey's main opposition party, the Republican People's Party (CHP), has coexisted alongside the governing AKP within voting districts at a rapidly decreasing rate since the current government came to power in 2002.
A 2016 poll by the German Marshall Fund found that 74% of Turkish respondents did not want their children to play with children whose parents voted for an opposing party.
Despite the recent trends, "The polarization of Turkish society is not a product of the past 15 years," said Bilgi University's Turan. A political split has always existed between modernists and traditionalists who opposed the hard-line secularism pursued in the early days of the Turkish republic, he added. But with the rise to power of the Islamist-minded Erdogan, that fault line has deepened.
"Polarization became more manifest when changing the system became a possibility," Turan told Al-Monitor. "The modernists dominated the system all the way until the end of the millennium, and only with this government did change become possible."
Paker, the psychologist, thinks the government shares some responsibility for what happened in Yabanardi. "If a political leader believes that polarization is in his interest, he starts to belittle his opponents," which increases polarization and the risk of violence, he said.
"Polarization is a policy choice by the government," added Turan. Leading up to the referendum, "What the opposition argued was that the president wanted the removal of all checks and balances. The government [in turn] argued that the [Kurdish] HDP party was an extension of the Kurdish terrorist organization, the PKK."
Mehmet Yildiz's wife, Ozlem, for one, is upfront about the fact that she did not know what she was voting for on the fateful day that tore her family apart. "For me, the referendum wasn't important," she said. "I'm a housewife, and I didn't think [it] would make a difference in my life." She ended up voting "yes" because, she said, she loves Erdogan.
Now she's left to ponder the consequences of such convictions. "The opposing faction is my family too," she said. "My pain is unbearable due to what happened to both sides." Her eldest daughter, Dilek, makes the most mature assessment. "Three people died for one vote," she told Al-Monitor. "I don't think it was worth it at all."
Two months after Mehmet Yildiz's arrest, Dilek's younger sister Aysegul received her report card for the school year. Her teacher had placed two heart-shaped stickers on it. She brought it straight to her mother, who was sitting on the floor of their sparsely furnished living room. After taking her place on her mother's lap, the 9-year-old gently guided her mother through the grades. "Teacher's Evaluation of Pupil: She is extremely successful and attentive in her classes," Aysegul read aloud with great pride.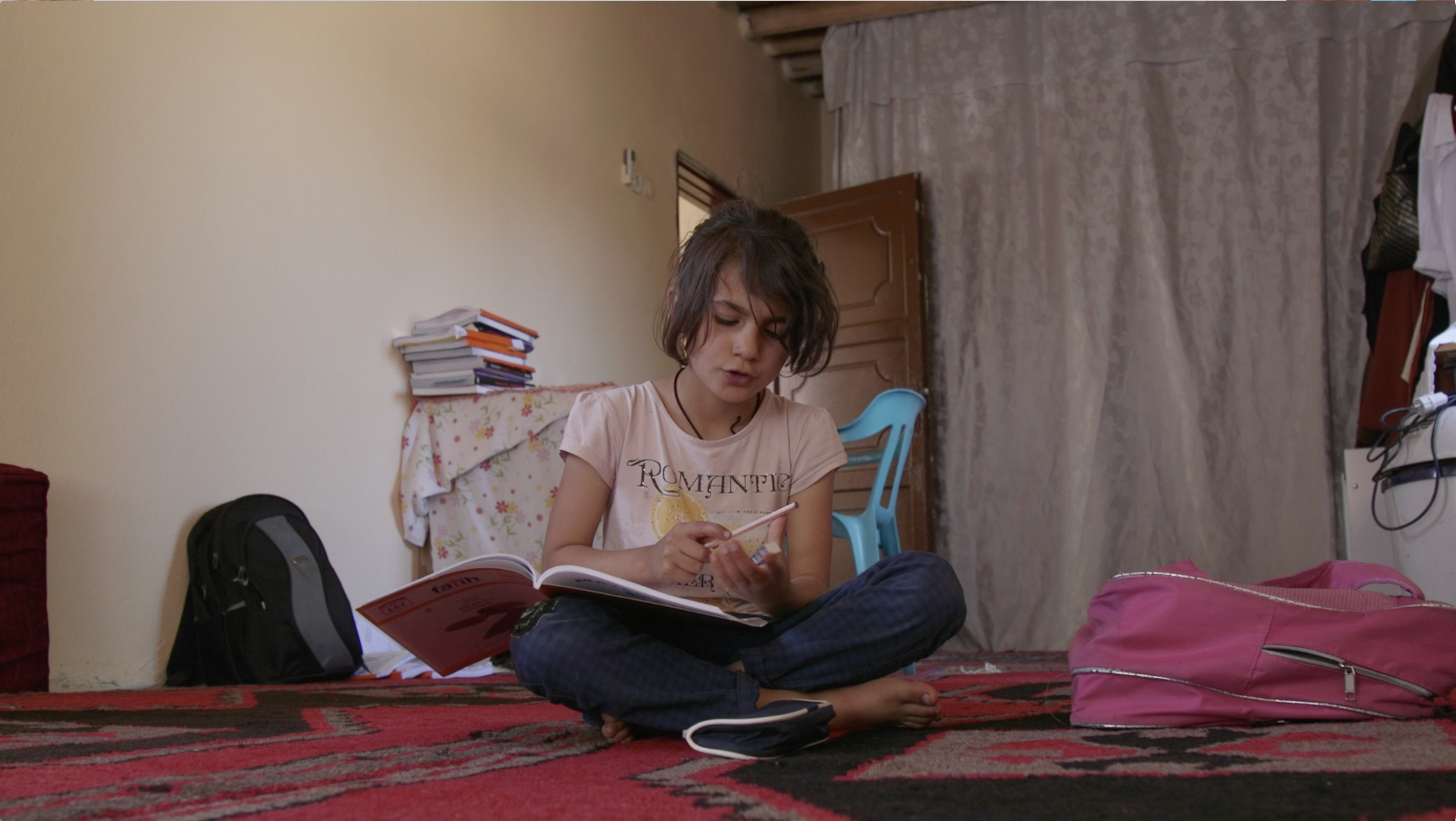 | | |
| --- | --- |
| Aysegul Yildiz studies in her grandmother's house. |  Murat Can Bilgincan for Al-Monitor |
"What would you like as a report card present?" her mother asked. "Strawberry jam," Aysegul responded without any hesitation. That is how her father used to reward her after taking a look at her report card.
In the weeks that followed Referendum Day, Ozlem Yildiz did her best to shield her five children from the painful reality. "I've been trying to erase that thing from their brains," she said. She told Aysegul that her father had gone to Istanbul for work. But the precocious child wasn't convinced. She knew her sister Dilek had seen dead men in the village school's yard. And violence had also visited them at home.
While farming is no longer an important part of village life, much of Ozlem Yildiz's daily routine is still spent caring for the family's cows and making cheese with their milk. On the same day as the shooting, she told Al-Monitor, someone set fire to the barn. She suspects Abdurrezzak Yildiz's side of the family. "I had bought small chicks," Ozlem Yildiz said. "They slit the throats of those chicks. It was cruelty."
Local custom would normally have required the murderer's family to leave the village, to prevent further bloodshed while punishing the guilty party. But the situation in Yabanardi was complicated. The prime suspect is the powerful mayor's son. And many believe that someone from the victims' side of the family is responsible for killing their cousin Idris Yildiz, the third villager who died on the day of the referendum.
Negotiators came up with a solution against tradition. They talked the mayor into buying the rival faction's fields and property. They also convinced the immediate family of the deceased to immigrate to Izmir, a coastal city almost 1,000 miles from the village. The end result: even less contact between opposing political tribes.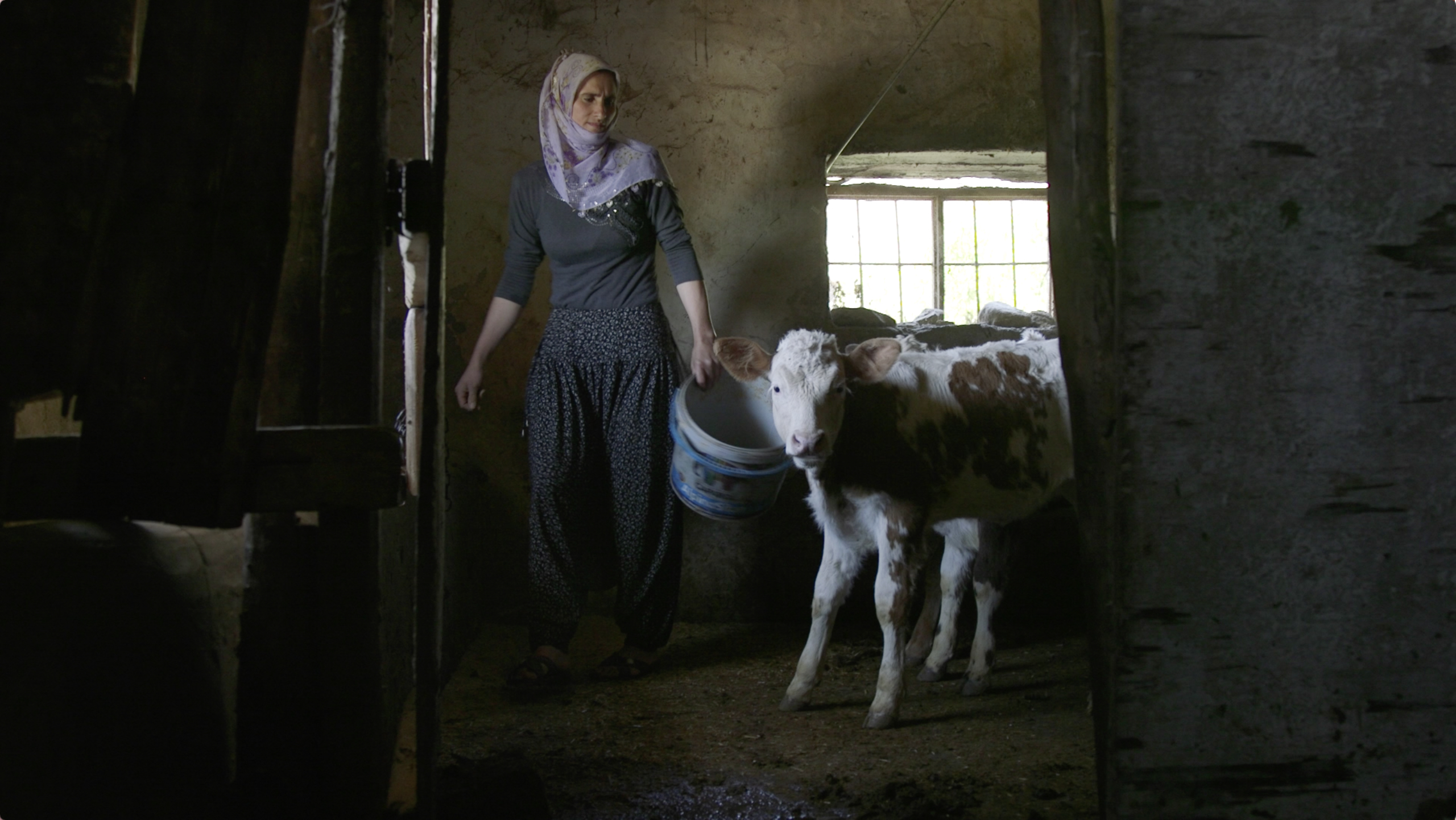 | | |
| --- | --- |
| Ozlem Yildiz works in her barn. |  Murat Can Bilgincan for Al-Monitor |
"Today Turkish towns are divided by party affiliation," professor Isik has argued. "Supporters of different parties live in a way such that there is minimum contact between different groups." Yugoslavia, he points out, could not endure such intense polarization and violently broke apart in the early 1990s.
A year and a half after the April 2017 massacre, the day's events continue to reverberate across Yabanardi. The mayor, Hidir Yildiz, was cleared of accusations that he abetted murder. But he's still paranoid the intra-family blood feud could cost him his life. As he took a casual stroll around the golden wheat fields that used to belong to his older brother, two bodyguards with Kalashnikovs followed him. He keeps a pistol at his side, and has a difficult time falling asleep.
Some think family reconciliation is still possible. "At the end of the day, they're all relatives," Ozlem Yildiz said. Hidir Yildiz agreed that peace is on the horizon: "If not today, then tomorrow," he said. "If not tomorrow, then the day after." Asked about the mayor's comments, one of Abdurrezzak Yildiz's children exiled in Izmir simply smirked.
On Referendum Day, Yabanardi failed the test of democracy. However, voters did make a clear political decision. In the village, the referendum was approved by a vote of 52 to 23. Despite the high turnout registered nationwide, 88 villagers kept their distance from ballot box 1115.
With the "yes" vote prevailing by less than 3% nationwide, Turkey was transformed into an executive presidency. As Erdogan declared victory, his supporters were demanding the reintroduction of the death penalty for terrorists. Many experts predict a further erosion of constitutional liberties as the country's already fragile checks and balances weaken further. The European Commission for Democracy through Law describes Turkey's new regime as lacking "the necessary checks and balances required to safeguard against becoming an authoritarian one."
"Three people died for one vote," Ozlem's eldest daughter, Dilek, told Al-Monitor. "I don't think it was worth it at all."
Following his referendum victory, Erdogan has continued to denounce the opposition as enemies of the people. Campaigning for a second five-year term in his father's hometown of Rize in June, the president linked the main bloc of opposition candidates to Fethullah Gulen, the US-based Turkish cleric accused of masterminding the failed July 15, 2016, coup. "On the one hand, you have the alliance of destruction that was founded in Pennsylvania," Erdogan told his supporters. "On the other you have the alliance of the people that was established in public squares in the night of July 15."
The day after Erdogan's remarks, supporters of the pro-Kurdish HDP faced off with AKP parliamentarian Ibrahim Halil Yildiz in the southeastern town of Suruc. As the lawmaker shook hands with shopkeepers and asked for their support in that month's elections, one shopkeeper vocally denied his request, according to witnesses interviewed by the BBC. A bloody fight broke out. Shopkeeper Celal Senyasar died alongside his brother and father. The AKP parliamentarian's brother was also killed.
| | |
| --- | --- |
| Mayor Hidir Yildiz walks in the fields surrounding Yabanardi with his bodyguards. |  Murat Can Bilgincan for Al-Monitor |
Mehmet Yildiz has now spent more than a year in jail. His wife talks to him on the phone, but does not visit. Ozlem Yildiz feels that it would be too overwhelming to see him behind bars. "I want to see him very much," their daughter Aysegul told Al-Monitor. "I want to kiss him; I want to wake him up." But her mother is opposed. She's worried about what the experience could do to her sensitive child.
Aysegul started speaking at the age of 2. However, when she turned 3, she stopped. Her mother took her to as many doctors as she could find. They said the little girl was very sensitive and that psychological stress could affect her speech. At the age of 7, she started to speak again, but she still talks like a 5-year-old with an expanded vocabulary. "What if this trauma affects Aysegul's speech again?" her mother asked.
Paker, the clinical psychologist, said it may be impossible to spare the children from the events they experienced. "The most fundamental effect could be the children's loss of their sense of security and trust," he told Al-Monitor. "This lack of trust could bring about major challenges."
A month and a half after his arrest, Mehmet Yildiz called Aysegul from jail. She was sitting on her grandmother's terrace playing with a yellow stuffed turtle when one of her uncles passed her a bulky smartphone. Shaking with excitement, she grabbed the ringing phone with both her tiny hands. The moment she heard her father's voice, her face broke into a wide smile. "During the upcoming religious festival, come and visit me with your mom," Mehmet Yildiz said. "I was going to come anyway," Aysegul responded as she squeezed her turtle under her arm.
Despite their mother's protests, 22 days later, Aysegul and Dilek Yildiz visited their father. Their grandmother took them to Diyarbakir Prison. On the way, the girls did not speak much. Aysegul began to throw up as they approached the city center.
Accused killer Mehmet Yildiz is
pictured with his daughter Dilek (L).
 Courtesy Yildiz family
"When I first saw that place, I thought it was a large house," Dilek later recalled. "There were a lot of trees. But then I saw a tank in front of the main entrance." The girls walked passed the armored police vehicle and spent over an hour with their father.
After the visit, Aysegul's mood changed completely. Her voice had not been so loud and joyful in months. However, there was a problem. "They don't allow report cards inside at all," a disappointed Aysegul told Al-Monitor. "I told him that my report card was great and that all of my siblings had passed their classes." She is certain her father would have bought her a large jar of strawberry jam — if only he could have.
On the tragedy's anniversary, April 16, 2018, Mehmet Yildiz's trial began. "Tell your mother not to worry about me; one day I shall return," he had told Dilek in a previous prison visit. But if convicted, he may never come home.
Mehmet Yildiz's cousin Seyhmus Yildiz also had children around the same age as Dilek and Aysegul. Unlike the two girls, Seyhmus Yildiz's children will never see their father again. At the fringe of the village, under concrete tombstones erected at each end of a coarse mixture of stone and red soil, he and their grandfather lie side by side.
Davis Projects for Peace provided financial support for this story.