MOSUL, Iraq — Mosul's first tattoo parlor is hidden behind a simple sheet metal wall. Tattoo artist Amar, 29, has a thin mustache and a big smile. He opened his shop four months ago in the neighborhood of Karamah, which, though impoverished, was spared from much of the fighting between the Islamic State (IS) and the Iraqi army. At about 15 square meters (161 square feet), the shop is just big enough to fit in the dozen young Moslawis huddling around Amar, who is busy sketching a design for a tattoo on the shoulder of his friend Zaid.
"I was nine or 10 when I tattooed someone for the first time," Amar told Al-Monitor. "Saddam Hussein was still around!" One after the other, Amar's friends undress to get their tattoos, bursting with laughter as they do so. The group, listening to deafeningly loud music, seems unbridled. "We're getting drunk all the time now," commented a tattooed man, who says he has barely tasted whiskey since 2014, when IS occupied the city. Most of the men sport tattoos of tigers and dragons, busty pinup girls and scorpions, but Zaid opts for a design to symbolize his newfound freedom. On his skin, as the pearls of blood from the needle's prick eventually fade, a butterfly tattoo is revealed.
Iraqi Prime Minister Haider al-Abadi proclaimed a "major victory" in Mosul on July 9, nine months after the start of a bloody urban battle between IS and the Iraqi army. For three years, the city had been the largest stronghold — in terms of both population and territory — of IS. But in the eastern part of the city, which was recaptured by pro-government forces in January, business has resumed for some: Amar has already tattooed nearly 300 customers since he opened for business, charging anywhere from $5 to $200 a piece.
Not even the capture of the city by IS in June 2014 and the gradual establishment of a bloodthirsty regime could stop the artist. But secrecy was key. He closed his salon and only practiced at home. "I only tattooed close friends — those I could trust," he said. "The rule was: If they catch you and want to kill you, you accept and you do not give my name."
During 2½ years of IS occupation, Amar tattooed more than 50 people. "People wanted to get tattoos because IS forbade it. It was their way of resisting," noted the father of two, whose wife has a tattoo of a rose. But an IS collaborator ended up reporting him. Amar was sentenced to 10 days in prison and 100 lashes on the back, but he resumed his work soon after his punishment. "I love what's forbidden," Amar said, a smirk on his face.
For some tattoo artists, their resistance to the so-called caliphate was not just symbolic. Hussein, 23, who uses a nickname for security reasons, decided to learn how to tattoo a week after Mosul fell into the hands of the jihadis. He taught himself by watching tutorials on the internet, though a lack of equipment forced him to build his own machine using parts from an electric razor, a USB cable, a pen, some tape and a sewing needle.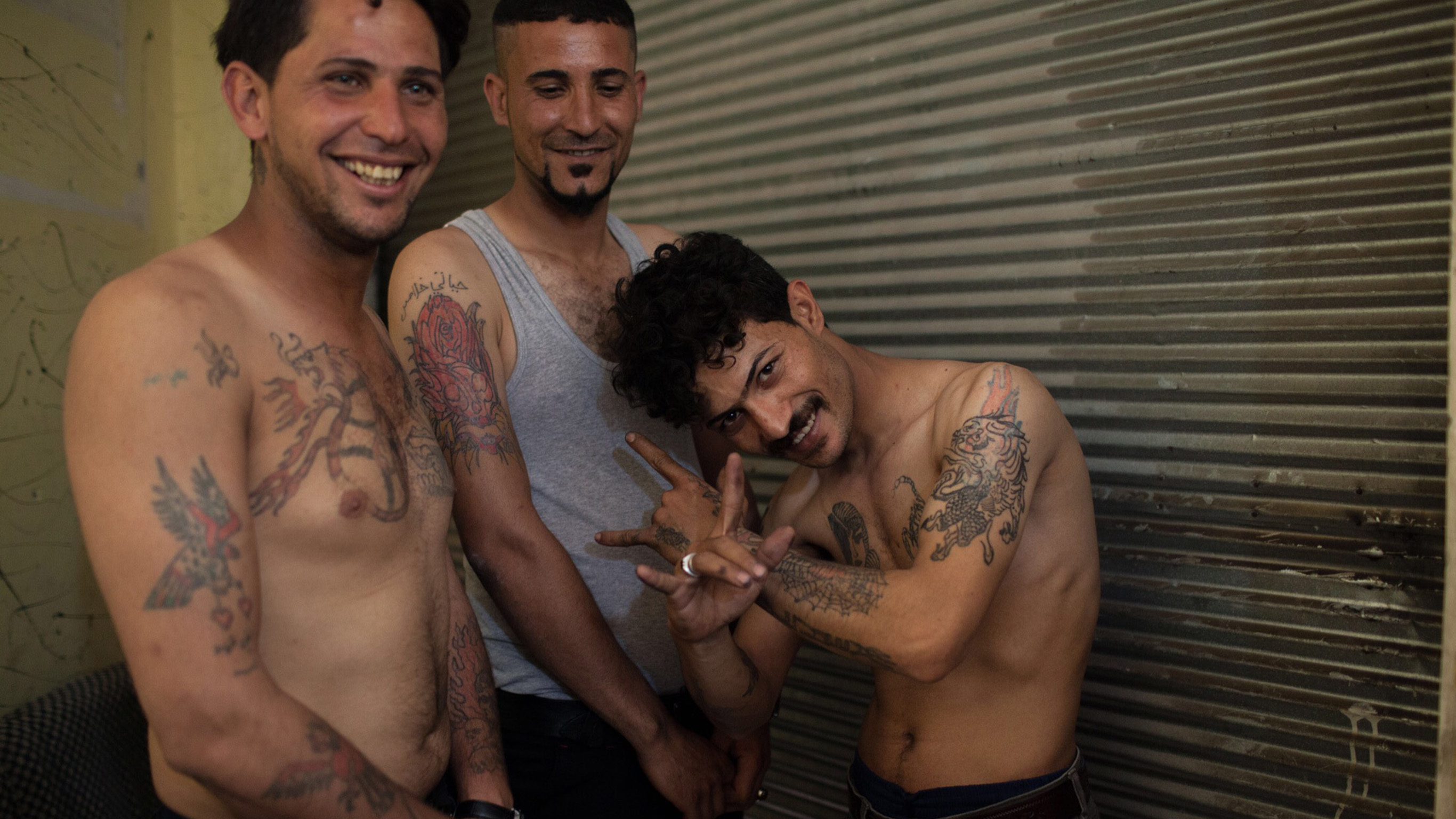 Amar and friends pose for a picture in his tattoo parlor in eastern Mosul, Iraq, May 21, 2017. (photo by Charles Thiéfaine)
By day, Hussein tattooed bodies of all shapes and sizes. By night, he roamed the streets with his fellow anti-IS rebels to tag houses of IS members with the letter "M," which stands for "muqawama," the Arabic word for resistance.
This small attempt at psychological warfare was enough to put the lives of the graffiti artists at risk. But they didn't stop there. Phones were forbidden, but when Hussein managed to get one, he became an informant for Iraq's counterterrorism services. Hussein speaks with a shy smile on his face, but he freezes as he looks at a photo on his smartphone. It is of a friend who had also joined the network of informants. "He was denounced. Murdered with a bullet in the head," he said.
For Hussein, the threat is threefold: tattoo artist, informant and Shiite. Under the rule of IS, his religious denomination could have meant death. IS even killed his father's cousin. To keep his religious identity a secret, Hussein had to count on his neighbors. "Our neighbors told IS fighters that we were Sunnis. That's why we're still alive," he whispered. In Mosul, as elsewhere, resisters and collaborators often lived on the same street.
On the eve of the battle of Mosul, senior Iraqi commanders were convinced that the resistance would play a key role in the urban warfare to come. "When our troops arrive near Mosul, we expect some kind of uprising," Lt. Gen. Najim al-Jabouri, the commander of the Ninevah operations, told Al-Monitor in August 2016.
Some of the city's residents are accused of welcoming the jihadis in 2014 and precipitating the fall of Mosul. Others, at the time, pledged allegiance to Baghdad. "Every day we hear about attacks carried out by civilians. Some of them were veterans of the Iraqi army. Others work with the intelligence services," the commander explained. But the revolution never came.
The home of Hussein's uncle, which serves as a tattoo parlor for young artists like Hussein, is packed. Every day, more and more relatives, soldiers and strangers arrive to get their first tattoos. "People are no longer afraid," Hussein said. "Freedom is on the move. It changes very slowly, but society is better now than it was before the arrival of IS. Now we have our eyes open."
Meanwhile, in Amar's parlor, many customers are arriving to get their first tattoos. Ahmed, 19, arrives with a special request. Arrested by IS militants and held for several days, Ahmed was terrified at the thought of being executed. On his shoulder, he cut the shape of a heart, in honor of his mother. Now, he wants to turn the scar into a drawing. "The time of IS is gone. Now is the time to get a professional tattoo!" Ahmed yelled.
The jihadis lost the battle for Mosul, but the tattooed rebels say their fight continues. "Even before IS I was not free to drink alcohol and do what I wanted," Amar said. "Before, the people were more strict, but they have suffered so much under IS that our society has become more open."