Libyan artists highlighted the effects of the post-revolution crisis at a local art exhibition in Tripoli in early April. WaraQ Art Foundation, a nongovernmental organization working to resurrect the Libyan art scene through installations and workshops, organized and curated the exhibit titled "Warning" that took place April 1-5. 
"The exhibition is focused on expressing the concept of human rights issues in modern society," Takwa Barnosa, the co-founder of WaraQ, told Al-Monitor. "We believe that this is our way to fight back."
Five evenings in a row, crowds shuffled into WaraQ's studio in the center of Tripoli. After making their way past crime scene yellow tape hanging from a doorframe, visitors found themselves in an apocalyptic space. A disorderly setup of wooden stools representing chaotic reconstruction, flanked by computer monitors playing unsettling short films, stood in the middle of the room. Haunting works of art adorned the surrounding walls, as bright red and blue lighting drowned the studio. A soundtrack of eerie, distant warfare echoed through the event space.
"Warning" resembled little of the "light-hearted" art exhibitions that Tripoli had seen in the past.
Artists of various backgrounds showcased their work through different outlets such as paint, digital, video, photography and calligraphy.
IT student Razan al-Naas based her digital production "Kidnapped and yet to return" on a personal trauma. Last year, a gang abducted her grandfather Suleiman, the elderly man at the forefront of the piece.
"Kidnapped and yet to return" by Razan al-Naas
"I cried my eyes out," Naas told Al-Monitor. "It felt like hell, a whole month of staring into my mother's sad eyes as she wept over her father's absence."
The kidnappers kept Naas' grandfather captive until her family paid an exorbitant ransom, represented by a background of 10 dinar bills in the showcased piece.
"I wanted to share this feeling with everyone," Naas said. "The fact that you could wake up one day to find that one of your closest people is kidnapped."
Schoolteacher Faiza Ramadan found inspiration for her painting "Protective sequestration" in her second-grade classroom. The profile outlines in blue represent Libyan parents speaking too freely about wartime horrors in front of their children, who are encapsulated by the single minimalist face in the middle of the canvas. Ramadan recalls her meeting with an aggressive student's mother, who attributed her daughter's behavior to the child finding out Islamic State (IS) members slaughtered her uncle.
"They bring it in the classroom," Ramadan told Al-Monitor. "They talk about the war, the kidnappings and they are only 8 years old. … It makes me feel like there is no hope for the younger generation."
Waed Joha, a computer engineering student, handpicked clips from YouTube, Vimeo and TV commercials to create a short film depicting distorted scenes of violence, which a computer monitor at the center of the studio played in a loop. Joha sought to represent unforeseen threats looming over Libyans' daily lives. One poignant scene shows a pair of hands covering the bottom half of a Russian doll's face, emulating a niqab. The doll then bleeds, prompting the hands to remove the toy and clean the pool of blood it left behind. The next clip shows the hands closing a water tap.
"The little doll with the niqab was supposed to represent how we look at Islam now after IS," Joha told Al-Monitor. "She was killed, and then he literally washed his hands like it was nothing."
Digital artist Alla Budabbus, a notable figure in the art scene of Tripoli, produced a haunting series titled "Children of war," which represents children's growth in an environment pervaded by violence.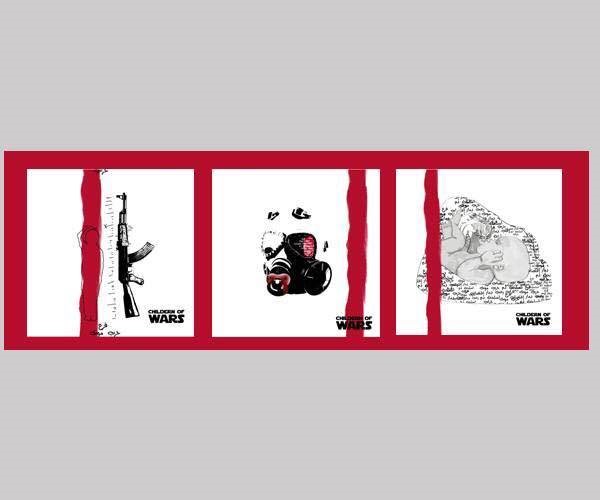 "Children of war" by Alla Budabbus
The first illustration depicts a baby in utero surrounded by words such as "war," "rape," "blood" and "racism" in Arabic.
"It is scientifically proven that a baby in the womb is affected by what surrounds the mother," Budabbus told Al-Monitor. "So if what surrounds the mother is war and killings and rapes … that will eventually affect the baby growing inside of her."
The second illustration, a gas mask with a valve replaced by a pacifier, represents failed attempts at filtering out the horrors of war and preserving children's innocence. The third image, wherein a child measures his height next to a Kalashnikov, illustrates the ease with which Libyan children access weapons.
Art student Salem Bahron had five of his digital works on display at the exhibit. "Silence" is perhaps the most intense, since it features a bloodied face familiar to many. The subject is none other than Omran Daqneesh, the 5-year-old Syrian boy who gained international attention through images taken after an airstrike in Aleppo showing him sitting in the back of an ambulance, injured and stunned.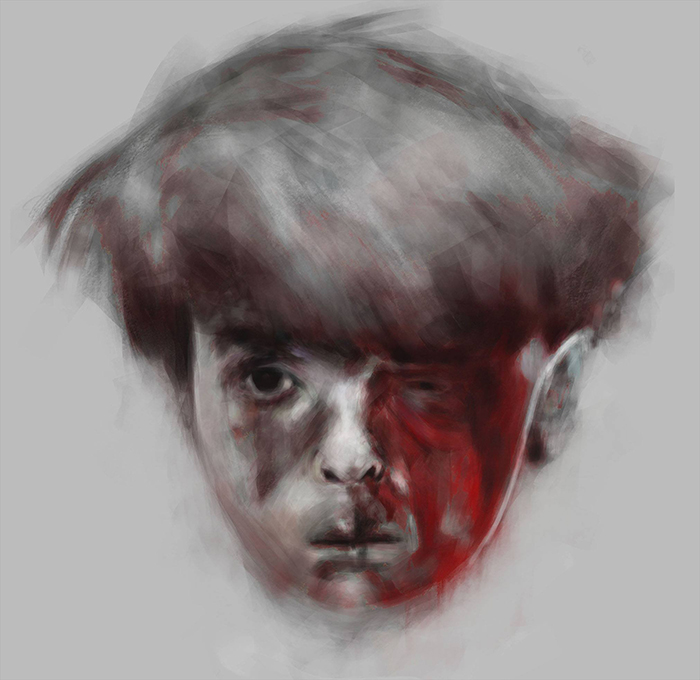 "Silence" by Salem Bahron
"Paintings express sadness, anger and conflict that one may feel toward his surroundings," Bahron said. "I felt the instant need to draw him."
Despite Libya's downfall, the Tripoli art scene is booming. Budabbus said that other Libyan towns, such as Benghazi and Sebha, also organize exhibitions showcasing local talent.
"People have visions, especially the young people," he said. "I see the other side of Libya through them."
In some cases, interest in art emerged from Libya's deteriorating living conditions. Ramadan did not fully immerse herself in painting until she experienced a period of unemployment after the revolution. Soon enough, it became more than just a time-filling hobby.
"Since we don't have the freedom to express ourselves directly, we can put all our emotions in art," Ramadan said. "So art is therapy for me. And for the audience, it is education."
Since the Arab Spring, everyday life in Libya reaches new levels of excruciating difficulty.
The overthrow of Moammar Gadhafi's government in 2011 led to an ongoing power vacuum in the country, where militant groups with different agendas found opportunity. As of 2016, Human Rights Watch reports indiscriminate human rights violations such as torture, abductions and executions carried out by militias, Islamists and military forces of varying loyalties.
At the civilian level, living conditions are near abysmal: Electricity is cut for hours on end, accelerating inflation increases food prices, crimes go without punishment and community efforts striving for normalcy often end up thwarted. Last month, three people were arrested for taking part in an Earth Hour celebration in Benghazi.
Although Libya's current state remains a searing pain for its population, the art world's expansion represents a flickering ray of positive growth.
"Art is a way of survival — that's the major motto of the Libyan art community," Naas concluded. "Art gives us hope, it feeds us, it keeps us alive and allows us to go on."