BAGHDAD — Shiite Turkmen who fled Islamic State (IS) beheadings in northwestern cities have traveled several hundred kilometers to places of pilgrimage and camps in southern and central Iraq.
Sunni Arabs relatively close to the capital are instead being refused entry to Baghdad and go north, conditions allowing, though many are subsequently barred from the larger cities in the Kurdistan Regional Government (KRG).
In the Laylan camp for internally displaced persons (IDP), just southeast of Kirkuk in one of Iraq's disputed territories, one Sunni family from Muqdadiyah recounts being shelled by government forces and having relatives "disappeared" by Shiite militias. Four of the children were killed by Iraqi government airstrikes in the fall of 2014, their father told Al-Monitor, and shrapnel is still embedded in his remaining three sons' bodies. They have not been able to get past checkpoints to reach health care facilities in Sulaymaniyah and Kirkuk, despite referrals from other facilities.
Al-Monitor was shown pictures of the family's mutilated flatbed truck, hit while several children were in the vehicle. The family was forced to wait for six hours along the road by continued bombing, and several of the injured died during that time.
One of the girls in the tent with them, a 7-year-old relative named Nour, does not have ID papers. "Her father had them with him when he stayed behind to bury the bodies" of the relatives who had died of wounds from the airstrikes, said one man. "He was later taken by the Shiite militias along the road," he explained, rattling off the names of various groups within the Popular Mobilization Units active in the area.
Along the road between Kalar and Jalawla, still an uninhabited militarized zone months after being retaken from IS, Al-Monitor spoke to other internally displaced Iraqis.
The inhabitants said that they had initially been staying inside a school in Kulajo after being displaced by the fighting, but had later been transferred to this informal tented encampment.
They said that the area — still muddy on Al-Monitor's visit in late March — had been recently flooded by rain, and that it would likely be filled with scorpions and snakes in the summer months. Schools are too far away for the children to attend. The residents live in limbo, receiving aid at irregular intervals from tribal leaders and some nongovernmental organizations, a resident who identified himself as the "camp manager" told Al-Monitor.
The man, a former shop owner from Muqdadiyah who asked not to be named, said, "If we go back, the arrests will start" by the Shiite militias, implying that such arrests would be indiscriminate and sectarian-based.
Southeast of the capital, the Nabi Younes camp in Nahrawan is much better equipped. Rows of container housing with electricity, running water and television are raised off the ground, asphalt roads running between them. The camp, carefully guarded by Iraqi troops, includes a soccer field and elementary school. House numbers are scrawled in black on the otherwise monotonous white buildings and a dusty Iraqi flag flies near a protective fence around the camp.
Images of the historical Muslim figure Hussein, revered by the Shiite sect and typically depicted as a light-skinned man with auburn flowing locks, and various Shiite slogans such as "Ya Zahra" in reference to the Prophet Muhammad's daughter are ubiquitous. Similar images dot the sides of the road on the way from Baghdad, with one on a government checkpoint as well.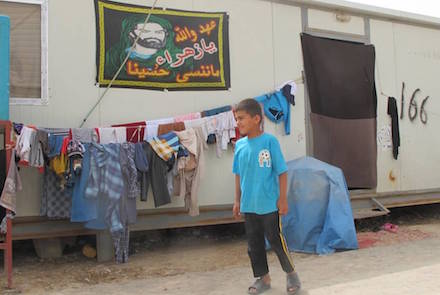 A young boy is seen in the predominantly Shiite camp Nabi Younes in Nahrawan, southeast of Baghdad, April 11, 2015. (Photo by Shelly Kittleson)
One of the inhabitants, a black-chadored Shiite woman in her 20s with five children from the Mosul area in northwestern Iraq, told Al-Monitor that her husband and his four brothers had been killed and then beheaded in front of her by IS members.
Some of the fighters, she said, let her and the other women and children go on the condition that they not tell anyone, as their superiors in the Sunni jihadist organization "would kill them otherwise" for letting them go. She said they were taken near a peshmerga checkpoint and released, and later traveled another few hundred kilometers to be closer to other Shiites.
Deputy camp director Mustafa Hussein told Al-Monitor that he had received several reports from camp residents that KRG peshmerga had confiscated the IDs of the displaced at checkpoints on their way to the camp, and that some had been beaten. He said that half of the housing was still empty but would be filled soon.
Further south, in Karbala, Al-Monitor visited an informal camp housing hundreds in accommodation normally used for pilgrims to the city holy to Shiites.
Most of the approximately 2.7 million Iraqis internally displaced since January 2014 are not living in formal camps. According to IOM data released last month, an overwhelming "96% of the total displaced population are living in private accommodation, including rentals, hotels and with host families. Another 3% are in critical shelter arrangements, mainly public and unfinished buildings, and 1% are in camps."
The most immediate concern is for the displaced from the western Iraqi province of Anbar — still mostly under the control of IS and where Iraqi government troops and allied Shiite militias are concentrating their operations — and its regional capital Ramadi. The UNHCR reports that over 100,000 people have been displaced from the area in recent weeks.
In an e-mail exchange with UNHCR Public Information Officer Bathoul Ahmed, Al-Monitor was told, "Many Ramadi IDPs have faced serious difficulty in reaching places of safety. Procedures for admission to different governorates have often changed on a daily basis, and at key checkpoints the authorities have introduced enhanced security screening practices, including the requirement for a sponsor in order to cross."
At an April 30 press conference in Baghdad, European Union humanitarian aid department chief Jean-Louis de Brouwer reportedly warned that not allowing the displaced from Sunni areas into Baghdad or the Kurdish region without sponsorship would ultimately "end up with the kind of ethnic division that will not be good for the country."
Much local support for IS is seen as stemming from discriminatory practices by the Shiite-led government toward Sunnis in the years since the 2003 invasion and the fall of Saddam Hussein's regime. The current displacement trends and restrictions on IDP movement seem likely to further aggravate the already high levels of distrust between the two communities.