BEIRUT — Over 200 Iraqi refugees gathered at the Chaldean church in Hazmiyeh, just 6 kilometers (4 miles) outside of Beirut on the morning of March 17 to receive aid from In Defense of Christians, an American group that aims to assist in the cultural preservation of Christianity in the Middle East.
In recent months, thousands of Iraqis have flooded into Lebanon, and nearly 3,000 families have reported to the Chaldean church. "It's been a disaster," Father Denha Youssef told Al-Monitor. Of those who have come to the church, Youssef has personally visited over 700 families.
Youssef said that the church won't turn anyone away and has even assisted several Muslim and Yazidi families. He said the church needs more help from the community to provide for so many.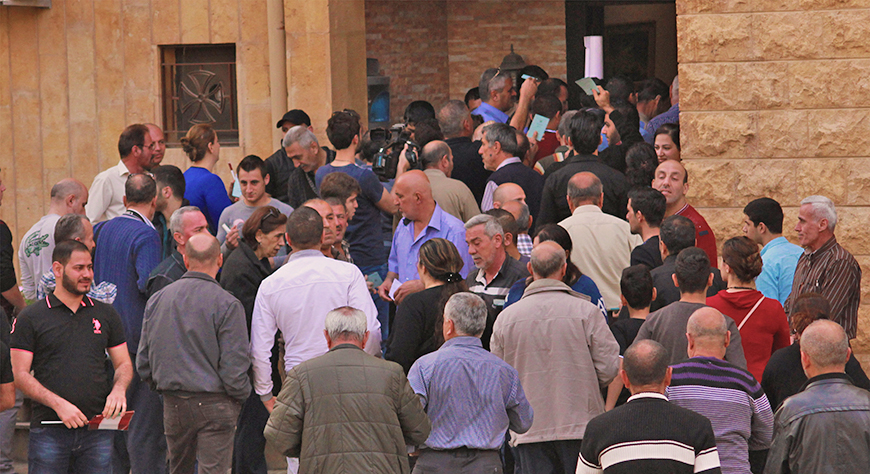 Iraqi Christian refugees rush to the doors of the church to receive aid, March 17, 2015. (photo by Ash Gallagher)
Mysa is an Iraqi Christian who came to Lebanon in late November from Baghdad. Her family fled to Mosul and then to Erbil, where she lived with her son and mother in a building that was under construction, before making it to Beirut.
"We were very afraid," she told Al-Monitor. "We left quickly, and two of my brothers were killed by Daesh [Islamic State (IS)]."
Her 11-year old son, Fadi, was pulled out of school and has not returned to any education program since. They now live in an apartment with other people, with the church covering her rent. While it is sufficient, she still hopes for more.
However, Youssef said that helping refugees financially has become more difficult, as the church is now assisting more than 100 refugees who need medical attention. Some of the cases, according to Youssef, have included a pregnant woman who called him in the middle of the night, ready to deliver. Another man was diagnosed with cancer and elderly patients often need surgery.
Roy Merheb, the director of the Campaign for Iraqi Refugees in Lebanon, works with local churches to help facilitate financial assistance for refugees. He told Al-Monitor of one patient who needed a surgery that would "cost around $9,000, so we have to collect it."
Merheb puts sponsors in touch with both the church and the hospitals so bills can get paid. "We are trying to help them," he said. "Lebanon is not cheap, it's expensive."
"At the church here, we are helping with mattresses, [bed] covers, food, some money," Youssef said. Each family goes through a process when they arrive and ask for funds. Youssef takes their case to a board and visits their lodgings to help decide how much to give them — an amount Youssef said is greater than what the United Nations High Commissioner for Refugees (UNHCR) provides.
The church relies on donations to assist those who request help. In Defense of Christians is one such organization that provides provisions for daily life, such as food and bedding. In a publicized event March 17, the group brought enough aid to assist nearly 4,000 families, Alexis Moukarzel, a board member of In Defense of Christians, told Al-Monitor.
"I cannot disassociate between the culture and the divine message," Moukarzel said, adding, "It's a frame of human dignity." Moukarzel said that much of the Christian culture in the Middle East has been "wiped out."
"The UN is not doing anything," he said, and "the major forces of the world" are not working to preserve Christianity.
UNHCR spokeswoman Dana Sleiman told Al-Monitor, "We are doing the best we can, trying to provide for the basic needs" of so many refugees.
To date, the UNHCR has over 15,000 Iraqis registered, 6,000 of whom are refugees, with the remainder filing for asylum. 
Sleiman said that the UNHCR, in providing aid such as medical programs, psychological support centers and financial assistance, is "targeting those most in need" and trying to streamline humanitarian support across the board for Iraqi and Syrian refugees. The agency does not distinguish between religious groups.
The priests in Hazmiyeh often travel to refugees' homes in neighborhoods like Dekounae and Bourj Hammoud, which are outside Beirut's city limits, to conduct Mass for the families, as most of them are unable to make it to church or pay for taxis.
Assisting refugees in finding jobs has been difficult. Sometimes the church is able to match up members of the community who are looking for a skilled worker with a refugee, but often this has been for jobs that require little communication; the Iraqi dialect differs from Lebanese Arabic, which can make communications difficult.
Lani, 24, has been in Lebanon for nearly six months. His mother died in Baghdad from an illness that could not be properly treated due to the lack of doctors in Iraq. He owns a car and often helps transport other Iraqis to and from the church when they need aid. He told Al-Monitor that he has been able to pick up odd jobs, such as cleaning and construction, but it is not enough. He is applying for a visa to Canada. He said he is awaiting "an interview at the embassy and then hopefully, in maybe two months, I can go, for a better life."
Nour, another Iraqi refugee, was able to find work as a security officer in Beirut. He escaped Iraq before IS could reach him. "I don't want to go back to Iraq," he said. "The problem is that Daesh is there and even if they leave, another group will come. Every time, the Christians are forced to leave."
Moukarzel said that Christians have suffered far too much in the region. In his opening speech at the aid event, he said that the destruction of Iraq "leaves bloodstains in history that are impossible to erase." Moukarzel said that the supplies provided by the church are only a temporary solution; he hopes that the Iraqis will one day be able to return home.
For now, Youssef says they are able to work with people in the community and provide apartments, which is far better than packing them into churches.