"Ultra-Orthodox fashion" almost sounds like an oxymoron to a common secular person like me. Secular people are aware of ultra-Orthodox women's wear mostly in the context of the full-body coverage of especially strict streams of Orthodoxy. Even then the term "fashion" seems to not quite fit the huge swaths of fabric meant to cover as much as possible and to hide the figure, and nothing more. In a world where the highest value is modesty, it seems perhaps impossible to dress nicely and attractively.
But in the past several years a new trend has surfaced: The ultra-Orthodox community is opening up (relatively, of course) to the modern world — except for the extreme sects — and quite a few ultra-Orthodox fashion designers have taken up the challenge.
"At one time there really wasn't much style," says Avigail Lorenzi, a 21-year-old designer for the religious and ultra-Orthodox sects. "It was important only to dress modestly, and it didn't matter how you looked. Today it's also important to look good, and to do so you don't have to wear tight or sexy clothes."
"There's nothing in the Torah or in Jewish law that says that the modest clothes that a woman wears can't be dazzling and elegant," says Chana Marelus, the owner of an especially prominent brand of bridal and evening gowns.
This openness led to the creation of a modest fashion magazine in the summer of 2014 in the framework of the thesis project of Gilat Dayan, a student in the visual communications department at the Bezalel Academy of Arts and Design. "The topic of clothing was a huge challenge for me," she says. "I wanted to crack the question: How to create a fashion magazine for the religious sector without transgressing the rules of modesty. I discovered how much demand and longing there is for style and chic that keeps modesty of dress."
Alongside this attempt, the ultra-Orthodox lifestyle website Dossit Girl ("ultra-Orthodox girl," which sounds like "Gossip Girl," the very immodest television show) offers women a fashion section.
Some in the ultra-Orthodox public (mostly men, probably) believe that a focus on externality is in itself immodest. Lorenzi opposes this claim. "It's true for the fanatics, who could also wear capes. For regular religious and ultra-Orthodox women, it's different, especially for 17 to 22-year-old girls who want to get married. For this purpose mothers would buy any dress at any price. A girl should match her dress to the guy she wants to find. If she wants a man who works, who's open to the world, who isn't extreme, she'll dress accordingly. A girl who won't dress nicely will get a man who just studies in the yeshiva all day."
"There are women who love to dress and love fashion in the ultra-Orthodox community," says Marelus. "While the ultra-Orthodox public doesn't seek new things, many women would be glad to see the ultra-Orthodox fashion world develop. Girls come to me looking for something no one else has worn and no one else has seen. There's an interest in this in a community where a whole high school class of girls gets married within a year. The ultra-Orthodox fashion world is still in its infancy, but change is taking place. In my opinion, this is mostly due to online social networks."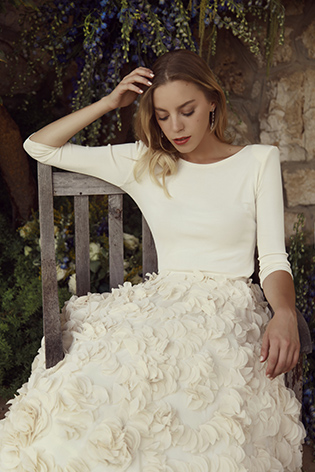 A wedding gown by Chana Marelus
"This is something that has been happening for a while," says Adi Burg, a personal stylist in the ultra-Orthodox sector. "There are more and more clothing designers in the sector, and they always have a story about a piece of clothing they couldn't find — this one looked for an evening gown, and that one looked for clothes for tall women. They weren't ready to compromise, so they started sewing their own clothes, and turned this into a business."
Burg believes that this stems from the fact that the world itself is changing. "All over the world people are dressing more modestly, with no connection to religion. Women who are in the spotlight, like [US first lady] Michelle Obama, dress modestly, and now it's a trend in the market. Big designers get inspiration from religious fashion, even from shtreimels [fur hats worn by Hasidic men], [like] that eccentric John Galliano from Dior. The world is curious about what's happening in the religious sector."
According to Burg, ultra-Orthodox women are highly conscious of brands. "Jews from Paris, Milan and New York are open to everything, and religious girls from those places are no less open or knowledgeable about fashion than any other girls. They are up-to-date and know everything, and this reaches here, too. Chana Marelus is also a brand, and her mark can be seen in her clothes, and girls recognize it and want it."
An evening gown design by Chana Marelus
Marelus herself says, "With the help of filters, the sector knows how to adapt and take the trends that suit it and adopt them without hurting its values."
At the age of 16 Marelus designed her first dress and she continued to professionalize. After she married she decided to start her own business. Today she has a studio in Bnei Barak, an ultra-Orthodox city. "Women find me through social networks and word-of-mouth," she says.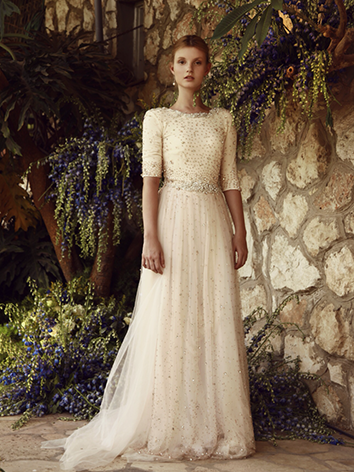 A Chana Marelus wedding gown
Lorenzi got into the business at a relatively old age. She says that as a girl she didn't have much to do with fashion, but when her older sister started seeking a match she was exposed to this world. "I slowly got into the field of fashion and started to sew, at first just for me, and then single items for girls who came to me," she says. "I gave it to them for free so that they'll say it's mine and they created buzz. People started to get to know me."
According to the stereotype, the modesty of the ultra-Orthodox and religious sector also corresponds to their financial means, but Lorenzi explains, "My goal is to appeal to a specific client that I imagine and I create things for her. If someone else comes to me, she'll buy two or three items. But if the client I imagined comes, and it happens, she'll go with nine or 10 items. It's true that there are financial limitations, but people buy. A girl who wants to get married will want unique clothes."
Her collection includes items that cost 500-600 shekels each ($120-$150), and not more. There are no pants, no low-cut tops, no short sleeves, but nonetheless there's meticulous attention to form and general aesthetics. "I also have secular clients," says Lorenzi. "I know all of them, and lucky for me, women who don't have to keep modest could also wear my clothes. They're simply beautiful clothes."
Marelus' prices start at 5,000 shekels ($1,200) an item. "Lots of clients hear the prices and understand that they're not in their budget," she says. "So it's true, the socio-economic situation has an impact, but it stays outside the studio."
All photos by Tal Abodi.