In any given neighborhood in Lebanon's capital, multiple beauty salons offer an array of services. In Salon Hanadi, one of the plethora of small beauty parlors in its area, a group of women discussed the pressure they feel to be beautiful.
Salon owner Hanadi Syala joined the conversation between two women about why they need frequent appointments with the scissors, syringe or even the knife to look good. Syala has been working as a hairdresser for 17 years, and the 42-year-old said things have changed drastically since she started.
"Nowadays, people are very judgmental, especially women," Syala told Al-Monitor. "There is this expectancy, they want this first impression. A woman feels pressured to be pretty and it's increasing alarmingly. It's affecting women's confidence."
In Lebanon, appearance is paramount and the beauty industry thrives. In addition to typical salon services for hair, makeup and waxing, increasingly popular are Botox and fillers, according to Syala. Plastic surgery has long been prevalent in Lebanon, but was more so before the conflict in Syria. The instability resulting from the war in Syria has led to a decrease in trips to get such work done in Lebanon, the plastic surgery hub of the Middle East.
Salon owner Hanadi Syala does the hair of a woman who lives in the neighborhood. (Photo by: Melissa Tabeek)
Sarah Mallat, a researcher at the American University of Beirut who wrote her master's thesis on young Lebanese women and plastic surgery, told Al-Monitor, "Official statistics are nonexistent, but based on my research, anecdotal evidence and observation of day-to-day life in Beirut, I would say at least one in three Lebanese women have had some sort of plastic surgery procedure or cosmetic enhancement. Among a particular socio-economic status — the more affluent members of Beiruti society — I think the number is even higher."
Beauty standards in Lebanon's still largely patriarchal society are rife with gender inequality and have been this way for a long time, but are exacerbated for other reasons, such as being a post-civil war society, family and community pressure, the economic situation and social media.
Mallat said, "From the sociological and social-psychological perspective, I argue that because it is seen as the greatest form of social capital in Lebanese society, … for the current generation of Lebanese, the most important factor is image — how you present yourself to society — even if it means spending beyond your means and accumulating debt."
Image pressure comes from everywhere: from the billboards touting the latest beauty trends to significant others and relatives at home. Mallat refers to these people as "mothers, lovers, significant others" when she discusses why people feel they need to be beautiful. She said that often, the first suggestion to alter and improve one's appearance comes from senior women in a family, boyfriends or husbands.
A billboard in Dekwaneh advertises "Smart Lipo," a procedure that can be done in one hour at the Seif Beauty Clinic. Such advertisements are numerous throughout Beirut. (Photo by: Osie Greenway)
Alexandra Hajj, a 22-year-old student at the Lebanese American University, explains that she has been living with a sense that her appearance has not been right from the time she was a child. She explained to Al-Monitor, "Since I was eight, everyone would tell me, 'You're perfect, but when you grow up your nose will be big.'"
Hajj has also struggled with her weight for as long as she can remember, and began dieting at the age of 11. Her mother was a model and is still known as a beauty, which has made her very conscious of her body from a young age. Hajj said, "[This pressure] came from seeing my mom fix herself and look beautiful and always prioritizing what she wears and how she looks. Although my mother is very smart, has a master's degree and is well spoken, her priorities were always her looks, and that worked in society because my mother was very well known and celebrated because of how she looked."
Many women and men, regardless of age, attribute this fixation on appearance to competition between women for a partner. There is a higher ratio of women to men in the country, and historically, more Lebanese men than women have gone abroad for work, particularly to Arab states — although this is changing, as more women are emigrating as well. This migration trend continues to take those men out of the country and the difficult economic situation in Lebanon.
This competition does not apply only to single women looking for partners, though.
Even the middle-aged women in Syala's salon pointed to competition. Though they are married, there is still competition to keep husbands from going astray, they said. The women also agreed that expectations are higher still for working women, who are expected to look attractive every day.
The president of the Lebanese Society of Plastic, Reconstructive and Aesthetic Surgery, Georges J. Ghanime, also told Al-Monitor there are no statistics available on the number of plastic surgeries performed or Botox and fillers injected. According to Ghanime, based on his knowledge of the field, about 30% of plastic surgeries in Lebanon are now performed on males.
Ali Zein, 24, is one of them. He has had a rhinoplasty, his teeth fixed and his chin done, but he downplays the pressure to be beautiful or handsome in Lebanon. Rather, he told Al-Monitor it is something that has just become part of society, saying, "In Lebanon, plastic surgery is no longer something extraordinary; it is simply part of our identity. Some of us even say you're not fully Lebanese until you get something done!"
Tweens and even younger children do not escape these beauty ideals. Cashing in on society's pressure to look a certain way at a young age are child spas and salons that became prevalent in 2011. One, Spa-Tacular, has since changed its concept, but others in Beirut, such as Chez Lulu and Bella's, are still providing services for young girls between the ages of 3 and the early teens.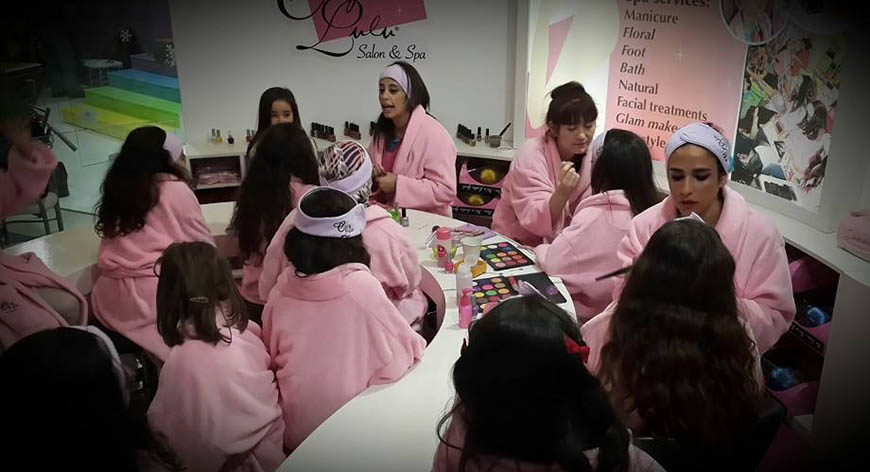 Chez Lulu is a salon for children and young women from age 3 to the early teens.
Though critics say that these practices only perpetuate the cycle of beauty in Lebanon, where young girls are told that image and appearance are paramount, the head of communications and marketing at Chez Lulu, Ghassan Satyr, told Al-Monitor the concept is more about young ladies having fun with beauty products and bringing them together with their parents and professionals, who show them the right way to use healthy products.
Satyr said, "Every girl at a certain age is doing [makeup] at home, but [the process] must be very well supervised. So come on Mom, bring your daughter over here, and she can get engaged with such experiences in a very professional way. It shouldn't affect [the girls] negatively."
A young girl gets her makeup done at Chez Lulu. (Photos courtesy of Chez Lulu)
Not all Lebanese subscribe to this way of thinking, though. In a society where older women often turn to Botox and fillers to hide their wrinkles, Annette Khoury, co-founder of the Lebanon Water Festival and Matrix Energetics practitioner, is embracing her age confidently. Though Khoury treats people through Matrix Energetics, she said she has yet to witness the Lebanese in general focusing on their inner and spiritual health, instead of just their appearance.
She said, "In Lebanon, there is a lot more emphasis on your social relationships versus your internal well-being. … People are more in tune with their external beauty than internal beauty."
Today, the reality is that for the majority of Lebanese, societal expectations still rule. Accessibility to easy loans and societal expectations lead to the young and old alike debating whether they should, like many others, spend that hour and a half changing their face, and maybe their life.
As for Hajj, she is still undecided. She continues to vacillate between what she feels she should do and what she wants to do.
"I have no idea. I look at myself and I say, 'No, I'm beautiful like this.' But then I look at pictures of other girls with noses that are really beautiful, and I think, 'Maybe.'"