Beersheba has many streets that look just like Rotenberg Street. Running through the heart of an older neighborhood, they are so derelict and ramshackle that the local residents have long abandoned any hope of living in a pleasant, well-tended and green urban space. Volunteers from the Making a Street project have now entered this grim reality to take up the challenge. For three hours on Jan. 13, student volunteers together with local residents turned the street around by revitalizing the community garden, creating a street cinema, building paths, painting murals and sidewalk paintings, and even setting up a neighborhood inn and creating hanging gardens.
That was the fourth time that the "Making a Street" group has completely turned a local street in Beersheba around, and on March 24, they'll be doing it again to yet another street in the neighborhood. The project is part of an international "place-making" approach, which has been gaining a foothold also in Israel, where local residents take responsibility for the spaces in which they live, instead of waiting for the establishment to improve conditions for them. The person who brought this refreshing approach to Beersheba is Matan Saad, 28, who studies Urban Planning at Beersheba's Ben-Gurion University of the Negev.
This last event on Rotenberg Street was part of a growing trend in which students are getting involved in the life of the city. Some of them are even settling down there once they finish their studies. "Ten years ago, Beersheba used to empty out over the weekend, because everyone went home to their parents. Today, any student who goes home to his parents every weekend is considered an oddball," Saad said. "What has been created here is a positive, beneficial framework that enables people and provides them with happiness. It is a bit different from the pervasive mood across the country. It is a framework that has a distinctly 'Beersheba' character about it. It couldn't exist in any other city."
"This is not the result of the social protests. It really isn't," Michael Cherniak, a resident of Beersheba's Gimmel neighborhood, told Al-Monitor. "The people who live here weren't part of the social protests. They aren't middle class. We're talking about the weakest neighborhoods." While the people he is talking about might tend not to participate in collective efforts and in fact, are perhaps in no rush to volunteer for the benefit of their communities, the students from "Making a Street" have succeeded in recruiting them nonetheless. Some 350 students and local residents participated in the Rotenberg Street event, including about 120 people who participated in the actual work.
A trial balloon was sent up in April 2014 on Bialik Street. Some 15 members of the group stayed up all night of their own accord, so that the local residents would wake up to a very different street. The locals were excited about the transformation of their street, and the municipality was quick to offer its support. "We were happy to have this opportunity to get students involved in the older neighborhoods," the municipality of Beersheba said, "and we will continue to assist them and encourage projects in which local residents take responsibility and become involved in the environment in which they live."
The second event took place on King Uzziah Street and the third on Ringelblum Street. Then the project moved to Rotenberg Street. It was Cherniak who brought the students to the street. Not only is he a neighborhood resident, but also he is a social activist, involved with an older program named Open Apartments. "I saw the clear needs of the neighborhood," he said. "The neighborhood is dark at night, it is dirty and there hasn't been a [resident] board in any of the buildings here for years. That's the situation in the poor neighborhoods. I contacted city hall and brought in cleaning crews and electrical crews. I also brought in 'Making a Street.'"
A decision was made well before the event on Rotenberg Street to involve local residents in the project, rather than engaging them in a condescending way that goes right over their heads. "We're talking about a long process that lasts 1½-2 months," Saad said. ''We met with the local residents and heard from them about what they need. At first they focused on complaining about how their environment had fallen into neglect, but we helped them shift gears to a more positive state, involving what we can do about it, instead of just focusing on what has not happened there until now. We started to 'soar' with the local residents, until their dreams turned into a practical work plan."
Student volunteers and locals work to improve public spaces on Rotenberg Street in Beersheba, Jan. 17, 2015. (Photo by: "Making a Street" initiative)
"The municipality alone would never have done this," Cherniak said decisively. "What is unique here is the way that the local residents are partnering in this. It's incredible. Locals picked up shovels and spades, and spent three hours working. Neighborhood children helped by going door to door to publicize the event, but they also picked up brushes and started to paint."
Cherniak hopes that he can provide momentum for these activities, so that they continue. "In the past, we tried to create building boards, but there wasn't always interest," he said. "This event gave residents the motivation they needed to come together and bring about change. They saw what could be done and they were very happy about it. The community garden that we worked on is right in the center of the street. Everybody passes through it all the time, and they can't stop talking about the project," he added.
Saad said that one of the project's objectives is not the event per se, but creating an infrastructure in which the local residents can think about where they live. "The space is an expression of what you want to get out of life. It reflects people's deepest desires," he said.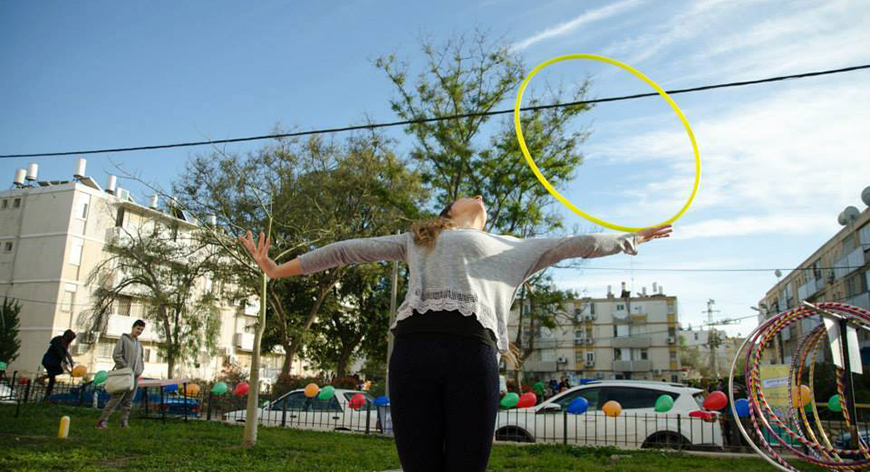 A woman is seen hula-hooping after the completion of the Rotenberg Street project in Beersheba, Jan. 17, 2014. (Photo by: "Making a Street" initiative)
It's hard to ignore the fact that while Beersheba City Hall is happy to throw its support behind the project, the community is assuming roles that should be the city's responsibility. "Several years ago, we began to implement a multi-year plan to revitalize public spaces," the municipality said in response. "This included renovating and upgrading old neighborhoods. We are talking about neighborhoods that are dozens of years old, and dealing with them involves many tasks and challenges. The municipality is taking action by redirecting considerable resources into handling these neighborhoods."
"I believe in civil activism," Saad said, summing up the conversation. "It is inconceivable that I would not be involved in the space right outside my door. I'm not blaming the municipality for anything. I'm just looking for what I can do too. The municipality was quick to recognize the potential and gave us its backing from the very beginning. One way to look at it is like a vacuum created by the city, and then we came and did what we did. I don't feel that way. Everyone knows what the situation in the older neighborhoods is and how they need an upgrade. What we have here is an opportunity to change the approach and let the local residents be involved."