GAZA CITY, Gaza Strip — Seven years ago, in the old Shujaiyya neighborhood in eastern Gaza City, the artistic talent of Mohammad Qureiqai, 12, was discovered as he was making pencil sketches in his notebook. His journey of being acknowledged as a creative artist began.
Mohammad's eldest brother, Malek, 23, could not believe his eyes when he saw a sketch drawn by Mohammad, who was only five years old at the time. He asked him to redo the sketch multiple times, to make sure that Mohammad had worked on it by himself. Then, Malek started to help him with the drawings, assisting him in coming up with new ideas for his paintings, which were initially produced using only pencil and charcoal.
Al-Monitor met Mohammad in his humble studio, a small room on the rooftop of his two-story house. After school, Mohammad spends long hours in the studio, where he has placed the oil and pencil paintings he produced over seven years ago.
Each painting has a story, and whenever the young artist is asked about a certain painting, he recounts how he came up with the idea and drew it, and the time it took him to make it ready for display. Mohammad was asked to produce some paintings to display in exhibitions about Palestinian causes, like prisoners in Israeli jails, the Nakba and other subjects. However, he is most interested in the paintings whose ideas he has come up with, and he enjoys talking about them at length.
"I go to sleep and wake up dreaming of new drawings. My life has now become my drawings and paintings. Everything you see around me are ideas for old or new paintings," Mohammad said with a shy smile, explaining the importance painting holds for him.
"A few days ago, I sat for official school exams. After I finished my test, the supervisor would not let me go until the time was up, so I drew on the answer sheet to pass time. This angered the teacher, who asked me to erase the drawing before submitting it," he said.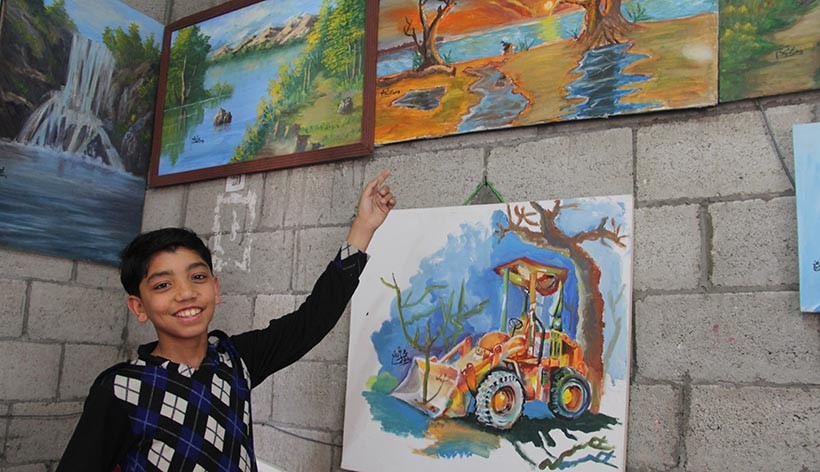 Mohammad hails from a middle-class family and has three sisters and five brothers. His eldest brother Malek describes Mohammad, saying, "Mohammad's talent as an artist is already excellent, but for a 12-year-old boy, it is extraordinary."
Mohammad participated in nine exhibitions in the Gaza Strip, collectively or individually, the majority of which were organized by local and governmental institutions. He also participated in an exhibition in Beirut organized by the Palestinian Embassy in Lebanon. He was also supposed to participate in an exhibition in South Africa, but he could not travel or send his paintings, so his works were photographed and scanned and then put on display.
Israel refused to give Mohammad a permit to travel to Bethlehem to participate in painting the "peace mural through the eyes of children amid occupation" in 2012, which deprived him of the chance to work with both Palestinian and foreign children to create the mural.
The majority of Mohammad's paintings depict cartoon characters he watches on TV. He also tries to come up with short stories for children by drawing characters and writing dialogue.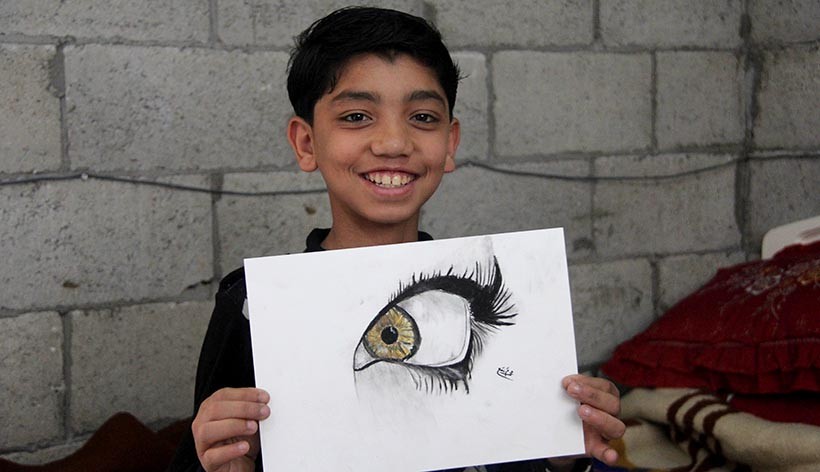 He tries to develop his painting skills through self-learning on the Internet, examining the paintings of other artists and continuously watching videos on YouTube that explain the correct methods to paint objects in such a way that they appear three dimensional.
"With the help of my brother Malek, I try to learn new drawing methods by using the Internet, and find ideas to put on canvas," he said.
Mohammad is facing a problem by the lack of sponsorship from official and local institutions and the scarcity of financial resources, depriving him of the ability to afford painting equipment. This is why he has to wait until some institutions commission him to produce paintings before he can purchase supplies. Also, his studio lacks an easel, which means he has to draw while lying on the ground on his stomach.
Mohammad, despite his young age, knows the names of internationally renowned artists, and says that Dutch painter Vincent van Gogh is inspirational to him. "I, like [Pablo] Picasso, draw using the left hand," he lightheartedly said.
Local Palestinian artists complain about the lack of societal and official interest in art and painting, since — due to the difficult economic situation in Gaza — art is viewed as a luxury.
Mohammad said that those living near him and people he interacts with do not care about art and painting.
"My neighbors told me more than once: 'Drawing is useless. Work to make a living,'" he said.
Mohammad is determined to become an internationally renowned artist, saying, "I want to study fine arts after I finish school to develop my capacities and talent," adding, "I hope to live outside Palestine where art and drawing are valued, and where I can meet international and famous artists."
All photos of Mohammad Qureiqai, 12, with his paintings and sketches at his home in Gaza City, May 13, 2014. Taken by: Hazem Balousha