GAZA CITY, Gaza Strip — "You must be by the Bahloul station west of Gaza City at precisely 10:30 p.m. Bring a truck to transport the merchandise. Do not forget to come alone, and make sure that no one sees us!" Such were the instructions received by Qassem via a telephone call from one of Gaza City's dealers.
At first glance, it might seem that the merchandise to be delivered might be drugs or hashish, but in reality the 22-year-old man only sought to purchase bags of cement, to complete construction on his marital home. This is a scene indicative of the extent of suffering that has permeated Palestinian society as a result of the worsening crisis engendered by a lack of construction material.
Israel ceased exporting cement to the Gaza Strip in October 2013, following the discovery of the Ein Hashlosha tunnel built by Hamas east of Khan Yunis, in the south of the Gaza Strip.
Qassem desperately wants to finish building his house, otherwise his marriage will remain on hold until cement is once more allowed into the Gaza Strip.
"I have searched for cement in most trade stores, but I was unable to find a single bag. One of the merchants told me that he had a few left, which he wanted to sell for 120 shekels [$34] each, despite the fact that the usual price is around 26 shekels [$7.50]," Qassem told Al-Monitor. He indicated that the merchant asked for delivery to be made in secret, to avoid prosecution by the government, which had been going after merchants monopolizing the cement market. Qassem added that his urgent need for cement compelled him to accept the merchant's demands and maintain secrecy about the latter's price gouging. "I have to buy cement at this exorbitant price because prolonged engagements usually cause many problems in our society, leading to divorce," he added.
A report by the Palestinian Center for Human Rights (PCHR) issued in February indicated that the Israeli occupation forces, during the month of January, allowed the import of extremely limited quantities of construction materials. These included 1,406 tons of cement and 9,063 tons of gravel — or 6.1% and 9.1% respectively of the Gaza Strip's monthly needs — while no construction steel was allowed in at all.
Furthermore, in its report about the movement of goods through Gaza's border crossings, the PCHR stated that the Gaza market was witnessing a significant rise in the prices of all building materials, with some being completely unavailable. The report also said that the number of trucks entering Gaza since last January represented 7.72% of their numbers prior to the imposition of the blockade in June 2007.
As a result, the cement crisis has led to hundreds of millions of investment dollars being tied up in building projects that remain unfinished, as well as to 30,000 workers being sent home, according to Gaza economist Omar Shaaban.
"Cement is a key material for the Gaza Strip. The lack thereof not only affects the construction sector but is also reflected upon most other supporting sectors, such as transportation, that heavily rely on that material alone; as well as other segments such as restaurants and tourism," Shaaban told Al-Monitor.
Fayed al-Hajjar, a construction worker who supports a family of eight, sits for long hours watching local news channels, as he waits for news that Israel is lifting its ban on the import of cement and other construction materials into the Gaza Strip.
Hajjar told Al-Monitor that his employer was forced to discharge 15 other workers as a result of the lack of raw materials needed to manufacture masonry blocks. "My unemployment renders me incapable of providing for my family's needs, forcing my eldest son Saeed to postpone his entry into university, as I am unable to secure his expenses. Furthermore, my eight-year-old son Motaz was unable to take part in a trip organized by his school, because I could not afford to pay the small fee," he noted.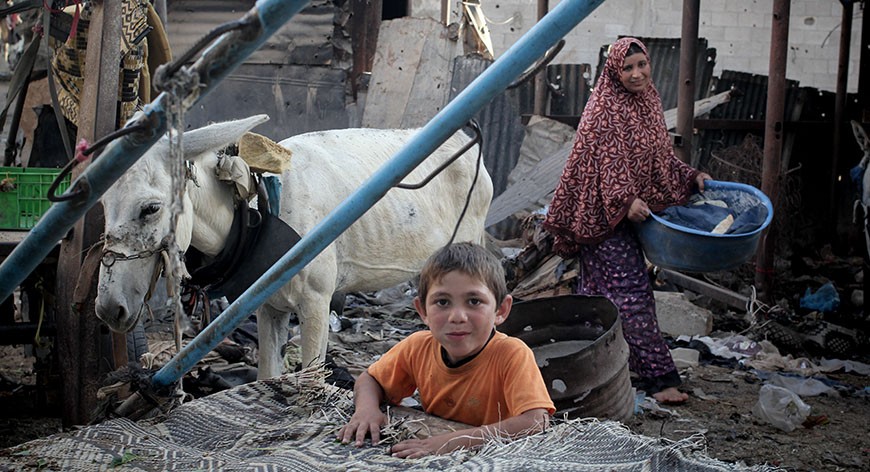 Families of construction workers in Gaza City, such as the Hajjar family in this photo, are suffering due to the cement shortage caused by the Israeli-Egyptian blockade, Feb. 28, 2014. (Photo: Rasha Abou Jalal)
Hajjar added that he was forced to borrow money from a relative a few days ago to buy food for his family, and said that he would not be able to borrow any more until he repaid old debts.
Ashraf Abu Aida, owner of the Abu Aida Construction Material Factory, said that he had to send around 150 employees home since Israel stopped allowing cement into Gaza. He noted that some of his machinery has rusted as a result of the long work stoppage.
Speaking to Al-Monitor, Abu Aida clarified that this crisis not only affected construction workers but also negatively affected more than 50 other professions, such as blacksmithing, carpentry, plastering and tiling.
According to the president of the Palestinian General Federation of Trade Unions, Sami al-Omsy, those workers remaining without work raise Gaza's employment rate to 45%.
During a solidarity protest organized by trade and labor unions and attended by Al-Monitor's correspondent at the Rafah border crossing on Feb. 26, Omsy stressed that the Israeli blockade had caused an unprecedented level of economic stagnation. He also pointed out that the construction sector was at a standstill, with thousands of companies and industrial workshops shut down.
He warned of an impending humanitarian crisis in the Gaza Strip if the import of cement remained banned, and called on Egypt to positively contribute in solving this crisis.
Furthermore, during the same solidarity protest, Mohammed Fuju, a spokesman for the Gaza Engineers Syndicate, said that close to 30% of the Gaza Strip's engineering firms were out of business as a result of the cement import ban. Fuju also indicated that the Israeli blockade had completely paralyzed Gaza's construction sector and highlighted that the sector's contribution to the gross domestic product was 27%.
Abdul-Fattah al-Zeri, the director-general of the Consumer Affairs Office at the Ministry of Economy, stated that the occupation authorities used to import only 700 tons of cement per day prior to the discovery of the Ein Hashlosha smuggling tunnel. He indicated that this quantity only satisfied 20% of the inhabitants' needs.
Zeri also added, in a news release published on the ministry's website in February, that his ministry had opened the door for citizens to apply to receive cement based on their needs. He stressed that most of the cement available at the ministry was imported through border tunnels with Egypt.
Commenting on the dire situation, Qassem said, "So, receiving cement for construction now requires registering and standing in long lines as well? Must I justify my need for cement to be allowed to buy it? What a joke."