CAIRO — It can be tough and risky being a journalist in Egypt. Taking pictures can lead to questioning by people or police — sometimes even attacks or arrest. Affiliation with Al Jazeera can lead to jail time. And the country was ranked the second deadliest for journalists in 2013 by the Committee to Protect Journalists.
Ask any journalist here to tell you a harrowing moment they have experienced over the past three years, and it is likely they can. Many quickly file such memories away to continue covering a fast-changing, sometimes bloody landscape. But the emotional toll lingers, as they bear witness to scenes most do not.
"I haven't wanted to take pictures since Rabia [al-Adawiya]," a journalist confided to friends recently over dinner, referring to his witnessing the mass killing of supporters of ousted President Mohammed Morsi during dispersals of a sit-in in August 2013.
This week, as Egypt's interim government holds a much hyped nationwide referendum on its amended constitution amid protests and a bomb blast, seven photojournalists for the independent daily newspaper Al-Shorouk are taking a rare artistic pause to reflect on "our joys and worries for our changing nation, and the scars it leaves in our hearts" in a photo exhibit titled "Shouf," or "Look."
"Most of us are chasing stories that haunt us as we try to document them with our cameras," reads the statement on the exhibit, which runs until Jan. 17. "The daily work at the newspaper does not leave us much time for reflection."
The colleagues began meeting outside the newsroom to share stories, and are now showing their personal work to the public in the gallery of Atelier du Caire, a historic two-story artist haven tucked away in a downtown alley. On its opening night a few days ago, the exhibit drew a large crowd of likely viewers — Cairo's social media savvy artists, activists, academics, photographers and journalists.
An elderly man grumbled at the crowd of mostly young urbanites, urging them to "move it along" through a crowded doorway. Inside, twin brothers George and Samuel Mohsen's poignant photo series shared the life of a "simple man" forced to retire from a declining Christian college where he had worked for 45 years.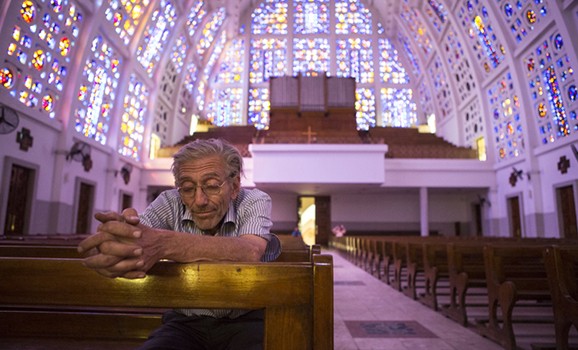 "Ropert" by George and Samuel Mohsen
Photographs showed Robert grinning widely to show missing front teeth as he rides a bus, teaches a young student and has breakfast with his sister.
"His sister reads his fortune in his coffee cup and tells him that she sees no money in his future," the caption reads. "She later confides that he gives away his money to those in need."
In the next room, Randa Shaath shared her straightforward images of young female musicians, who since the revolution have found themselves center stage and have managed to stay there, playing for fans in streets and schools.
Upstairs, another female photographer shared a series of deeply personal portraits of her struggle to find balance between motherhood and activism amid the revolution.
"They say that 'paradise is under the feet of mothers,' but nobody speaks about the constraints of motherhood. I find myself unable to leave the house to march in a demonstration. I hold my breath sitting in front of a TV, military planes fly under my ceiling and tear gas filling the kitchen. The baby ties me down, with her mouth stuck to my breast," Heba Khalifa laments in her artist statement.
In an image titled, "Holy Matrimony," she stares into the camera while holding her daughter, who is looking away. The two are wrapped in layers of tape, stuck to a plush red chair. A somber Madonna painting hangs behind them.
In other portraits, Khalifa folds laundry wearing the "V for Vendetta" mask, uses a spoon to scoop into a bowl of stones ("pain makes me swallow the pebbles"), wears a homemade gas mask in the kitchen and captures her calloused feet alongside her daughter's ("after work, I go back with crumbs of energy to spread widely"). Eventually, her relationship with the frequently absent "he" ends.
"Vendetta" by Heba Khalifa
"What happens to me here is shared by many women there, behind closed doors," Khalifa says. "I try to open the door."
Aly Hazzaa's photographs explored the way Egyptians confronted or were obstructed by government-erected concrete walls built to stop clashes. Ziad Hassan's photo series examined the role of street puppetry in protests.
Another personal exploration capturing much attention was Sabry Khaled's photo series. He began his statement with, "I lost Atef Yehya — one of my best friends."
His own painful experience is shared by so many others that Khaled said he wanted to "honor the dead and benefit the living" by sharing untold stories behind the faces on posters and government files marked as "martyr." In a series of somber images Khaled captured wives, mothers, fathers, sisters and brothers who have lost boys and men to prison and bullets over the past three years.
In the image "Trying to see the light," a woman enveloped in darkness looks calmly into Khaled's lens, a tiny light beaming from the leftmost corner. Amina cares for four children by cleaning houses after her husband was sentenced by a military court to 30 years in prison, in February 2011, the caption reads.
"Trying to see the light" by Sabry Khaled
In another image, women in black fill every corner of the frame with sadness as they mourn a woman's son killed in a gun attack on Warraq Church last year. In others, a father mourns a son killed in 2011, a man holds up a picture of his missing twin brother, and protesters are seen outside the window of the home of slain young activist "Gika," marching in his memory a year later.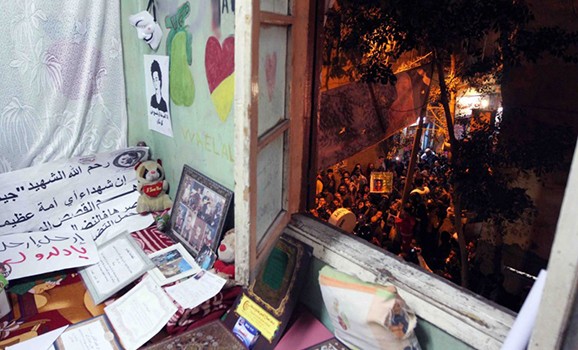 "Absence" by Sabry Khaled
"I carry heavy memories, feelings, stories and a lot of silence from one home to another," Khaled shares in his statement.
Sometimes, he is unable to hold his grief, he says. Sometimes, family members ask him why he has come to their home. And they are mostly comforted by the fact that he has not come seeking "quick reportage," Khaled says.
"I am here because, like you, I know how the absence of a loved one feels. I am here because you and I do not need a lot of words to express what is inside us. The moment of silence, interrupted by the unavoidable camera clicks are enough," he says. "I hope to save what my heart sees in my camera."