US President Donald Trump isn't the only one in hot water for inviting foreign meddling into his country's elections.
Lobbying records first disclosed last week by Al-Monitor have played a role in today's presidential runoff in Tunisia, where candidate Nabil Karoui is under fire over a $1 million contract to help boost his chances. The revelations have prompted a Tunis court to open a criminal investigation not only into Karoui's US activities, but those of two other political actors as well.
Taken together, the US and Tunisian cases offer a window into the increasingly globalized nature of political influence operations.
"This is something that we've been seeing in a number of different FARA [Foreign Agents Registration Act] filings, with in some cases either foreign politicians, political parties, and in some cases even campaigns seeking favor with the United States," said Anna Massoglia, a foreign influence researcher with the Center for Responsive Politics. They may seek inroads "with the president, with the State Department, or just general favor or media-specific objectives in the US as almost a backdoor to getting support in their country."
She credits recent developments in the United States, notably the arrest of former Trump campaign manager Paul Manafort and former national security adviser Michael Flynn on charges of illegal lobbying for both a surge in FARA registrations and subsequent international attention. But she also sees evidence of more activity overall, even discounting the increase in transparency.
"I think at least some of it is related to there being an increase in this globalization, since we're seeing more firms also marketing to that type of target audience and really describing it in that way," she said.
For a full picture of US lobbying by Middle East countries, make sure to register – for free – for our award-winning lobby tracker.
Trump's entreaties to foreign nations from Ukraine to China to provide dirt on his political rival Joe Biden have sparked widespread condemnation and triggered impeachment proceedings in the House. The case against Trump revolves around whether he broke US law barring requests for campaign contributions from a foreign citizen.
"It is illegal for any person to solicit, accept, or receive anything of value from a foreign national in connection with a US election," Ellen Weintraub, the chairwoman of the Federal Election Commission, famously wrote in a June statement after Trump insisted in an interview with ABC News that "there isn't anything wrong" with the practice.
US lobbying laws, however, do not explicitly ban foreign actors from engaging in lobbying activities that would be illegal back in their home countries.
"FARA does not prohibit conduct, it requires individuals and entities who are foreign agents to register with the Department of Justice for conducting activities in the United States that are specified in the statute," Department of Justice spokesman Marc Raimondi told Al-Monitor. "FARA does not involve enforcing the laws of other countries. It is the responsibility of foreign agents to ensure that they are complying with all laws, both domestic and foreign."
In the case of Tunisia, it has fallen on the Tunis Court of First Instance to open a criminal investigation into Karoui's contract with Canada-based Dickens and Madson following a complaint from his rivals. He is alleged to have broken two provisions of Tunisia's electoral law: Article 80, which bans foreign gifts, including "propaganda," and Article 81 on campaign contribution limits (the cap for the first round was around $625,000).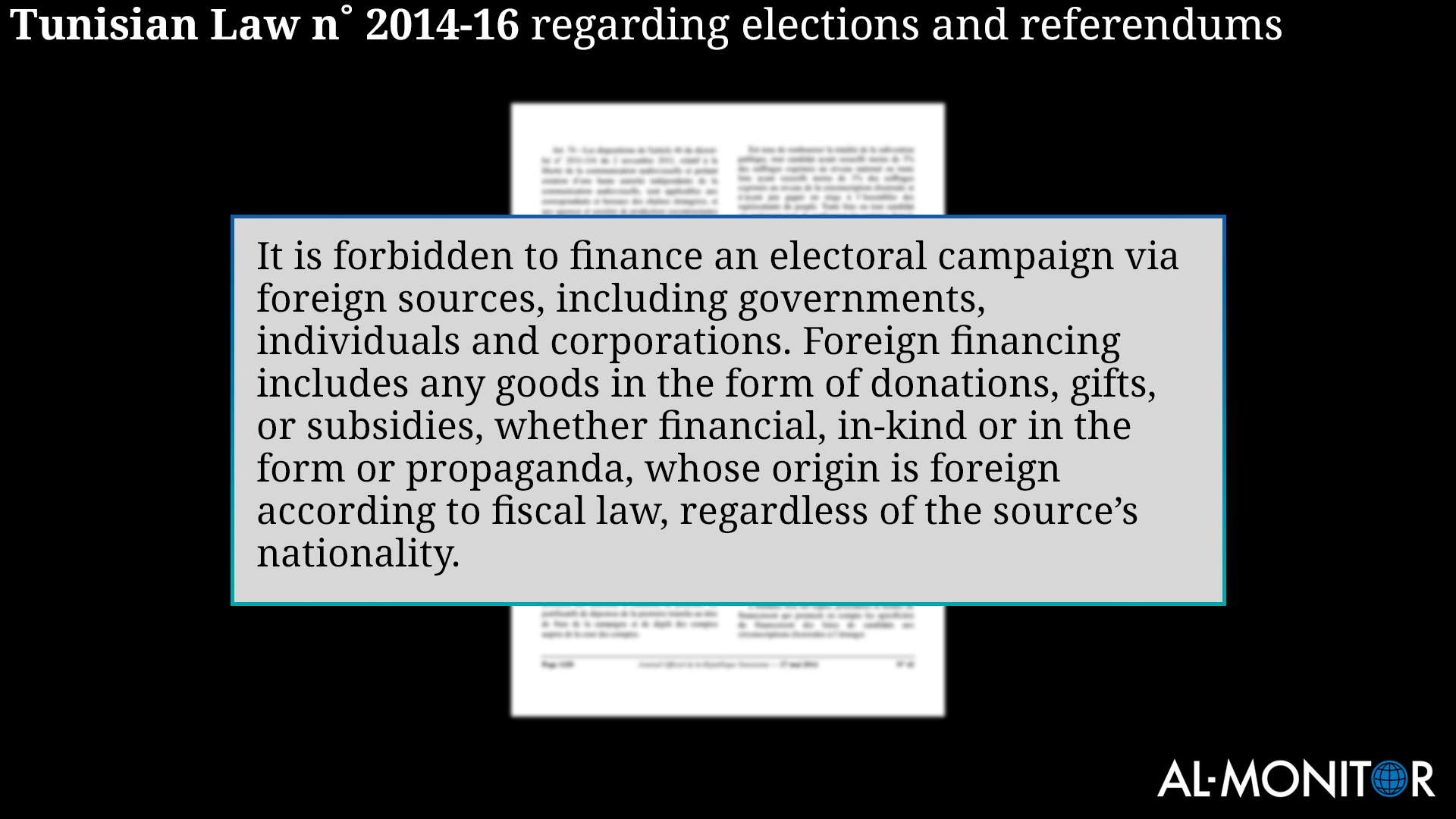 The probe has also two ensnared the Ennahda party, which has retained Burson-Marsteller (now BCW) for public affairs work in the United States since 2014, as well as parliamentary candidate Olfa Terras-Rambourg, who retained the Washington firm America to Africa Consulting in early September. While the FARA filing on behalf of Karoui openly aims at "attaining the presidency of the Republic of Tunisia," those for Ennahda and Terras-Rambourg, however, are less incriminating and only aim to boost their image abroad without openly calling for electoral help.
"FARA does not involve enforcing the laws of other countries. It is the responsibility of foreign agents to ensure that they are complying with all laws, both domestic and foreign."
It's not just Tunisian actors that have to be careful.
Two Turkish opposition parties, the pro-Kurdish Peoples' Democratic Party (HDP) and the Republican People's Party (CHP), are also registered as foreign agents in the United States. Both have US liaison offices involved in grassroots political organizing and advocating for certain policies while walking on a legal tight rope: Article 69 of the country's constitution states that "political parties that accept aid from foreign states, international institutions and persons and corporate bodies of non-Turkish nationality shall be dissolved permanently."
And a bevy of Iraqi and Libyan political actors, from individual politicians to the Kurdistan Regional Government, also lobby independently of their central governments, causing occasional frictions. The UN-recognized Libyan government in Tripoli, for its part, is lobbying the White House to adopt a policy that no administration officials are to meet with warlord Khalifa Hifter "or any of his designees, during any visit to the US."
Even before the Tunisia case, a global backlash against foreign influence operations was already brewing.
Just this year, a British lord was investigated by Parliament for his role in advocating for lifting sanctions on Russian conglomerate Rusal. And Ukraine's prosecutor general ordered a special anti-corruption unit to look into secretive US lobbying by presidential candidate Yulia Tymoshenko, who ended up getting crushed as voters chose an untainted comedian.
Karoui denies hiring the firm but acknowledged for the first time in a TV interview this week that he had met its president, Ari Ben-Menashe. The contract was signed by a person going by the name of Mohamed Bouderbala, whom Karoui denies knowing. Massoglia says it's not unusual for political figures to deny involvement with US lobbying, either for legal reasons or to avoid negative publicity with voters.
"In a lot of cases," she said, "the politicians or campaigns or political parties route the payments for these foreign influence operations targeting the US through shell companies or offshore accounts or other types of opaque financial structures, since it's either disfavored in their country or in some cases illegal."