SANAA, Yemen — The crowds shopping ahead of Eid al-Adha, the Muslim holiday also known as the "Festival of Sacrifice," start from Bab al-Yemen, the main gate of Sanaa's old fortified wall. Here, there is no indication that there is a war, as people chat, inspect the goods for sale and bargain for clothes and sweets. Most Yemenis have just two cheap items on their shopping list: henna, the red paint for hands and feet, and jambiya, a special knife with a curved blade.
With a few days to go until Eid al-Adha (Aug. 11-14), one of the vendors, just concluding a deal with a couple, turned around and asked how much henna I wanted to buy, assuming that I was a customer. He scooped up the henna with an old metal can, showing off its rusty red color.
"Henna is used for festivals, weddings — any occasion really," he said, before negotiating the price with a customer. His own hands were decorated with henna to show that he is proud of the quality of his product.
At this market, people buy henna in huge quantiies as gifts for the women in the family, particularly young girls who look at the ritual as one of the delights of the holiday. The other cheap item on people's list is the jambiya, a desirable gift for young boys. Boys ages 6 and older carry this knife — with its curved blade and decorated hilt — on their belt, showing off that they are on their way to manhood and can carry a knife.
"I got my first jambiya when I was 6 years old," a jambiya vendor said. He told Al-Monitor on condition of anonymity, "I wore it proudly. It is part of the Yemeni tradition; men have carried it on their belts for centuries."
Mahfouz Saleh, another jambiya shop owner who has a store outside the main gate of the Old City of Sanaa, said the jambiya tradition dates back at least 2,000 years — "ever since Sabaean and Himyarite kingdoms" of the Arabian Peninsula.
"[Yemenis have used and made jambiyas] for generations," Saleh told Al-Monitor. His shop, which has been in business selling jambiyas for the last 15 years, is one of dozens of stores that sell knives on the southern end of the Old City of Sanaa. "There is a lot of demand — more than for clothes," he added.
The vendors do not only sell knives, but sheaths and belts as well.
Vendor Yaser al-Hajj told Al-Monitor that the knives come in different shapes and the handles have different values. Saiyfani, a curvy knife with a highly decorated handle, is the most expensive. 
Though the jambiya is an ancient Yemeni heritage, Hajj, who has been running his shop in the market for the last 16 years, said that there are several jambiyas produced in China sold at cheap prices in the market. "It is the state that allows these Chinese imports," Hajj noted, calling on the authorities to protect the Yemeni heritage by banning these "cheap imports."
Mujeeb Ali, a 21-year-old who stood outside a jambiya shop checking out prices, admitted he knows little about the blades. What he knows is that they are a status symbol and a tradition. "We wear the jambiya as part of our traditional dress during Eid in tribal areas," said Ali, who lives in Sanaa but will spend the holiday in the war-ravaged rural Nihm district of Sanaa governorate where he was born.
"I will visit relatives and friends," he said, adding that they will sacrifice a sheep or a ram from their own farm.
Ali Mohsen, a mini bus driver transporting passengers between the Old City of Sanaa and the nearby Noqum livestock market, is also planning to go home during Eid. He told Al-Monitor that he hasn't spent any of the holidays in Sanaa city, but always goes to his village in al-Soodah district of Amran governorate, north of Sanaa.
"I can visit pastures, dance, laugh and rejoice with friends," Mohsen said. A father of two girls and two boys, he admitted that he has not made many friends in the capital. "In Sanaa, I don't know anyone [to celebrate Eid with]."
As for sacrificing on Eid, Mohsen added, "I have been saving for a ram for this Eid since last year."
Noqum livestock market, the largest livestock market in the country, is just a shadow of its old self before the war. Social media users have begun to campaign against the high prices of Eid livestock, commenting on the high prices. One such post showed a lamb posing on a sofa bed that looked like an elegant foreign design.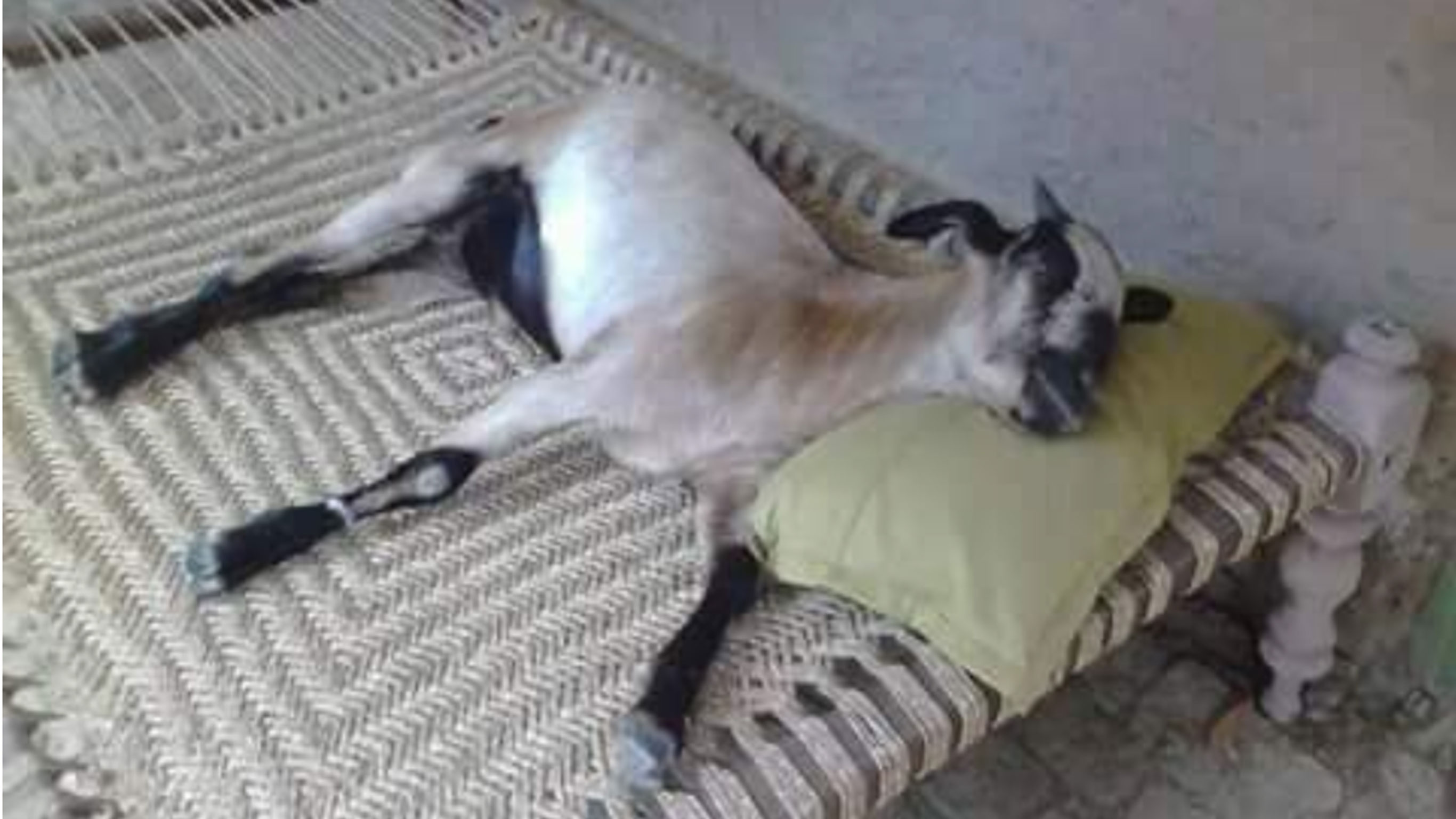 "A lamb sold at 120,000 Yemeni riyals [$480] deserves a design bed and a pillow," Shaef Farhan, an activist, commented. It is unclear whether the photo is photoshoped or real.