BASRA, Iraq — Inside Basra's Virgin Mary Chaldean Church, light twinkles from delicate glass chandeliers and paintings depicting Christ's mother line the walls.
The church's last service was held in 2005, but it reopened in June following a 270 million Iraqi dinar ($228,000) renovation funded by Iraq's central bank and the Association of Iraqi Private Banks.
"The idea was to renovate the church so it would be fit for praying in," Hassan al-Helfe, one of the renovation's chief engineers, told Al-Monitor. "Everything you see is new, while preserving the old style. The project was supposed to last four months, but we finished in two by working two shifts, day and night."
A team of 25 workers including engineers, carpenters and electricians repaired cracked walls and water damage, fixed the windows, upgraded old wiring and added air conditioning units.
Now, light filters through tangerine-colored stained glass onto the neat dark wooden pews and sky-blue walls. Outside, rubbish and rubble have been cleared from the small garden to form an attractive outside seating area. Birds chirp in the trees.
"Before, you wouldn't go in the church. It was full of dirt and mud and was abandoned," Abu Milad, a 70-year-old Christian born and bred in Basra, told Al-Monitor. "But now we can have masses here: celebrations, New Year's, all that can happen here."
In central Basra's historical Al-Ashar district, the Virgin Mary Church was designed in the Gothic style by Italian architects. Its foundation stone was laid in 1907.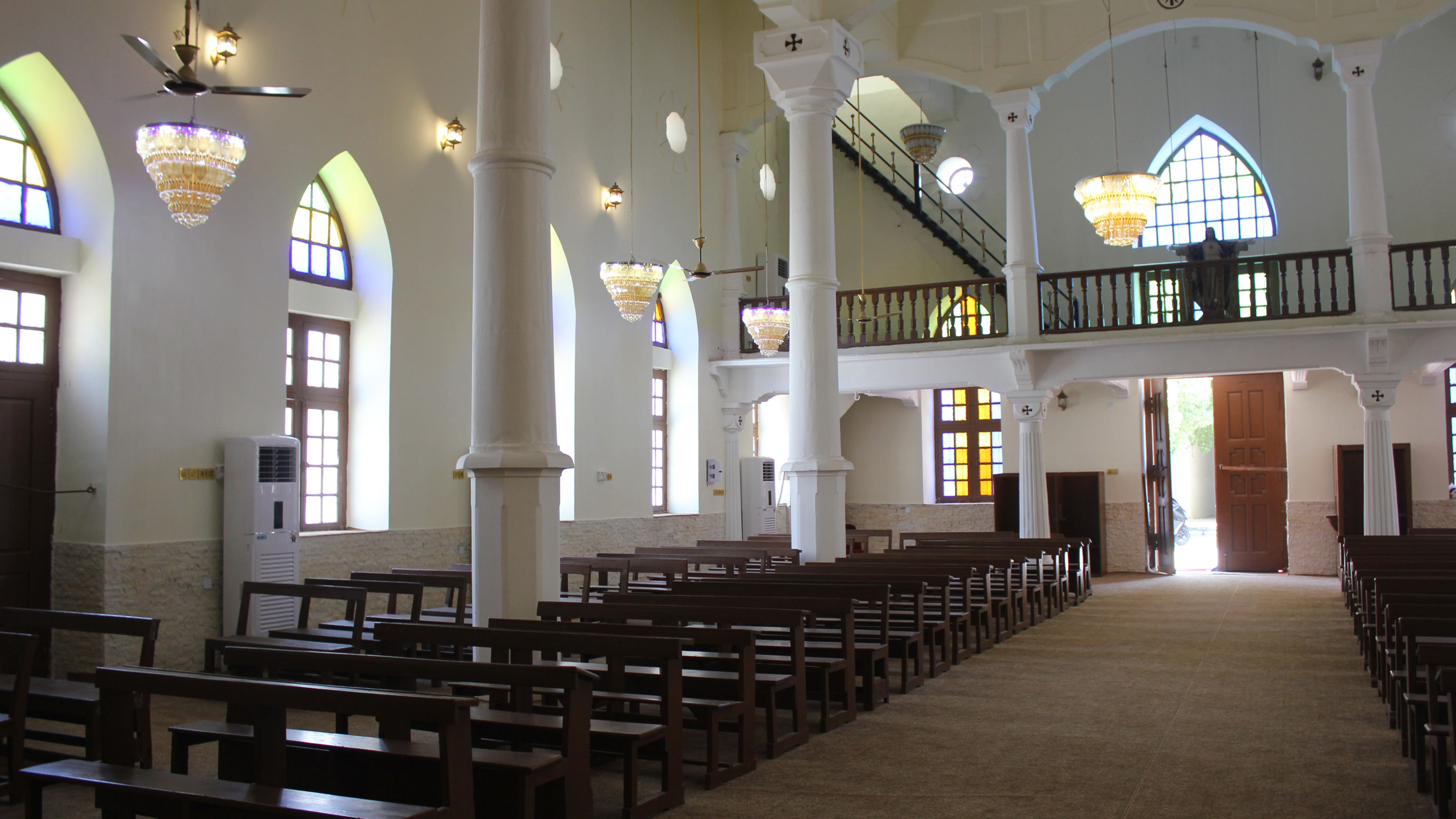 The interior of the renovated Virgin Mary Chaldean Church in Basra, Iraq, June 23, 2019. (Lizzie Porter)
It was in service on and off throughout the 20th century, according to a history of Christianity in southern Iraq written by Mar Habib Hermes, a Basrawi bishop.
During the 1980s, the church operated as a shelter for impoverished families and a school managed by nuns opened in a neighboring building.
Yet despite the church's restoration, Abu Milad is one of the only Christians left in Basra to actually pray in it. He estimates that the Chaldean church's congregation numbers around 50 or 60 people. Basra's overall Christian population is around 350 families, according to a bishop interviewed by Al-Monitor in 2017.
The community started to shrink after Saddam Hussein's ousting in 2003 as security in Iraq deteriorated.
"Before the fall of Saddam there were lots of Christians, but after the occupation [by US forces], the number reduced as people left or emigrated. Some went to live in northern Iraq," added Abu Milad. "Now the number here in Basra is really small."
The change reflects a wider trend in Iraq of dwindling numbers of Christians, from around 1.5 million in 2003 to 250,000 or less today. 
"There are many reasons for Christians leaving Iraq, linked to a lack of guarantees of their future safety," said Bassam Al-Alwachi, the chairman of a non-governmental organization based in Basra that works to promote minority rights and peaceful coexistence. "This is especially after what happened to families at the hands of Islamic State and the feeling of not obtaining their rights."
Christians have a long history in Iraq, which was also once also home to tens of thousands of Jews. In Basra today, the Jewish population is virtually gone, but the Chaldeans — eastern Catholics who follow the Roman Catholic Pope — are joined by Syrian and Armenian Orthodox as well as Evangelical and Adventist denominations.
Mr al-Helfe, the engineer, sees the renovation of the Virgin Mary Church as an important part of maintaining this diversity.
"I'm from Basra and I consider this church part of my city's heritage," he said. "Christians are Iraq's roots and this is a house of God — whether it's a church, mosque or husseiniyeh, they are houses of God and this is one of them."
All the same, Christians in southern Iraq feel neglected by authorities.
"It's noteworthy that Basra is home to a number of churches, some of which have shut due to lack of numbers, and others need renovations and to be treated as part of Iraq and Basra's heritage," the Diocese of Basra and the Chaldean South wrote on Facebook at the time of the Virgin Mary Church's reopening. "Despite this, the churches suffer from neglect by the government agencies that deal with places of worship."
Heritage aside, elsewhere in Iraq, Christians are emigrating because they feel the authorities will not guarantee their physical safety.
Some 125,000 Christians were displaced and others killed as the Islamic State overran the Nineveh Plains in northern Iraq in 2014. Nearly 40% of them now want to leave Iraq entirely, according to a February 2019 report by the International Organization for Migration.
"Christians feel that they don't have a future in Iraq for multiple reasons," Elizabeth Tsurkov, a research fellow at the Forum for Regional Thinking focusing on Syria and Iraq, told Al-Monitor. "They feel they are not welcomed by Sunnis or Shia — it's not just about [IS]. [IS] is a manifestation of something that they feel is quite general. In addition to that, they feel that they have no future in the country because it's in deep economic problems. There are very few jobs, the educational system is poor and the health system is very poor."
Even Christians able to return to their homes after IS was ousted said they wanted to settle abroad in the long term, citing economic opportunities and public services, according to the IOM study.
"I think only top-down change — essentially a change in the policies of the government — would make Christians feel that they have a future in Iraq," added Tsurkov, who has conducted in-depth research on minorities in northern Iraq. "This would involve actually getting good security in place — removing militias and armed forces that Christians don't trust — ending all forms of discrimination against Christians and making rhetoric more inclusive. It would also involve providing jobs and better services."
Some observers say that the renovation efforts of Iraq's Christian places of worship must not mask the reality that the population has severely dwindled and that jobs and homes should be the priority.
Zina Rose Kiryakos was born in Baghdad to a Chaldean family, but they left for the United States before 2003. She founded the Michigan-based non-profit Iraqi Christian Foundation to provide aid for Iraqi and Syrian Christians after IS' takeover. 
"Renovating the churches is very important for the Iraqi Christian community because this ancient heritage is a key part of what ties myself and others in the community, including Christians remaining in Iraq, to the land," she told Al-Monitor. "It is also necessary, though, to deal with the most pressing matters in order to keep Christians in Iraq: security and jobs. So I would say helping Christians rebuild their homes and create economic opportunities should be the priority."
Back in Basra, Abu Milad can remember attending the Virgin Mary Church as a boy and can't imagine leaving it.
"This church is old — when I was young we used to come for services here," he said. "I wouldn't get used to living abroad. My dad died here. I won't leave."