For the last two years, a protected forest near the Jordanian capital has been home to animals that suffered in the regional wars. Seventeen African lions, two leopards and four bears currently live at Al Ma'wa for Nature and Wildlife, 48 kilometers (30 miles) from Amman.
Four Paws, founded in Vienna in 1988, brought the animals to the shelter opened by the Jordanian authorities in 2017. Most of these wild animals had been left in the zoos without food or water. Four Paws transported some of the lions and bears from the Magic World Zoo in war-ravaged Aleppo, via the Turkish border. Bear Lula and lion Simba were rescued from the zoo in 2017; they were the sole survivors at the zoo that once housed many animals but was ravaged by the fighting. More animals from Syria followed. Bear Dana, who was smuggled out of Syria in a van provided by the Turkish Ministry of Forestry and Agriculture, was pregnant. Within 12 hours of her arrival in Jordan, she gave birth to a cub that the team named Hajar (Emigrant).
Three lions that were rescued from Al-Bisan Zoo in the Gaza Strip, which was shelled by Israel in 2014, also found their way to Jordan in 2017, after being sheltered in different preserves in the region. More wild animals from Gaza are on their way. Later this spring, at least 40 animals — including five lions, a hyena, monkeys, wolves, porcupines, foxes, cats and dogs — that have been trapped at Rafah Zoo, known as the world's worst zoo due to the poor living conditions that killed many of the animals there, will find a new home at Al Ma'wa.
According to a statement by Four Paws, the owner of the zoo has finally agreed — after negotiations that lasted more than a year — to hand over the animals to Four Paws at the end of March, when a team of veterinarians, wild animal transporters and animal caretakers will be in Gaza for several days to examine the animals and load them into their transport crates.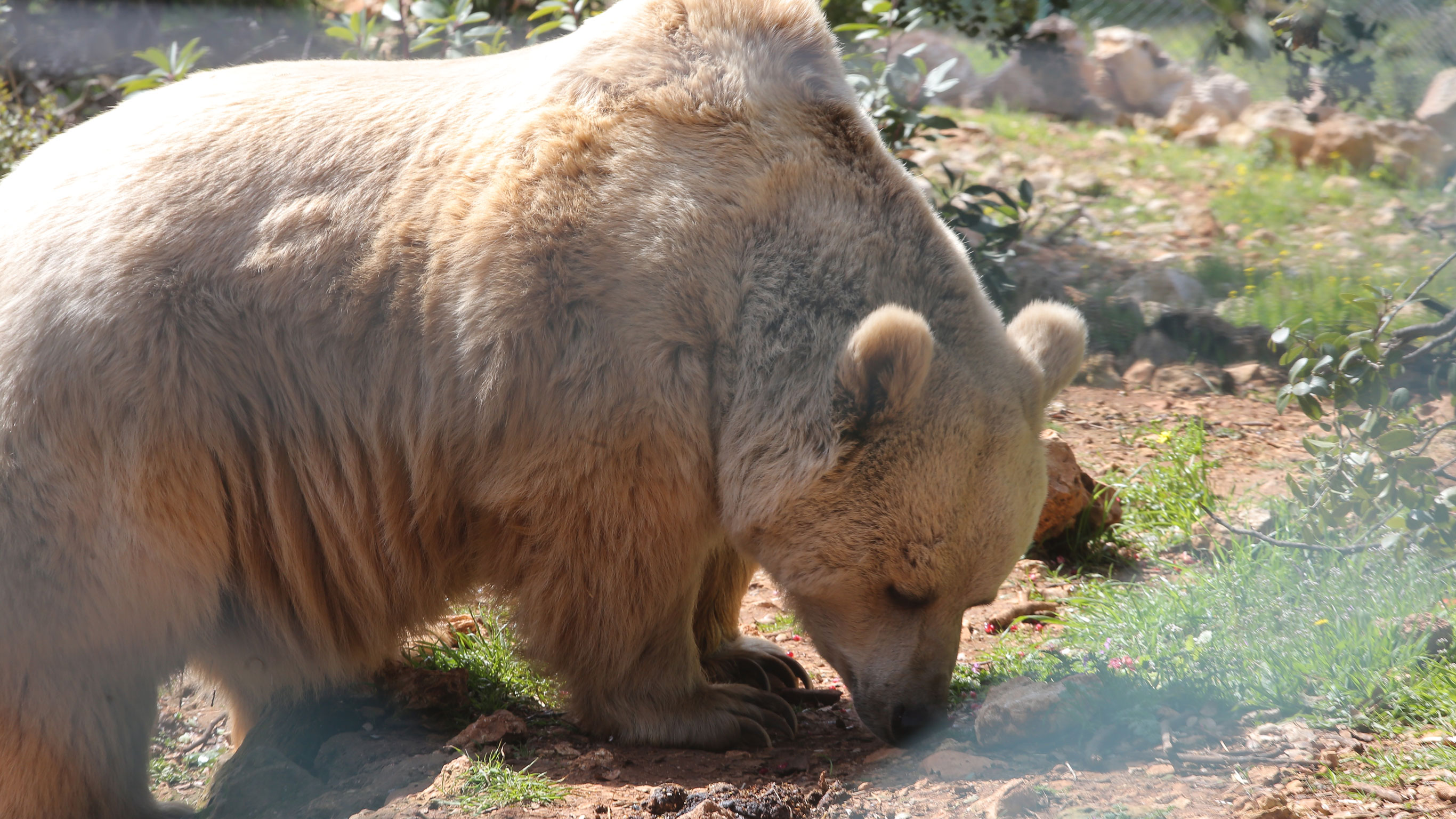 A bear seen at the Al Ma'wa for Nature and Wildlife, Jordan, Feb. 25, 2019. Image by Mohammad Ersa
Head of Al Ma'wa Mustafa Khraisat told Al-Monitor that just like human war victims, the animals that came to the preserve were also traumatized and needed psychological treatment. "We noticed that Loz and Sukar [Arabic for Almond and Sugar], the bears brought in from Aleppo, hid every time they heard planes flying over the sanctuary," he said. "It took a while for them to relax."
Al Ma'wa for Nature and Wildlife, also known as the New Hope Center, was established in partnership with the Princess Alia Foundation and Four Paws. It is managed by a staff of 26 employees, including caretakers who focus on issues related to health and psychology. The sanctuary covers an area of ​​1,100 dunams (272 acres) of protected forest that creates living conditions close to the natural environment of the animals.
The animals that are currently living in Al Ma'wa are only a small number compared to all those that died in the various wars. "Due to the destruction of the zoos in which they lived, a large number of wild animals died. When the survivors came here, most were in critical condition. We had to put them on a special diet," Khraisat said.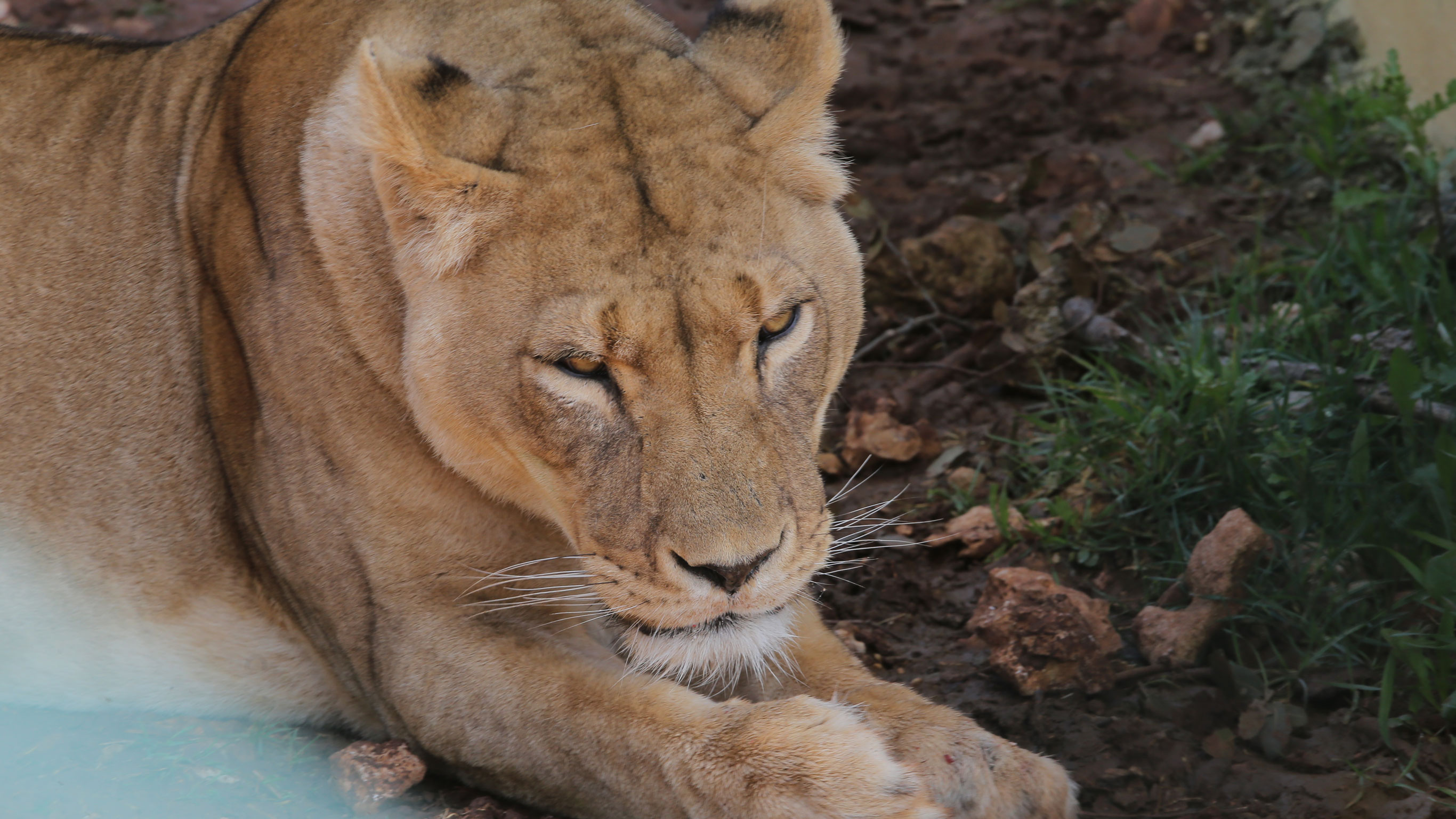 A lion seen at the Al Ma'wa for Nature and Wildlife, Jordan, Feb. 25, 2019. Image by Mohammad Ersan
The reserve, which opens its doors to visitors for a small fee, has become a popular local attraction. The sanctuary has created a new kind of eco-tourism in Jordan, with 200-300 visitors a day during the week. On weekends, the number of visitors goes up to 1,500.
"The tour guide gave me a thorough explanation about the conditions that these animals have experienced in the past," Said Rand, a university student from Amman, told Al-Monitor. "It was very moving to learn how they had been affected by war." He said that he visited the preserve to watch animals in their natural environment, even though there is a protective fence that separates the animals and visitors.
Khraisat pointed out that Al Ma'wa provides visitors with the opportunity to see animals up close, but also seeks to create awareness on how wars affect fauna, and explain the harmful practices and crimes against animals. "Our guides seek to raise visitors' awareness on the harmful impact of illegal possession and trafficking of animals as well," he concluded.