Maha Mohamed noticed very early in life that her darker complexion stopped some of her peers from playing with her. At first, she did not take this seriously. But as she grew older, the discrimination became too clear despite denials of her family and the society she lived in that this was not the case.
Then, Mohamed, who is of Nubian origin, decided to turn the spotlight on how dark-skinned women struggle with discrimination in their daily lives in Egypt, and the No Color photo campaign that shows 10 dark-skinned girls wearing white while in the sea materialized.
The campaign is the joint idea of Mohamed and two founders of O art-studio. Using the slogan, "Hurtful words are dark, but humans are of no color," the campaign's founders urged girls nationwide to narrate their stories via hashtag #Project_No_Color and found that color-based discrimination was a common experience.
"At first, I thought I was the only one suffering from such discrimination. Then I realized I am not alone in this dilemma. Hence, I decided to take a serious step in hopes of achieving social change," Mohamed, the brains behind the campaign, told Al-Monitor.
Mohamed resorted to the professional O art-studio photographers, Henar Sherif and Adel Essam, and they decided to combine individual experiences of discrimination with striking photos that would carry the message across.
While searching for girls to take part in the photo session, Mohamed heard sad tales of discrimination. "A girl told me she got fired because of her dark skin. Another girl told me that when she asked her professor why he never called out her name while taking attendance, he replied she was too dark and he could barely see her," she said. "This discrimination is being practiced by all segments of society from illiterate to highly educated people."
Mohamed's own tales of discrimination are also many. "One of my university colleagues once said in a conversation that he would never marry a black woman because he did not want to have dark children. These words deeply hurt me," she recalled.
Mohamed, who studied communication, explained that color-based discrimination in Egypt is usually disguised in jokes and seemingly light comments, making it easy to deny that it exists and can be hurtful.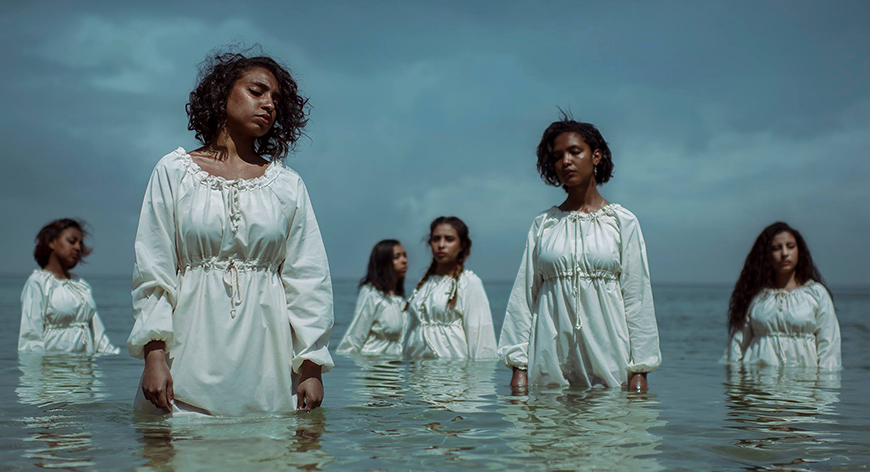 (photo by Facebook/O art-studio)
Her firsthand experience made her more enthusiastic to launch the campaign. "Through word of mouth, I managed to find around 40 girls. With the help of the photographers, we selected 10 girls to be featured in the photos and I was one of them," she said.
The stories are varied and touch upon different aspects of discrimination, from harassment to remarks on darker-skinned girls' desirability in marriage.
"A girl told me that she broke up with her fiance who told her if you were lighter-skinned, you would be more beautiful! This mindset still exists in our society," Mohamed said.
Alaa Gasser, one of the girls featured in the photos, recalled a story of fear. She told Al-Monitor, "Last year, I witnessed an African girl being bullied by teenagers due to her dark skin. She tried to defend herself and cried as the boys started to attack her. I wanted to intervene but did not because I feared that these boys might attack me just like her since I am a dark-skinned girl."
Gasser explained how she used whitening creams to bleach her skin when she was 15 despite their poisonous effects. "My grandmother also used to tell me I had to marry a Nubian man. But when I grew up, I overcame all these silly situations," she said. Gasser was eager to participate in the campaign and urge people to think deeper than in skin colors.
The photos of Mohamed, Gasser and the other participants were taken at Alexandria's Miami area, by the sea. "The sea is a symbol of the wave of negative comments that the girls get due to their dark complexion. The surrounding water indicates discrimination around the girls, isolating them from society. Every hurtful word is a new drop in the waters of color-based discrimination. What we say is that we should drown the false standards of beauty," Sherif, co-founder of O art-studio, told Al-Monitor.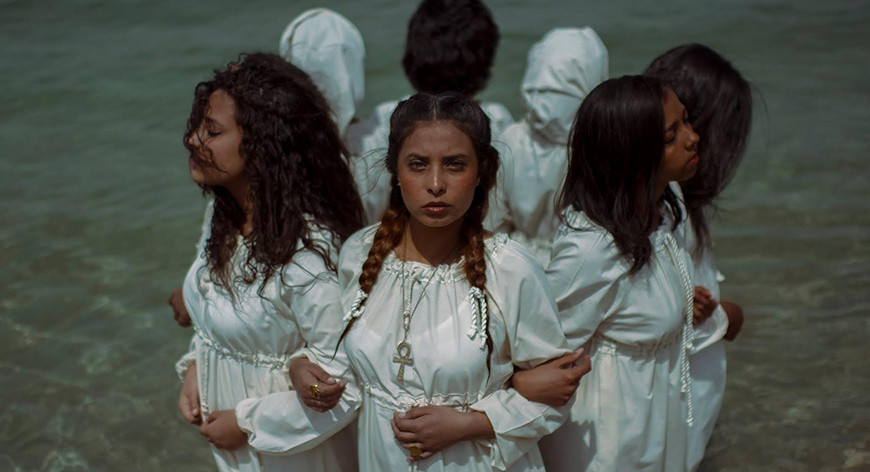 (photo by Facebook/O art-studio)
In the photos, the girls wear white dresses and no makeup in order not to distract the audience's attention. "I wanted the audience to entirely focus on girls and their facial expressions. White is a simple color. If I used other colors, the audience might get attracted by these colors rather than the girls. There are only two colors in the photos: the girls' skin and the water," Sherif said.
She added, "I know the photos are gloomy and this was done on purpose. The girls voiced their anger through these photos. We want their voices to be heard."
The photographer said she listened to the girls' stories before the photo session to know what they really feel. "At first, I was shocked. I had never imagined this discrimination existed in Egypt. But, meanwhile, I deeply believe that art can change the world for the better."
The O art-studio is planning to tackle more social issues in artistic ways, believing in the power of image. "Following the success of No Color project, we plan to continue with similar projects, highlighting a wide range of social issues," Sherif concluded.