A handful of Gulf countries are among the biggest beneficiaries of the endangered US export subsidy program, an Al-Monitor analysis reveals.
Companies from Saudi Arabia and the United Arab Emirates together pulled in about $12 billion in trade financing over the past five years — 8.5% of the $141 billion global total — to help pay for nuclear reactors, industrial power generators and new fleets of Boeing jets. That includes a record-setting $5 billion loan to help Saudi Arabia build one of the world's largest petrochemical complexes.
Highlighting the region's importance, the Export-Import Bank of the United States and the government of Dubai signed a nonbinding agreement in 2013 to explore ways the bank could offer up to $5 billion in trade financing for megaprojects. Potential areas of cooperation were said to include air-traffic control and airport infrastructure; railway, urban metro and port-development projects; power generation; oil, gas and petrochemical projects and water-treatment projects.
The Memorandum of Understanding "underscores our continued cooperation with our partners in Dubai and helps ensure that American exporters are not disadvantaged by foreign companies relying upon state-driven capital," bank Chairman Fred Hochberg said at the time. "The more orders American exporters fill in Dubai, the more American jobs we can support."
Turkey rounded out the top three Export-Import Bank financing recipients in the Middle East, with $4.5 billion for aircraft and power plant equipment, according to a review of five years' worth of Ex-Im bank financial reports. Overall, companies in the Near East and North Africa accounted for 13% of Ex-Im trade financing from fiscal year 2010 through fiscal 2014, including a high of 27% in fiscal 2012.
Israel, Kuwait, Morocco and Egypt have also received hundreds of millions of dollars in loans and long-term guarantees to purchase aircraft and other US products since 2010. Meanwhile, Bahrain, Iraq, Jordan, Lebanon, Libya and Oman have been able to count on tens of thousands of dollars in export-credit insurance and shorter-term guarantees.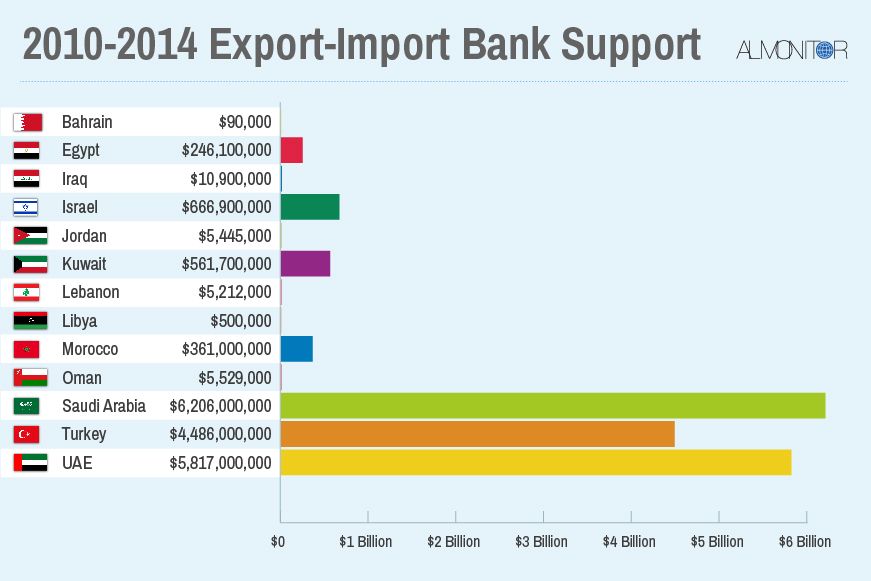 The 80-year-old export credit agency is in mortal danger on Capitol Hill, where a large number of mostly Republican lawmakers have vowed to let it expire June 30. They accuse the bank of being little more than a plaything for well-connected behemoths such as Boeing and General Electric.
"The companies keep the profits if sales go well; taxpayers bear the risk of loss if not," House Financial Services Committee Chairman Jeb Hensarling, R-Texas, wrote in The Wall Street Journal last week. "The bank is a small-scale example of a larger and more dangerous threat: the shrinking of the free-market economy and the rise of a progressive welfare state — with its attendant cronyism, public-private partnerships and spreading government economic controls."
The bank's defenders claim that helping foreign companies finance the purchase of US products and services supported $27.4 billion in exports and 164,000 US jobs in fiscal 2014 (Oct. 1, 2013-Sept. 30, 2014). Without the loans and guarantees, they say, US exporters will lose market share to European and Asian competitors whose governments actively support their countries' exports.
While the US debate on reauthorization has focused almost exclusively on domestic politics, foreign countries across the Middle East and around the world are also paying close attention to what's happening on Capitol Hill. Lobbyists for the UAE, for example, have sought updates from the House Ways and Means and Senate Finance Committees, according to government filings, while avoiding direct lobbying that could easily backfire.
"I would assume that governments from around the world — not just the UAE — are expressing an opinion behind the scenes, letting people know how important the bank is," US-UAE Business Council President Danny Sebright told Al-Monitor. "But it might be seen as impolitic for any government to come out … openly and publicly."
For foreign countries, the Ex-Im Bank offers a chance to buy some of the world's most technologically advanced products at a competitive price. Without it, they would have to pay more for US imports or change suppliers.
Some lawmakers see the bank as a giveaway for well-connected foreign interests.
"The Ex-Im bank is a bad program," Rep. Alan Grayson, D-Fla., told the Huffington Post last year. "It subsidizes foreign business entities using taxpayer funds in the form of giving them loan guarantees and insurance policies at subsidized rates. We're literally paying foreigners to take away US jobs. It's crazy."
The Barack Obama administration counters that the bank is a crucial diplomatic tool as well as a job creator.
"The Export-Import Bank plays an important role in partnering with foreign governments and countries and working with them on business development and economic growth," said Kerry Humphrey, a spokeswoman for the State Department's Bureau of Economic and Business Affairs. "Expanded trade increases the ties between the United States and other countries, and not only boosts US exports and the jobs they create but has a positive impact on our diplomatic relations."
Boeing was the top beneficiary of the program over the past five years in the Middle East, with more than half (27 out of 52) of the loans and long-term guarantees authorized by the bank from fiscal 2010 through fiscal 2014. The $7.7 billion in subsidies for the US jets benefited Turkish Airlines, Dubai-based Emirates and Etihad of Abu Dhabi, along with nine other regional airlines and aircraft leasing companies.
The Boeing subsidies have been particularly controversial, with domestic carrier Delta and the US pilots' lobby launching a legal and lobbying blitz against the bank and the Gulf airlines it supports. Ex-Im loans and long-term guarantees also benefited business aircraft maker Gulfstream, GE aviation and Continental Airlines, for a total of $8.3 billion in aircraft subsidies.
The chemical sector was the second-largest beneficiary, with a $4.975 billion loan to help Saudi Arabian Oil Co. and Dow Chemicals build a $20 billion chemical complex, Sadara, in the port city of Jubail that's expected to start operating this year. The massive loan has propelled Saudi Arabia to the front of countries the Ex-Im Bank is most exposed to, with $6.9 billion, just behind Mexico ($9.3 billion) and India ($7.3 billion).
Power generation came in third place, with $3.7 billion in loans and guarantees. Most of it went to a $2 billion loan to help SPV Abu Dhabi purchase nuclear plant components and services from Westinghouse Electric following the 2009 civil nuclear agreement with the United States.
General Electric, another target of Ex-Im critics' ire alongside Boeing, has also profited handsomely from the program. Its Middle East customers received $1.2 billion in trade financing assistance over the past five years.
Rounding out the controversial authorizations is a $92 million long-term guarantee to help Moroccan phosphate mining giant OCP buy equipment and services from Florida's Holtec International. The state-owned fertilizer company has been in the news lately for contributing $1 million to the Clinton Foundation amid accusations that it is a key player in what critics deem the country's illegal exploitation of the Western Sahara.