Imagine an ancient market where hundreds of fresh spices are invitingly displayed, their dizzying aromas and colors spread throughout. Walking in these corridors of spices and herbs, one cannot help but feel lightheaded, a common experience for most first-time visitors to Istanbul's Egyptian Bazaar, or Misir Carsisi, also known as the Spice Bazaar. The market dates back to 1664, and most guide books list it as a must-see. The lightheadedness is brought on by an overwhelming sense of color and aromas. Even hours later, the scent of roasted coffee, cinnamon and other spices still lingers on one's attire. This lightheaded feeling is also said to be a product of the aphrodisiac effect: All these spices awaken and stimulate one's senses.
Some visitors to spice markets are seeking a cure for a specific ailment: acne, hair loss, weight gain. There is always a magical remedy. Many swear by the herbs, soaps, oils, lotions, pastes and incense they purchase from these markets. But, one of the spice market's boldest remedies is the promise to increase one's sexual stamina and strengthen desire and passion, especially male potency. 
In the last decade, with the spread of medicines to cure erectile dysfunction, the brand name Viagra has gained generic global recognition. In the spice market, you cannot miss signs advertising "Turkish Viagra" or "Natural Viagra." Shopkeepers point to their products and yell at young men passing by: "Five times a night guaranteed. Wanna take the challenge? If you don't like it, bring it back!"
What exactly is in those colorful boxes of Turkish Viagra? The answer depends on the store selling it. Sometimes, it is just spicy nuts. Other times, it is a box of dried figs and apricots, also with nuts. Most frequently, it is a paste, sometimes called Ottoman paste, which includes dozens of spices and honey, as well as East Asian herbs like ginseng. You must pay close attention to these products, as most of their ingredients are imported to Turkey and may also contain preservatives to increase shelf life.
The tradition of aphrodisiacs is charming. Turks say aphrodisiacs are in our roots. The Greek word aphrodisios pertains to Aphrodite, the goddess of love, who boasts a temple in southwest Turkey, a popular tourist site. From orchid root to saffron, several spices are marketed as traditional and natural aphrodisiacs. Traditional desserts such as baklava and cezerye are branded as aphrodisiacs. These delicacies are named after famous Ottoman sultans. One is even named after US President Barack Obama.
Aphrodisiacs such as these are mainly used to increase one's sexual desire. Mesir paste, a 475-year-old recipe from the Ottoman palace, now has an annual festival in the city of Manisa. It is doubtful if this mesir paste, made from 41 spices, can really increase sexual desire, but it is a healthy and tasty dessert. One of Istanbul's historic restaurants, Asitane, known for its meticulous archival research on Ottoman kitchens, serves aphrodisiac Ottoman dishes during the week of Valentine's Day.
Al-Monitor interviewed several shopkeepers in the Egyptian Bazaar on their selling of aphrodisiacs. Whether selling perfume, essential oils, soaps or Turkish delight, all these shopkeepers claimed that some of their products were the ultimate aphrodisiacs. In shops, if you are seen as a potential customer for aphrodisiacs, you will be offered a fancy and expensive "tea of love," which is filled with several fruits and herbs, instead of the regular apple tea offered to all customers.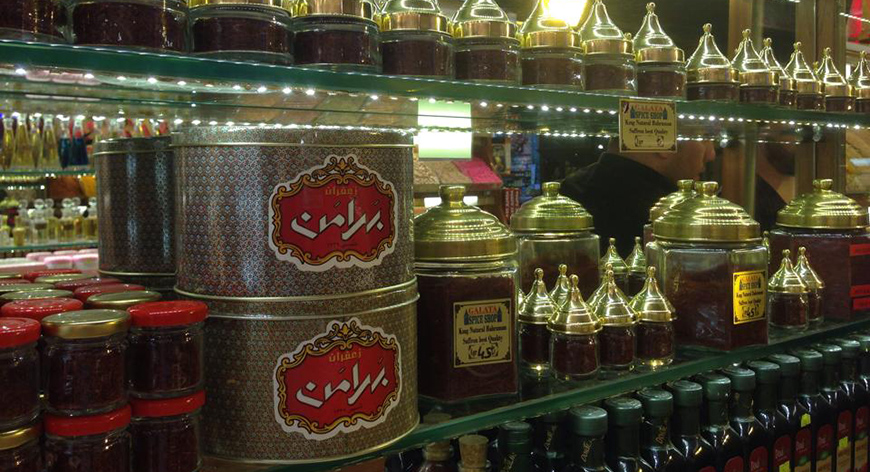 Goods are seen on display in the shelves of Galata Spice Bazaar No. 77, a store that is among the most recommended purveyors of spices and aphrodisiacs.
Galata Spice Bazaar No. 77 has been owned by the same family for the last four decades. Quite a few respectable culinary experts agree that the shop is the best-kept secret in the Egyptian Bazaar. Here, they take spices very seriously. Ismail Hakki Eskidemir is the current owner of the family store. He is passionate and knowledgeable about his products. He tirelessly explains the origins of each spice and how they are to be used.
Eskidemir told Al-Monitor, "The most in-demand products are mixed spices, Persian saffron, Turkish coffee, herbal teas and caviar. Our regular local customers would hear about a product, and the next day they will rush here to get that. Our foreign or upper-class local customers will come to try what is new and rare. About 20% to 30% of our repeat customers order products by email or phone. I just shipped a box of lokum to Cleveland the other day. Today, it is apple tea to Berlin. They know it is the freshest here and they won't settle for second best."
When asked about potential aphrodisiacs, Eskidemir said he does not try to sell customers multiple products. He said, "The sale of aphrodisiacs depends on where your customer is from. Most of our Western customers do not care much for these love potions. However, we have a strong and growing demand from our customers from Arab countries, as well as East Asia. We have a regular customer now from Qatar. He came back six months after his first trip telling us how happy he was with the product. We regularly sell them in jars of 50 grams (1.76 ounces). He wanted to buy jars of 5 kilograms (11 pounds). We had to find special bottles for him, and we invited him to come and watch the production to see that it is all natural. He shops from us every six months. There are no side effects to our potency paste, only happy customers."
Spices are available for purchase at Galata Spice Bazaar No. 77.
Pharmacies are fighting back against this interest in herbal medicine by aggressively marketing products to cure erectile dysfunction. In any city, even in the most conservative neighborhoods in Turkey, you will find huge signs in pharmacy windows advertising: "Cialis is Here," "Viagra has Arrived" and "Special Deal on Levitra." Al-Monitor learned that these drugs can be the most profitable for pharmacists, as customers prefer to pay in cash, not wishing to leave a track record, and about 40% of the sale price is profit. Many pharmacies also told Al-Monitor that in the last five or six years the average age of their customers for such medication has gone down significantly.
Rather than investing in a long process of romantic grooming that entails healthy and controlled consumption of spices, herbs, pastes, desserts and the use of massage oils, a magic pill might be an easier and quicker solution.
Spice masters mostly disagree, saying, "Magic pills must be used under medical supervision. Our ancient Ottoman ways are sweet and long-lasting, yet are not alternatives to those pills." Looking at the crowds in the market and the order lists for the Galata shop, it seems men around the world agree with the spice masters.
Photos courtesy of Galata Spice Bazaar No. 77