HAIFA, Israel — It started with the vodka, of course. Each of the participants at a traditional Polish Christmas Eve dinner Dec. 1 at the Colony Hotel received a shot on an empty stomach. That was how one of the events of Polish Culinary Week began.
"We stuck to tradition, but people aren't supposed to drink alcohol on Christmas Eve," Arieh Rosen, who manages cultural events for the Polish Institute in Israel, told Al-Monitor. 
Not that it would have taken a lot to pick up the mood in the dining room, once the Christmas music got louder, the wine bottles were opened and the 12 courses — representing both the number of the Apostles and the months of the year — started filling the table.
Fortunately, when the vodka was served, the table was already laden with heavy black bread, along with three different kinds of fish, which kept the crowd from getting drunk quickly. There were two types of herring and "Jewish carp" — suspiciously familiar in form to "gefilte fish" (Jewish traditional carp paddies), including the jelly of course. This dish was prepared by Renata Bajorek, who chided me, when I asked whether the dish was prepared that same day.
"No!" she exclaimed.
"I have to chill the jelly in the refrigerator," she told me in a thick Polish accent and laughed.
Standing beside her was Zushya Lifschitz, a guest at the meal. I asked her about another polish culinary prejudice, namely that food is overly sweet, but Renata settled the issue categorically: "What are you talking about? Absolutely not!" A cheerful conversation in Polish developed between the two women, speaking loud, with arms flailing.
Renata and Zushya remember the Christmas Eve of their childhood in Poland. It was an event celebrated in almost every single home, Christian and Jewish alike. When they came to Israel, they joined the group Piast for Polish culture and language, named for the dynasty that founded Poland over 1,000 years ago. The group was founded by Polish women, who married Israeli Arab students studying in the Soviet Union in the 1970s, and who later immigrated here with their husbands. Today, the members of the organization include Arabs (Muslim and Christian) and Jews (native Israelis and Polish-born). It might be somewhat of a crazy-eclectic combination, but it's full of joy, as could be seen around the dining table.
Six women from the organization cooked the entire meal, which was attended by about 50 guests. Each guest had paid 185 Israeli shekels (about $45) to wax nostalgic about memories from their parents' homes, or in the case of Sherry, who is of Iraqi origin, "because I love folklore. The herring was so good, and so was the pierogi."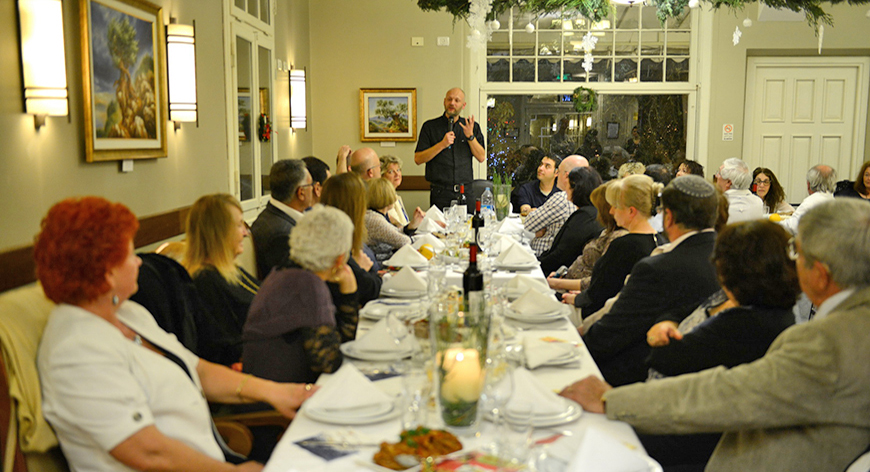 A full table at the event (Haim Yafim Barbalat​)
Rosen said that many more people wanted to participate in the feast. One disappointed person who could not attend was Amalia, a woman from Haifa who was born in Poland. She came to the dinner without reserving a place ahead of time, so she was turned down. She also remembers the Christmas tree in her childhood home and the wonderful flavors coming from the kitchen. "My favorite was stuffed duck, steamed cabbage and oven-baked apples. I also really loved the pierogi filled with potatoes and cheese and the plums wrapped in sugary dough." Unfortunately, she was unable to taste the outstanding pierogi that was served later in the evening.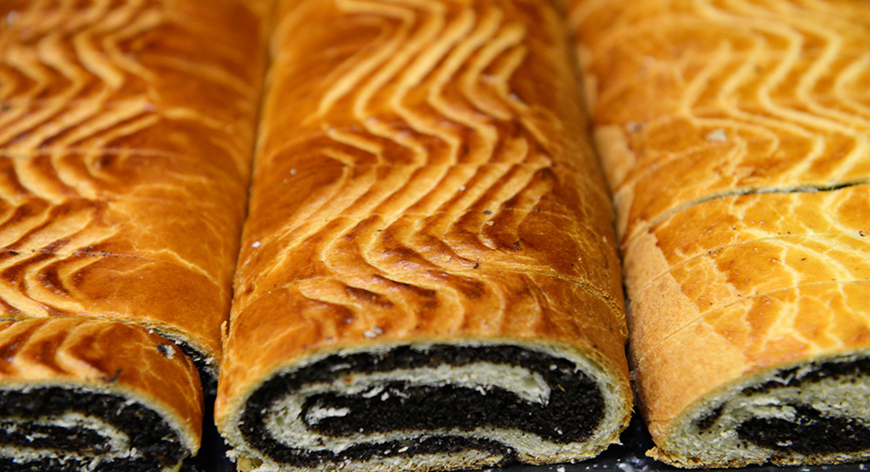 One of the traditional Polish dessert options. (Haim Yafim Barbalat)
Sitting off to the side in the dining room were Noa and Yanai Levkovize from Upper Nazareth, both in their 20s. In 2013, they missed the Polish Cuisine Week events, but they came this year, and brought their father Andjay, who was born in Poland and immigrated to Israel when he was 19. "We always celebrated Christmas Eve with friends or neighbors," he recalled nostalgically.
Noa told Al-Monitor that her father always prepared "pierogi with meat, but we won't be having that today, because it is a meatless meal." Yanai recalls how "every week he would make us kutia," referring to the wonderful Polish dessert, which was indeed served at the end of the evening.
Piotr Zelazko, the Polish priest who moderated the evening, explained that kutia represents how even the simplest things can be brought together to make a complex and rich dish. "Take 200 grams of wheat berries, rinse them and let them soak for six hours. Cook the wheat berries in water and strain them. Then take 200 grams of poppy seeds, pour boiling water over them, wait five minutes and also strain them. Mix the poppy seeds with the wheat berries, add 100 grams of walnuts, another 100 grams of blanched almonds, 100 grams of dried apricots, 80 grams of dried dates and 80 grams of dried figs, all of them finely chopped. Season with a single stick of vanilla, 1 teaspoon of finely chopped candied lemon peel, another teaspoon of finely chopped candied orange peel and 180 grams of honey, and mix again."
Though the dishes served on Christmas Eve are set in stone and have been for centuries, when preparing the dinner this year the kutia is at a bone of contention among the participants. "It suddenly turned out that everyone has their own version of this dish. There is a difference between those who came from the countryside and those who came from the cities, between people from the south and people from the north," Rosen said. "There was even someone who said that you have to throw the kutia at the ceiling to see if it is ready. That was one custom we decided to forego."
Well before dessert is served, a vast variety of dishes are placed on the table, which is covered with a fine tablecloth. Beneath it, Zelazko told us, are bundles of hay to represent the manger where Jesus was born. The meal starts with a plain white cracker called opłatek, which is broken and shared with the people sitting next to you as an act of generosity and partnership. Then comes the vodka, followed by the borscht (beet soup). "Beets are the vegetable of poor people," Zelazko said. "Christmas is a winter holiday and there aren't many fresh vegetables. We work with what we have and try to make it festive."
After the borscht comes fried fish, along with the Jewish carp. "A Polish priest explaining gefilte fish to his Israeli audience — that doesn't happen every day," Zelazko said, laughing. He recalled that as a child, his grandmother would make the Jewish fish version, while his mother would prepare the fried version known as "Greek fish."
The courses continue with mushrooms and barley, pierogi stuffed with mushrooms and cabbage and more pierogi filled with potatoes and cheese. The guests may be well stuffed by now too, but there is still red cabbage filled with root vegetables and rice before the desserts are served. There is compote, the contentious kutia and a vast assortment of cookies and cakes, all arranged under a small, symbolic Christmas tree, standing beside a Santa Claus doll.