ERBIL, Iraq — Since January, the number of internally displaced persons (IDPs) in Iraq has reached approximately 1.9 million. According to the United Nations Population Fund (UNFPA), the IDPs are dispersed across 1,928 locations in Iraq and include 450,000 women and girls of reproductive age, of whom an estimated 72,000 are pregnant. Roughly 47% (889,878 individuals) are located in the Kurdistan Region of Iraq.
The Dahuk governorate is the recipient of almost a quarter of Iraq's IDPs, with more than 450,000 individuals seeking refuge across its four districts of Sumel, Zarko, Dahuk and Amedi. Erbil follows closely with over 400,000 individuals, while Sulaimaniyah hosts 160,000. The most vulnerable displaced families have sought refuge in unfinished buildings and schools, which has delayed the start of the current academic year.
Unfortunately, many of the IDPs in central Iraq are beyond the reach of humanitarian agencies, while religious and ethnic minorities face an additional fear of discrimination when seeking refuge and aid. The case of Ayshan, a Yazidi mother of five girls who escaped the Sirjan district with her husband, Naif, and is living in a derelict building is typical of the situation of thousands of others.
A Yazidi man at the entrance of Hanke refugee camp in Duhok, Kurdistan, Nov. 22, 2014. (Sarah El-Rashidi)
"We fled our home on Aug. 3 after the Mosul crisis began and like many made our way to the Syrian border before coming to Dahuk," a clearly traumatized Ayshan told Al-Monitor. Following decades of persecution, Iraqi Yazidis — whose population is estimated to be 700,000 — have been increasingly targeted by the Islamic State (IS).
"These are the photos of my husband's three male cousins who were killed by IS," she said holding up her smartphone, showing a clearly defined black cross surrounded by small dots tattooed across her wrist, which she says is a symbol of her Yazidi faith. Naif emphasized the urgent need for aid to survive, since he, like many, is unable to find work and is relying on handouts from local host families and the Kurdish Regional Government (KRG), which is supplying rice and oil.
Host families have been a key source for many refugees, particularly the Christians in Erbil. Maha, a Christian from Karakoosh El-Hamadani province near Mosul, is living in a run-down shopping mall in the Christian district of Ankawa in Erbil with her husband and daughters.
"We fled with just the clothes on our backs, leaving all our possessions and memories behind when we heard IS was close," Maha said, describing the horror she felt upon learning about the killing of her neighbor and her three daughters by IS prior to fleeing. The empty shopping mall, which has been taken over by food vendors, barbers and washing facilities, is well controlled and secured by the parish of the Chaldean Catholic Church. According to Maha and other Christian refugees, the church is the key support structure, alongside numerous aid agencies.
Life in the refugee camps is not disparate from those squatting in empty buildings. In fact, conditions can in many instances be worse. The Iraqi winter has contributed to the increasingly difficult conditions; some of the biggest camps in northern Iraq such as Hanke in Dahuk and Baharkeh in Erbil are muddy and lack basic facilities.
Living conditions at Baharkeh refugee camp in Erbil, Kurdistan, Nov. 24, 2014. (Sarah El-Rashidi)
"The conditions here are very bad, IDPs are using the swamp as a swimming pool, which is highly contaminated, increasing the risk of getting scabies," said obstetrician and gynecologist Dr. Suheir Abdel Ghaffar, herself a refugee who fled from Mosul and has been residing in Baharkeh camp since June 10 along with 12,000 others.
Many tents belonging to refugees have been destroyed by gale-force winds and heavy rain.
"Our tent was destroyed, my wife and our 10 children are now living in the Baharkeh camp's UNFPA reproductive health center," Ali said. Ali and his wife, Hana, belong to the Shabak, an ethno-religious group, 70% of whom are Shiite. Shiites, like Yazidis, have been targeted by IS, along with other denominations who are not aligned with IS doctrine. Ali's family fled their village Hamdari near Mosul when IS drew intimidatingly close. Despite the grueling conditions, Ali, like most refugees, expresses his gratitude for the support of the government and humanitarian agencies.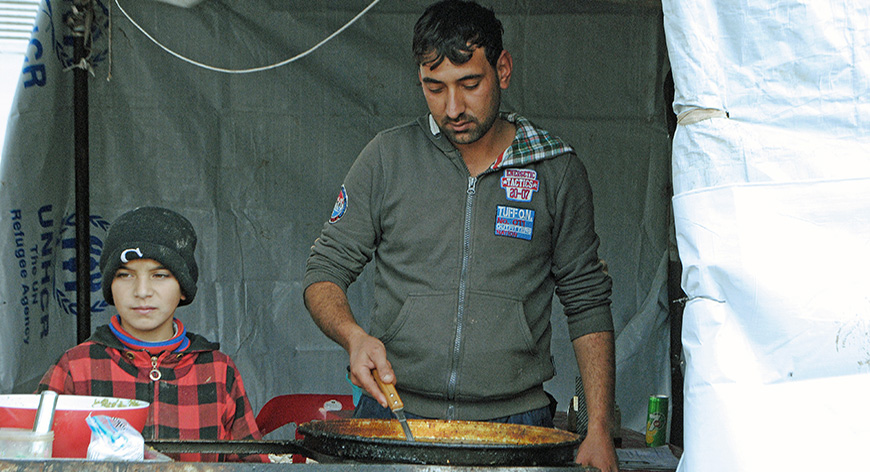 A man and a young boy cook at the Baharkeh refugee camp in Erbil, Kurdistan, Nov. 24, 2014. (Sarah El-Rashidi)
Nonetheless, governmental support is strained. Although the KRG has graciously welcomed both IDPs and Syrian refugees, its financial situation is troubled and its ability to provide humanitarian aid is limited. The situation is further complicated by the reluctance of Iraq's central government to take responsibility for the IDPs. These concerns were highlighted in a roundtable meeting on Dec. 15 between the Iraqi government, the KRG and other stakeholders.
"Addressing the needs of the IDPs is beyond the capacity of Iraq. The sharp decline of oil prices has exacerbated the situation. Iraq is in need of $5 billion to address the needs of IDPs," Deputy Prime Minister Saleh al-Mutlaq said during the meeting.
KRG Minister of Planning Ali Sindi reaffirmed the difficulties in addressing the needs of IDPs, which are becoming increasingly unsustainable. Fears of another impending refugee influx, similar to the one seen in October, exacerbate the matter.
Another concern affecting IDPs as well as refugees relates to UN protocols and how funds are distributed. Although Iraqi IDPs and Syrian refugees are both fleeing the same crisis, in certain instances they are being supported by entirely independent programs — regardless of their similar needs and geographical proximity. Reports from the refugee camps show this.
"Services are running in parallel all over, particularly when it comes to camps, because Iraqi IDPs are not allowed to enter Syrian refugee camps," Fabio Forgione, head of mission for Medecins Sans Frontieres in Iraq, told IRIN on Nov. 13.
Given such strategic divergences, coupled with estimations of the concerned population likely to exceed 3 million people in 2015, experts are rethinking response mechanisms. A strong push to prioritize humanitarian aid on need rather than status is being advocated. The United Nations High Commissioner for Refugees' projected plan for 2015 pledges to remain engaged with all populations of concern, with a primary focus on the protection of Syrian refugees. IDPs will be provided for following the interagency cluster approach.
In the midst of all the chaos on this historic war-trodden land — often termed "the cradle of civilization" — dreams remain the only solace for all victims of the crisis, irrespective of identity and labels.
"I dream of a free Iraq. I dream of a return to the beautiful Iraq I grew up in," a melancholic Maha said.