On Sept. 24, the Kurdistan Workers Party (PKK) issued a highly critical statement. In a nutshell, it said that Turkey's ruling Justice and Development Party (AKP) had "eliminated" the conditions of a mutually observed 18-month cease-fire between the PKK and the Turkish army. It said that, in response to "the AKP's war against our people, our leadership council has decided to step up its struggle in every area and by all possible means." I had heard similar words on Sept. 21 from Cemil Bayik, the top PKK commander in the field, during a three-hour meeting I had with him in a tent in the Kandil Mountains.
"We may resume our war at the end of September. We have the authority to resume the war," Bayik said.
"What of the PKK leader Abdullah Ocalan?" I asked.
"We have a division of labor. Our leader has the authority to make peace," he replied.
I couldn't believe my ears. "Are you sure?" I asked repeatedly, because his words could have profound consequences for Turkey and its government.
Bayik responded positively: "We will be making a statement to this effect," he said.
I thus decided to wait for the PKK to make its statement before publishing this interview. I did not want to be the first to impart the gloomy news. Because in the repressive climate that is gripping Turkey, I might have been accused of warmongering. So, is there a real risk that the insurgency will resume? Won't Ocalan have the final say? Is the PKK's statement no more than a tactical move aimed at putting pressure on the government? I would say yes to both questions. That said, with every passing day that the AKP government fails to take concrete steps to solve the Kurdish problem, the risk of the cease-fire's ending grows. I raised all of these issues with Bayik, who hasn't set foot in Turkey since 2000.
The following are the highlights of the interview he gave to Al-Monitor:
Al-Monitor:  How is the Islamic State [IS] onslaught against Kobani [the Syrian Kurdish-majority town of Ayn al-Arab on the Turkish border] affecting the peace process in Turkey?
Bayik:  The attacks by Daesh [the initials of the Islamic State of Iraq and al-Sham] against Kobani helped elucidate two things. One was whether Turkey's collaboration with Daesh is continuing or not. The other is whether the peace process is continuing in the north [i.e., Turkey] or not. What emerged is that Turkey is continuing its relations with Daesh and that Turkey will not solve the Kurdish problem in the north. Because a Turkey that supports Daesh's attacks against Kobani, that seeks to depopulate Kobani and lobbies for the establishment of a buffer zone cannot sever its ties with Daesh. Because if it did so Daesh would expose all of Turkey's dirty laundry, and document the links between them.
Al-Monitor:  Are you able to prove that these links exist?
Bayik:  Before Daesh attacked Kobani, Turkish officials contacted the YPG [the Syrian Kurdish People's Protection Units] official responsible for Kobani. They warned him that should the YPG attack the Shah tomb [the Ottoman Tomb of Suleiman Shah inside Syria, which is guarded by Turkish troops and considered Turkish territory] that Turkey would retaliate in kind. I repeat, they said this before we were aware that Daesh would attack. Isn't this strange?
Second, two days after the campaign against Kobani started, a Turkish train stopped at an Arab village near [the IS-controlled] Tell Abyad border gate and unloaded weapons and ammunition that were taken by Daesh. There are eyewitnesses to this transfer. And during this period the [Turkish] hostages [held by IS in Mosul] affair is supposedly resolved. These events are all interlinked. Turkey then opens the Mursitpinar border gate with Kobani just as Daesh fires Katyusha rockets at Kobani and surrounding villages to sow panic among the people. Turkey opens the border gate on the third day of the attack so that the people can flee to Turkey. This is what Daesh wants as well. This proves the collusion between them. Because Turkey has long wanted the establishment of a buffer zone. Its aim is to prevent the Kurds in Rojava [Syrian Kurdish areas in western Kurdistan] from winning a formal status. By emptying Kobani and provoking a mass exodus of people, Turkey can then claim before the international community that its own security is at stake and set about establishing a buffer zone.
Al-Monitor:  Very senior Iraqi Kurdish officials told me that Hakan Fidan, the head of Turkey's national spy agency [MIT], had as recently as last week offered to mediate between the Kurdistan Regional Government President Massoud Barzani's Kurdistan Democratic Party [KDP] and the Syrian Kurdish Democratic Union Party [PYD]. Doesn't this contradict your claims?
Bayik:  Not at all. Turkey always supported the KDP against the PYD. Now they [the Turks] are supposedly trying to drive a wedge between the PKK and the PYD and to draw the PYD into an alliance with groups that are close to [the Turks] and to bring them in line with their own [Turks'] Syria policy. There are thousands of Syrian Kurds within the PKK. During the war [against Turkey] 1,500 Syrian Kurds were martyred. Many Syrian Kurd commanders from the PKK went over to Rojava to train YPG forces and to help them in the fight against Daesh. Such matters do not always work the way Turkey intends them to through money and weapons. And there is no friction between the YPG and the PKK as claimed. They are acting together in the south [Iraqi Kurdistan] in Kirkuk, in Shengal, in Rabiya. The only force to defend Rojava is the PKK.
Al-Monitor:  IS has some very modern weapons. Aren't you having trouble combating them?
Bayik:  Yes, they have modern American weapons they seized in Mosul. Our own weapons aren't effective against the American tanks that they use. Besides, we are used to fighting in mountainous terrain and now we are forced to do so in open plains. But we are a movement that adapts quickly to new circumstances.
Al-Monitor:  Getting back to the peace process, you say that you have realized that the AKP will not solve the Kurdish problem
Bayik:  We realized this a while back. There is tremendous pressure on our leader [Ocalan] and a very ugly psychological war that is being waged against him. Propaganda is being spread to demean him in the eyes of the people.
Al-Monitor:  To the contrary, what we see is that Ocalan has been legitimized before the public as never before.
Bayik:  You may not see this, but there are those who know and it's reached all the way to us. I am telling you openly: Turkey must immediately stop these psychological ops tactics and end its pressure on our leader.
Al-Monitor:  Can you be more explicit. What kind of pressure?
Bayik:  I do not want to share all the details. It may not be appropriate at this time. But there is no improvement in the internment conditions of our leader. Recently, his sister and nephew visited him and they were put in a room where nobody could breathe. The nephew protested to the prison guards, saying they were aware of our leader's breathing difficulties. Their response was that they would have to meet there and that was all. Moreover, they forced the meeting to end before the allotted time. The new government is trying to force our leader to roll back his demands by applying pressure on him. This applies especially to the negotiating points. But as they know he won't back down, they are going to use this as an excuse to set the stage for war.
Al-Monitor:  Are you saying that Turkey wants to resume the war?
Bayik:  Absolutely. If this were not so, they would have worked harder at solving the problem. They would have improved the internment conditions of our leader. They would have accepted the presence of third-party observers in the peace talks. And they would have allowed the negotiating sides to carry equal weight. All they have done is to pass a bill to "end terrorism" in the parliament [legislation that effectively formalized the talks without actually referring to their substance]. And they did so kicking and screaming. We are concerned with actions, not words. The negotiations have still not started. They want to keep the talks on a dialogue level. They want to deceive our people. We have been in dialogue for years. We went back and forth to Oslo for years [the secret Oslo talks that ended in 2009].
Al-Monitor:  Did you go to Oslo?
Bayik:  No.
Al-Monitor:  Have you had contact with any Turkish officials over the phone?
Bayik:  No. I haven't touched a phone since 2003 for personal security reasons.
Al-Monitor:  During the presidential campaign of [the left-wing People's Democracy Party (HDP) Kurdish candidate] Selahattin Demirtas the Kurdish political movement gained a lot of ground. Demirtas won support from most unexpected quarters. By talking in this manner, aren't you undermining peaceful politics?
Bayik:  As we are at the center of this process, if we say there is no progress in the peace progress, that means there is no progress because there is no one better placed to assess this. We have paid a very heavy price during 40 years of conflict. Thousands of our fighters and cadres were martyred. Thousand of Kurdish villages were burned and destroyed. Thousands of our people fell victim to extrajudicial killings. And now we see that the numbers of village guards [a state-paid anti-PKK Kurdish militia] are growing. Army garrisons are being built, together with supply roads. We are sticking to the cease-fire but they are not. And they took advantage of the cease-fire to launch a war against Rojava. We gave them time. We said they had until the end of September to take certain steps. We said that unless they do so by the end of September the war would resume.
Al-Monitor:  Did you say "we will resume" or "may resume"?
Bayik:  "May resume."
Al-Monitor:  But don't you need Ocalan's authorization for this?
Bayik:  We decide on war. The authority to end the cease-fire lies with us. But our leader Apo [as Ocalan is often called by his followers] decides on peace, on the continuation of the peace process. His role is different from ours. We are complementary.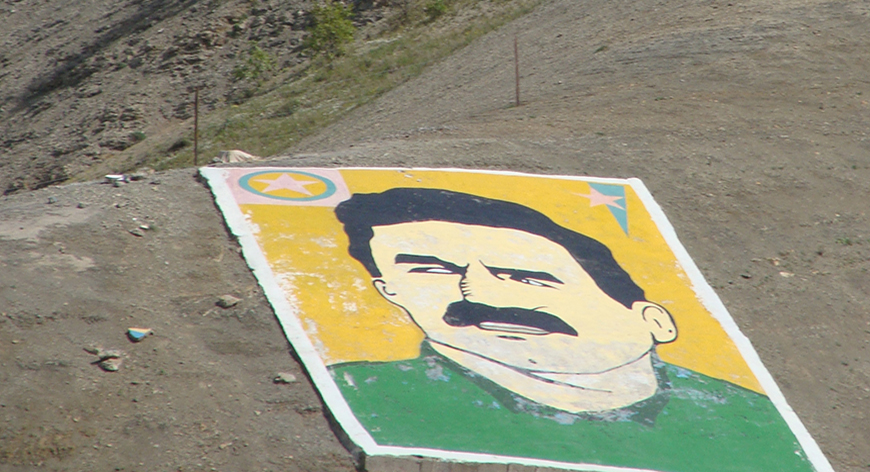 Giant pictures of Ocalan are scattered across the Kandil Mountains in northeastern Iraq. (photo by Amberin Zaman)
Al-Monitor:  But if Apo says peace must prevail, you won't be able to decide on war. Thus, the final decision rests with Apo.
Bayik:  Ocalan is our leader. We are a movement that obeys its leader. We are loyal to our leader. But unless Turkey takes some steps, how can our leader say, "No, do not fight?" We are having trouble restraining our fighters as it is.
Al-Monitor:  What are your demands from Turkey?
Bayik:  The internment conditions of our leader need to be improved. We cannot negotiate in his present conditions. Third-party observers must be allowed to take part in the negotiations. They can be from civil society, from the parliament or from an international organization. It can also be a foreign power. And the support being given to Daesh against Rojava must end. Rojava is part of the peace process. This is clear.
Al-Monitor:  Just as you have won plaudits for your role in helping the Yazidis in Sinjar and for your prowess in combating IS, and just as the international community is debating delisting the PKK and American cooperation with the YPG, would you not be throwing this all away by attacking Turkey, a NATO member?
Bayik:  No. We are a legal movement. And nobody can blame the PKK. Until now we have declared nine unilateral cease-fires since 1993. In 2013, on the occasion of Nowruz [the Kurdish New Year], we freed all our prisoners. We ended the war and began to withdraw our fighters from Turkey. We are not eyeing anyone's territory. We are not seeking independence. All we want is to live freely with our own identity, culture and values in democratic conditions.
Al-Monitor:  But is it not risky to open a second front against Turkey when you are fighting IS in Rojava?
Bayik:  We have been fighting for 40 years. If need be, we shall fight for many more years. We are fighting because we are being forced to do so. We are not going to surrender after 40 years. No power can implement its strategies in the Middle East without taking the PKK into account.
Al-Monitor:  You speak of democracy but in recent days a group that calls itself the PKK's youth wing has been burning down schools in the southeast of Turkey. Do such actions have any place in a democracy?
Bayik:  Burning schools is wrong. But our people built schools there with their own means. They want to study in the Kurdish language, so why is the state forbidding this? There is a great deal of anger among our youth. Even we are having trouble restraining them. When we ask them why they burn schools, they respond, "Why are our schools being shut down?" There is a lot of alienation. The number of people joining our ranks last month has exceeded that in 1993. In 1993, around 1,000 people would join every month. Last month, 1,200 people joined.
Al-Monitor:  The Turkish government spokesman Huseyin Celik said that we can now talk with Kandil [the PKK leadership]. No sooner did Ahmet Davutoglu become prime minister, he made very positive statements about the peace process. For the first time, a government is talking directly to Ocalan and announcing this to the public. It has done more than any of its predecessors to solve the Kurdish problem. Does none of this mean anything? Besides, why would the government want to go to war before the elections?
Bayik:  Yes, the government continues to speak positively about the peace process. And the pro-government media is helping to propagate this upbeat mood. This is a delaying tactic, a deception. They are trying to portray Apo as being optimistic when in fact he continually criticizes the AKP during the talks. They want to drain the process of all its substance and they want to manage it at their whim. What was their aim? To win the [March 2014] local elections and then the [August 2014] presidential elections. And now they want to win the 2015 [parliamentary] elections.
It's true that they would not want to resume the war before the elections. They want the cease-fire to continue, but they want it to continue without making any concessions, save for a few unimportant gestures. After the 2015 elections, their position may change.