Female orchestra conductors are rare in the world, let alone in the Middle East. However, Eman Genedy has been making a 25-person orchestra play to her tune for the last 13 years.
Genedy, 60, Egypt's first female maestro, hails from conservative Upper Egypt. A mother of three, she has dark skin like much of the population of Upper Egypt and wears a hijab, both on and off stage.
"I never imagined that I would be a conductor. As I loved music, I thought I would sing or play an instrument, but to be a maestro — it was beyond my imagination," Genedy told Al-Monitor.
Nevertheless, the house where she grew up in Beni Suef, a city 71 miles (115 kilometers) north of Cairo, was filled with music and poetry. Her father, an engineer, played the lute and the piano. All the children — her sister, brother and herself — also played the piano.
She ran into a problem when she decided to study music — the city had no musical academy. So she went to study in the Egyptian capital and lived in a hostel during her five years at the Faculty of Music Education at Helwan University.
Genedy lamented that there still is not a music faculty in her hometown. "Even the number of music teachers in the governorate is very low compared to the capital," Genedy observed. "I do not know why it is this way — music is part of the life of the people there." Her first job after graduation was as a music teacher at a secondary school in Beni Suef.
While working as a teacher, she formed a group of talented students — both male and female — and started organizing concerts with them. In the late 1980s and early 1990s, these concerts were rare and therefore popular, so the higher-ups in the city, even the governor, would not miss them.
"We performed patriotic and religious songs that attracted the admiration of the governorate officials," she said. "When I saw the praise and admiration in the audience, I dared ask myself whether I could become a successful conductor."
Since 2006, Genedy has worked as a conductor of the 25-member Beni Suef University orchestra. The music teacher said that her leadership made a difference. "Before I started working with them, they had little information on how to perform with some instruments. But I trained them well. [Since then] we have competed in and won various competitions with other universities," she said.
As there is no music department at the university, the students are from different departments.
Between 2005 and 2018, Genedy worked as a conductor for the National Arab Music Ensemble in the Beni Suef Cultural Palace, affiliated with the Culture Ministry. This was a prestigious posting but a tough one.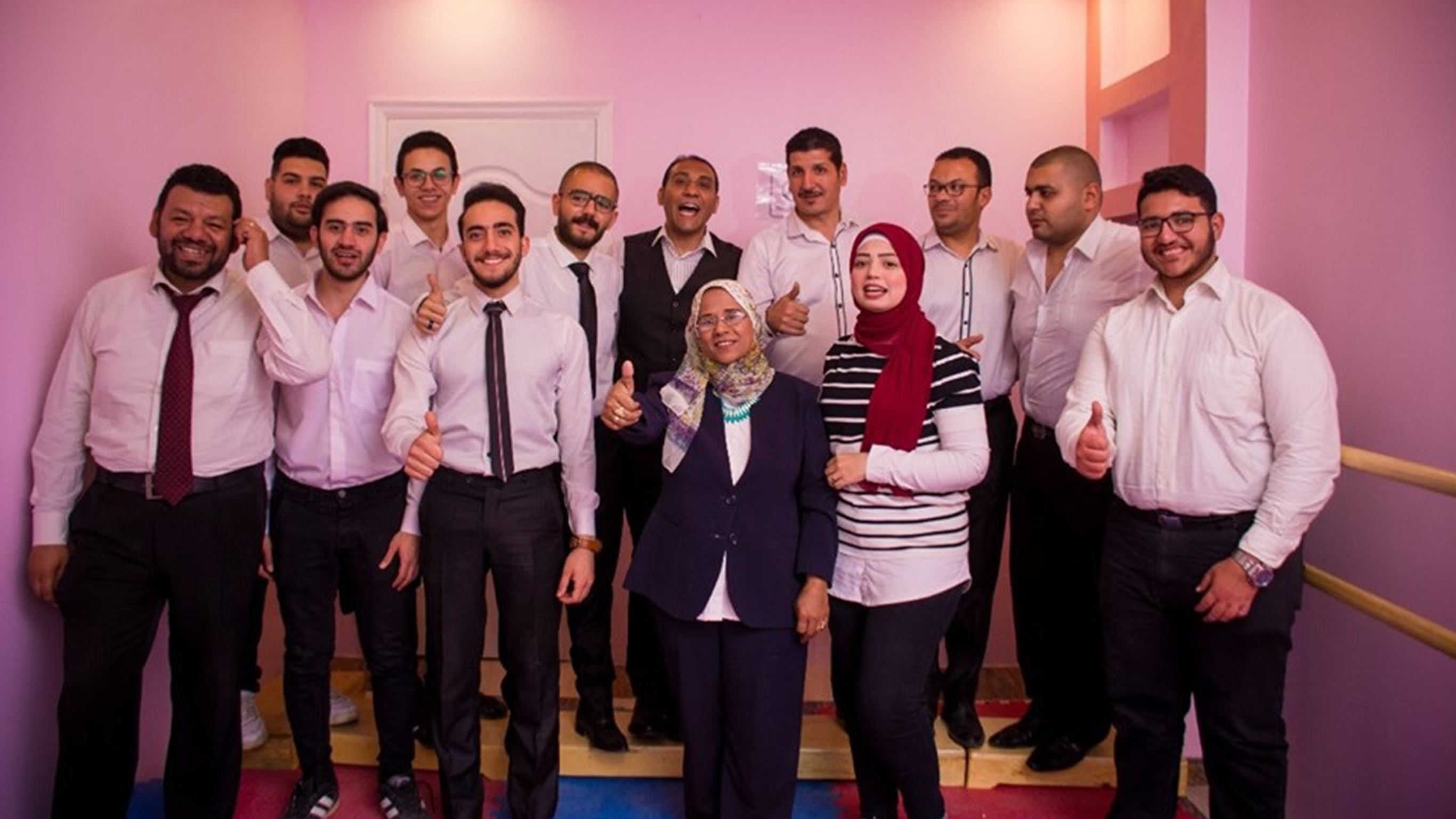 Eman Genedy​ with her orchestra.
"Most of the members of the orchestra are men older than me," she said. "It was a difficult mission for me to lead men in this conservative society. Some were obeying my instructions, others were not. But later, the situation changed and they treated me as an experienced person in my work, not as a woman."
This Ramadan, the Culture Ministry organized a series of musical activities across Egypt, and Genedy, along with her Beni Suef University Orchestra, toured the governorates to give concerts.
"It was a [challenge] to get the female members in the orchestra to participate in this tour because conservative families oppose their daughters traveling out of the city," she said. "I met their families and assured them that their daughters will be safe as they accompany me — I would be their mother."
Most agreed but some did not, so it was an incomplete band that gave the concerts.
Genedy's own family allowed her to study in another city and also work abroad. In 1985 she traveled to Kuwait to teach music at a preparatory school for three years. In 1995 Genedy traveled to Oman and spent five years teaching music to pupils aged 18 through 35 at an art center.
She believes that knowledge of other cultures' musical heritages enables her to pick and choose among many works and tailor her program according to different moods and audiences.
"The audiences who attend concerts at the Opera are absolutely different than those in rural areas," she said. "My role is to select what pleases the audience. For the performances in the opera, [I often choose] Arabic and Western classical music. In rural areas, however, I prefer performing traditional songs."
She also likes to mix oriental music with Western tunes.
Though she loves being a maestro, she said this career also has drawbacks that discourage many women. "It demands huge time and effort. You need to train groups, not just one or two musicians. On certain days, I rehearse for 10 hours and I am so tired that I simply go to bed after I return home," she said.
Her husband supports her at home and shares household tasks. "Thank God, my husband knows very well the importance of music in my life. I breathe the music. Without music I could die, literally," Genedy said. "Music takes the first place in my life and my husband encourages me."
Earlier this year, Genedy formed her own orchestra and named it "The Maestro." It consists of 20 musicians hailing from different governorates, but most of them study at Beni Suef.
One of them is Hossam Magdy, a 20-year-old violinist from the Upper Egyptian governorate of Minya.
Magdy is a first-year law student at Beni Suef University. He owns an instrument shop in Minya and has played violin since he was a child. "It is amazing to be working with Genedy," he told Al-Monitor. "Frankly, Maestro Iman makes us feel that she is our mother more than being a leader, compared to the male conductors, who are quite stern."
Praising her strong but democratic leadership, he said that she consults them about what songs they will perform. "For her, conducting is not a job but a passion," he said.
Genedy hopes to tour the world and to become a famous conductor. "I am waiting for this moment. I really hope so," she said.