On a crisp October day, Baran Sahin and his family of 10 head to the family's small vineyard in the village of Cirali, some 62 miles from the southeastern city of Diyarbakir.
"Vintage is not easy but it is fun," Sahin told Al-Monitor, explaining that when he was a child, his family had 20 acres of vineyards. "The vineyard would yield some 1,400 liters [369 gallons] of grape juice. There have always been vineyards in our village, and we went harvesting together. It is a tradition." 
Cirali is an old Zaza Kurdish village of 200 people in Diyarbakir province's Lice district. There is an elementary school, but little else. Village elders say the community dates back 250 years and, as far as they can recall, they have always had vineyards around the village and in the district. Many of the vineyards, like Sahin's, have gotten smaller over the years and become less productive due to divisions of the land among heirs and basic neglect.
Wine making has a long tradition in the region, but it is now a declining one. The fertile land in Turkey's southeast has been home to many varieties of grape, including dark blue and thick-skinned Bogazkere and the white, longish and slightly sour Hanim Parmagi, literally "lady's fingers." According to Turkey's Ministry of Agriculture, more than 30 types of grapes are grown in the southeast, and some of them, like Bogazkere, are extremely good for wine making.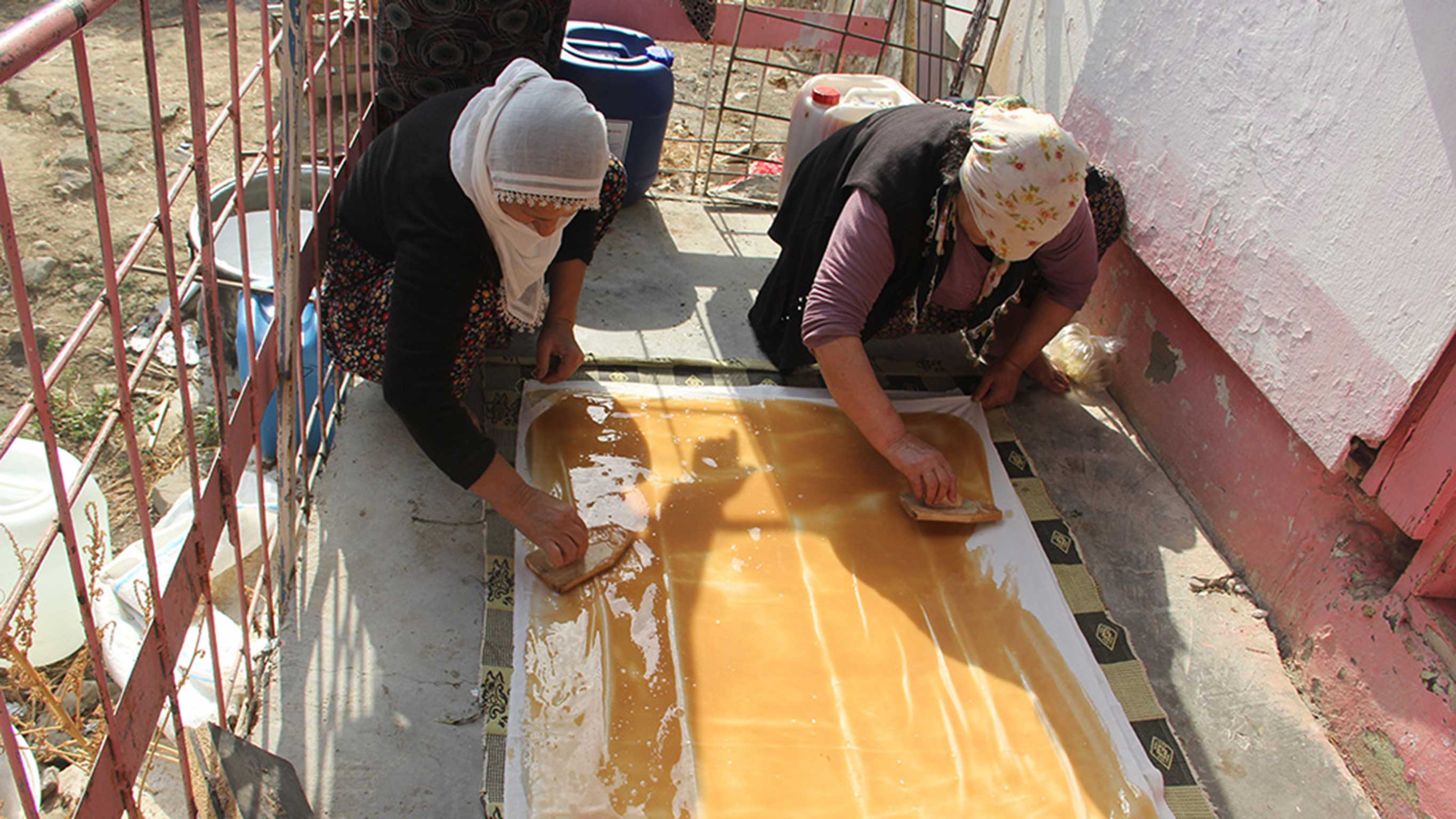 Women make pestil (dried grape pulp)

in Cirali village, Turkey, Oct. 8, 2018. Photo by Mahmut Bozarslan. 
Sahin and his family are not in the vineyards for wine making, however. They will pick the grapes by hand and then make a grape juice, "sira" in Turkish, which will then be used to create confectionaries to get them through the winter. These sweets include pekmez (grape molasses), pestil (grape leather or dried grape pulp) and the succulent cevizli sucuk (sausage with walnuts), possibly the richest of them all.
Cevizli sucuk is made by stringing walnuts together, dipping them in rich grape molasses and leaving them to dry. In the end, the nuts look like sausage – hence the name. Its fans point out that the confection has no artificial sugar and is rich in vitamins A, D, E and K. It is probably just as rich in calories as well.
"This is not a good year," lamented one of the villagers as he headed to a vineyard. He and others will not, however, allow what precious little there is be wasted.
First, they gather the grapes in plastic bags and dump them into a large container. One of the villagers, wearing rubber boots or wooden shoes – not in their bare feet as many believe — crushes the grapes with his feet. The juice from the grapes is transferred to a large iron container and heated, there and then, to make molasses, which provides the base for pestil and the walnut sausage. The grape juice needs to be boiled and cooled to simmering, several times, until it becomes thick and syrupy.
Men stir grape molasses, with strings of walnut sausages hanging in the background, in Cirali village, Turkey, Oct. 8, 2018. Photo by Mahmut Bozarslan.
Part of the syrupy substance, the pekmez, will be mixed with yogurt and flour to make a thick paste. The women in the family dip the walnuts, strung on a string, into the paste. Then the string of sausage-like walnuts are hung on trees to dry.
Some of the pekmez is mixed with pulp from the grapes and poured onto thick fabrics, where they dry into thin grape leather. It takes several days for it to reach the desired texture. Most store-bought versions contain added sugar and starch, but the residents of Cirali only use grapes and grape syrup.
"This is what we do every year, men and women together," Ahmet Mercan, 95, told Al-Monitor. "I have been doing this since I was 15, and even though it is a dying tradition, we continue doing it. In the past, when we had 15 acres of land, we'd take what we could use and sell the rest."
Muharrem Cebe, former cultural affairs director for the Diyarbakir Metropolitan Municipality, told Al-Monitor that the tradition of pekmez and pestil dates back centuries. Like many of the foods in the region, its roots are the source of fierce debate.
Most Turkish sources claim that the Turks brought pekmez and pestil with them from Central Asia to Anatolia and the Balkans. The Greeks also take credit for the molasses, which they call "petimezi." The Persians and Lebanese claim it as their own as well, but they are more inclined to use pomegranates than grapes in the recipe.
"These derivatives of pekmez were easy to make locally and just as easy to store throughout the long winter," said Cebe. "For the inhabitants of the region, grapes were the equivalent of today's sugar. They would use the juice to drink, thicken it to spread on bread like jam, add a bit of flour and make it into a cake-like halva or eat it as pulp."
At the end of the day, Sahin declares, "It is more or less done." His family had enough pekmez, pestil and walnut paste for the winter, plus some extra so they can send relatives who live elsewhere a taste of Diyarbakir, a souvenir from the village they left behind.