Every year, Beirut Design Week (BDW) brings a melange of design trends to the Lebanese capital. At this year's event, held May 19-26, one can find accessories that combine Eastern craftsmanship and contemporary design, bold patterned embroideries inspired by traditional Arab garments and recycled plastic cables creating the experience of crossing unfriendly borders. 
Founded and organized by the MENA Design Research Center, a nonprofit organization focusing on design as a multidisciplinary tool for social development and research, BDW has for the last six years been the meeting place for designers, artists and architects. For this year's theme, organizers settled on "Is Design a Need?" The subtopics are regional collaboration, community and security.
The guest list for the opening day at KED, a refurbished factory built in the 1930s in Karantina, included regional powerhouses in design, among them Cairo NOW! City Incomplete; the Moroccan collaborative collective Houna; the Iranian Persia Collective; Ziad Qweider, an artist from Jordan of Palestinian origins; and Amman Design Week (ADW).
"Due to political reasons, we [Middle Easterners] have never been able to collaborate fully in the field of design before," Doreen Toutikian, co-founder, president of the board and director of the MENA Design Research Center, told Al-Monitor. "But we [Lebanese] are now realizing that [different trends] in design are emerging from countries in the region and that, as Lebanese, we can learn a lot from regional influences. To reach an international audience, we need to develop a unique approach and a visual language that is more culturally sensitive."
An avid believer that the success of design lies in collaboration, Toutikian, who is also the BDW director, stressed that Lebanon, "a tiny country with an abundance of designers," needs to collaborate more with others in the region. "I don't think any design scene can survive on its own," Toutikian said. "This is especially the case with Lebanon, where we depend a lot on the diaspora and on the regional market."
BDW is not the only design event in the Middle East. ADW, supported by Queen Rania, will take place for the second time in October, the same month as Istanbul Design Week. Next year, Casablanca will hold its first design gathering.
ADW organizers and Houna emphasized the need for cross-pollination and learning from different experiences in design. Rana Beiruti, co-founder of ADW, told Al-Monitor: "Design weeks become an important moment of learning for designers, who often share similar stories and face the same challenges. We can also learn from the diversity in the region, whether in design processes and manufacturing methodologies or in dialogues on aesthetics and beauty."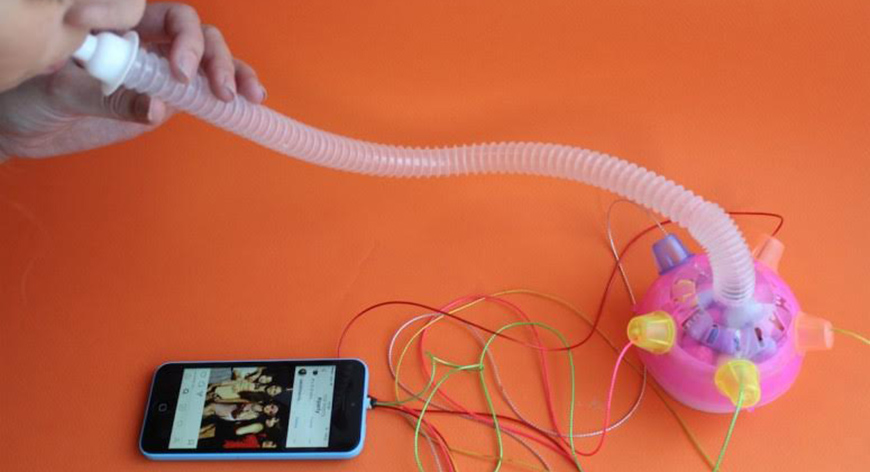 An object from the "Speculative Needs" exhibition at Beirut Design Week (Photo by MENA Design Research Center)
"We all have our own challenges and different approaches on how to resolve them," Soukeina Hachem, Houna's partnership officer, told Al-Monitor. "This is exactly what is inspiring for us. We need to move outside our town to see how things are done differently and to promote our own art."
For others, collaboration means breathing space. "Some fashion designers went to jail for showing women clothes," Shirin Motamed, founder and curator of the Persia Collective, told Al-Monitor. "Iranian designers just want to show their work without fear of going to prison. Beirut and Dubai have been very welcoming to us and allowed me to introduce the work of designers I represent, especially in jewelry, interior design and accessories, and that exposure led to my being contacted by Egyptians to exhibit there."
Tehran held its first fashion week in 2015. "It was a huge success, but it was shut down by the authorities in the following years," said Motamed, who called regional collaboration "crucial." She is preparing to try to bring international designers to Iran.
The designers' works at BDW feature mixtures of different influences. For example, Ziad Qweider uses traditional methods of embroidery to create bold modern designs. Nada Debs, a Lebanese designer born in Japan, displays furniture and home accessories that combine Middle Eastern motifs with traditions from East Asia. "Speculative Needs," an exhibition of the MENA Design Research Center, attempts to identify future needs driven by the evolution of technology and uses design as a medium to explore such topics as emerging digital anxieties, ethical machines, living with cyborgs, techno-spiritualism and digital shrines.
On the BDW 2017 subtopics of security and community, Toutikian said, "It is the exhibitors who have chosen those two themes, thinking they were both socially relevant and pressing in the Middle East." She further remarked, "Theirs is the voice of a young creative generation that is aware of social, political and cultural issues that need to be addressed."
The artists Roula Salamoun and Ieva Saudargaite made a striking statement on security and community with "NationMetrix," their sound installation also featuring recycled plastic cables. As visitors walk through the installation, recorded voices announce which countries require Lebanese passport holders to have a visa, ask curt questions of them — for example, "Have you ever been convicted?" and "Are you religious?" — and recite conditions for obtaining nationality.
"It's a spatial experience, where people walk through cables of different density and color," Saudargaite explained to Al-Monitor. "There are four different spaces representing a journey from a place of obstacles to a place sheltering us, as Lebanese passport holders experience every time they want to travel."
The two women wanted to make people think about what it is to travel as a Lebanese person. "Only 37 countries accept us without any problem," Salamoun explained to Al-Monitor. "'NationMetrix' is a reinterpretation of our experience of travel through a spatial and sensory experience. This difficulty of obtaining a visa to travel abroad makes you feel contained and unable to move freely in the world. I know it's political, but it feels very personal."