In recent decades, the budgeting process in Iran has been such that the budget's capacity to function as the country's most important fiscal policy document has continuously declined. In other words, budgeting has been utilized by successive administrations solely as an instrument to balance revenues and expenditures rather than setting long-term economic policies.
The allocation of the lion's share of budgets to current expenditures rather than infrastructure spending greatly explains why the Iranian economy is not moving toward its sought destination. "The infrastructure programs are means of pursuing the development objectives. This is while [such programs] are always marginalized and governments only take heed of current expenditures," leading economic daily Donya-e Eqtesad quoted Gholam Hossein Shafei, the head of Iran's Chamber of Commerce, Industries, Mines and Agriculture, as saying Jan. 18.
In the general budget law passed by parliament for the current Iranian year (beginning March 21, 2017), infrastructure expenditures stand at approximately 727 trillion rials ($22.38 billion) — or less than one-third of what is proposed for current expenditures. In this vein, it should be noted that less than 70% of the budgets earmarked for infrastructure spending were actually funded in the past 19 years, according to a study conducted by the parliamentary Research Center. Under these circumstances, hopes for a brighter economic vision for the country are reduced to a mirage.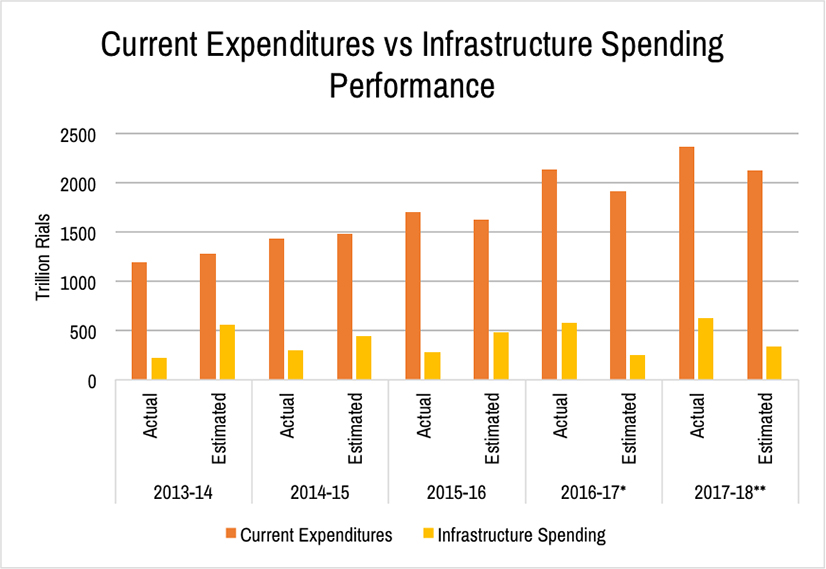 Source: Parliament's Research Center
* Based on the 2016-17 budget law
** Based on the 2017-18 budget law
Another element contributing to the underperformance of the Iranian economy is the method with which the national budget is compiled. Performance-based budgeting writing is a factor that could help achieve quantitative targets and figures specified in the budget. This methodology was first adopted and practiced under former Reformist President Mohammad Khatami (1997-2005), but was subsequently completely rejected by the succeeding administration of conservative President Mahmoud Ahmadinejad (2005-2013).
"The budgeting system in Iran is negotiation-oriented," former member of parliament and Tehran University economics professor Hassan Rahimi told the weekly Tejarat-e Farda on Feb. 4. Rahimi said, "Within the government [executive branch], agencies are seeking to attain further credits, and in parliament as well lawmakers pursue more budgets for projects in their respective provinces without [their requests] being based on scientific principles."
Rahimi argues that a quarter of expenditures could be slashed in the course of four years, provided that "zero-based budgeting" (a method of budgeting in which all expenses must be justified for each new financial year) be conducted, and that figures for "miscellaneous items" — included in the budget for special interest groups — and "exclusive incomes" of government subsidiaries be placed under close scrutiny.
Another point worth mentioning is the devouring of a major portion of the budget by expenditure credits, or the so-called current budget. Per the budget bill for the current Iranian year, at least 40.2% of such credits in rial terms is allocated to compensation of employees. This would amount to 950 trillion rials ($29.3 billion). That being said, the ultimate figure remains unclear. Indeed, though the government argues that the budget's first annex is dedicated to fully covering compensation of employees, such allocations are also seen elsewhere in the budget, such as under other expenses. 
There is a plethora of other factors undermining the effectiveness and comprehensiveness of budget plans. For instance, there is a refusal to include a significant portion of compensation of employees figures in budget laws and in budget tables. Moreover, a major portion of budget data is absent in current budget documents, such as performance figures from preceding years. There is also the issue of the exclusion of information pertaining to free trade zones. Ultimately, the outcome of the latter is that economic growth is harmed as incomplete data complicates the analysis necessary to be able to optimize policy.
Furthermore, successive administrations under the Islamic Republic have faced the challenge of having to stabilize an unstable economy. The administration of President Hassan Rouhani has been projected to face a 230 trillion rial ($7 billion) budget deficit in the current Iranian year, according to findings by the parliamentary Research Center published Feb. 27. This was prior to alterations to the budget law made by lawmakers in recent weeks.
If such a deficit arises, the Rouhani administration will need to turn to Iranian capital markets to finance its expenditures. In this scenario, the same Feb. 27 study concluded, capital that would otherwise go to the stock exchange may end up invested in government debt securities. The Tehran Stock Exchange is already suffering from a low trade volume and poor liquidity, driven greatly by excessive debt sales by the Rouhani administration to fund its current expenditures.
Meanwhile, the third annex of the budget bill projects that a whopping 22% of the banking system's lending facilities are earmarked for state-run enterprises, whereas such a considerable figure could have been granted to the struggling private sector. This makes it clear that the prospects for solid non-oil economic growth are weak for the current Iranian year. With the Rouhani administration already being forced to turn to the still-nascent debt market to fund its current expenditures instead of funding long-term projects, the outlook for a revival of the business environment after years of stagflation appears ever bleak.
Source: Parliament's Research Center
* Based on the 2016-17 budget law
** Based on the 2017-18 budget law
Taking into account inflation of some 9%, the budget law for the current Iranian year envisages roughly zero spending growth in real terms. In addition, as the International Monetary Fund has projected growth to drop to 3.3% this Iranian year as oil production levels out, it appears that the budget law will fail to bring about the desired and much-anticipated changes to the Iranian economy. As a result, the government has no option but to focus more on improving productivity and decreasing unnecessary costs, in addition to providing the grounds for more foreign direct investment.