Laila Sarkis, aka El Djette, stands on an elevated platform above the packed crowd of Club 27 in Beirut on a Friday night, with turntables at her fingertips and a computer on her right. She moves to the beat of easy listening, remixed from one side to the other, clearly in her element — as she should be, with 15 years of experience spinning tunes in Beirut's bars and clubs.
Sarkis has female company in the nightlife scene now, but that was not always the case. When she started in 2000, she found herself an anomaly in what was traditionally a man's world in Lebanon. Since then, the Lebanese DJ, who grew up in Nigeria and only planned to be here for two years and has stayed for 15, has helped push the music scene forward, perpetuating the recent rapid growth of women behind the decks.
Laila Sarkis, aka El Djette, plays on a Friday night at Club 27 in downtown Beirut.
"It was not easy. No DJ ever wanted to teach me. I used to really beg them. So I decided to make it a self-made thing. I bought my turntables, CD players and a mixer and I kept on training. Back then, it wasn't easy to access the Internet or go to YouTube, so I would go to certain clubs and stand behind the DJs, who were my friends by then, and just watch them," Sarkis told Al-Monitor.
Mohamad Ghebris, founder and manager of music business Per-Vurt, a record label, music store, DJ school and agency, said that he has seen this growth in his classes. "It was booming after 2009 and 2010. This past year, more than 50% of our students were females. This was the first year this happened," he told Al-Monitor.
He explains that part of this trend is that Beirut thrives on music and nightlife. Opportunities are available more and more because female DJs bring something different to the turntables.
"We have so many DJs, so people started to search for something special. One of those things is being female," Ghebris said.
Yasmine Sarout, 29, has been DJing for about four years. When she began, she said there were not many other female DJs, but since then, there are more than she can keep track of, if you include the women who do it less frequently or just play in their homes.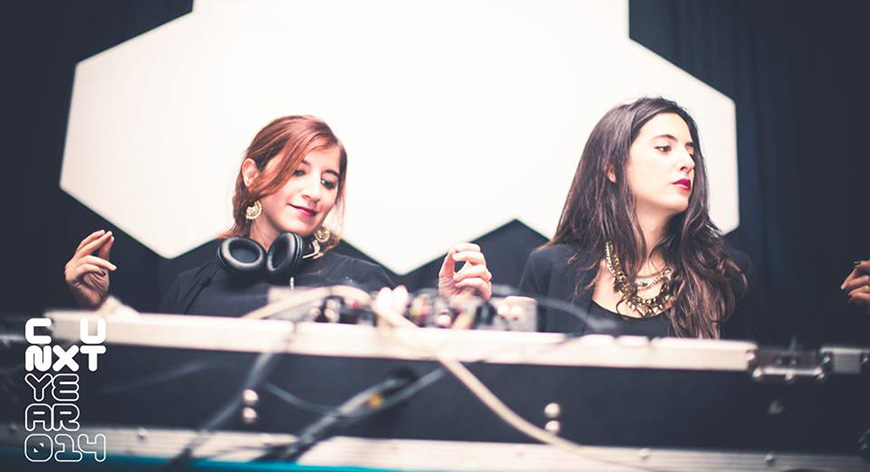 Yasmine Sarout (L) has been DJing for four years and plays different gigs, from private parties and weddings to big parties such as C U NXT SAT.
"When I started in 2012, I had someone from Timeout Beirut interview me and she asked me how many female DJs can you name. I could name only two or three. Now I wouldn't know where to stop. There are so many," she said.
This growth was not without its obstacles. Even in Lebanon, a country known in the Middle East for its nightlife, particularly in Beirut, societal acceptance of female DJs came slowly. But taboos still exist, Ghebris said, something he hears often from his students.
"The social aspect is really something. I have my students who say they are learning just for them, because their parents would never allow for them to play until seven in the morning. People will start talking. You have this taboo. It is a cultural thing," he said.
Tala Mortada, 26, echoed this. Though she said it is not something she personally feels when she is working, it is due to her careful choices of where she plays her gigs and the social circles she moves in.
"What is funny is that I have been asked if my parents were OK with me doing this as a hobby, or if they even knew about it, which makes you think that maybe some Lebanese parents still think working at night or in the events industry is something disgraceful or scary, especially for girls. I have even been told to get a real job by people I barely know, which is also funny because I do three other jobs aside from DJing," Mortada told Al-Monitor.
Renata Sabella, who initially started as a student at Per-Vurt, now lives in London and has been DJing there for three years. Though the female DJ taboo does not exist in places such as London and Berlin, even there, many still do not expect her to be as good as a man, or to play as hard.
"They say I'm aggressive behind the decks. What, you want me to be girly behind the decks? It does not matter [your gender], it is about how you feel," she told Al-Monitor.
Josiane Bitar, aka DJ Joey, is more negative about the recent trend. Though she believes that it is important to educate women to be excellent DJs, she says there has been a deluge of less talented men and women bringing down the quality level in Lebanon's nightlife in the past couple of years. Bitar started a DJ school for females only in 2012; Women on Dex aimed at improving the talent of women who finally have growing opportunities in the nightlife scene.
"I wanted to teach only women because I wanted to create a new concept for Beirut's clubbing scene, whose clubbers are constantly hungry for something new and different. The idea was to get an original group of sexy twisted young women who will each have a different kind of music to play on the decks," she said.
Tatiana Majaroff, also known as Tatty Long Legs, is a female DJ and founder of 6th Sense Productions. She has found it is not only difficult in Lebanon for a female DJ, but also for organizing nightlife events. "It is a man-made kind of industry and not only do they not like additional competition and on top of that, being a girl? They get more frustrated that I am a female trying to make it in this industry," she told Al-Monitor.
However, despite some doubts, many are confident that opportunities for female DJs in Lebanon will grow, as nightlife continues to open up, listeners continue to evolve and the people in the scene keep pushing to carve out a unique sound for Beirut. Caline Chidiac, 40, has been working as a DJ for about seven years, and like Sarkis, has witnessed the scene opening up not only for female DJs but for females in general.
"Nightlife is not only a place for men now, it has been democratized. When you see men putting aside their macho thing and really listening to a female DJ and getting their kicks, it is really cool. Especially in Lebanon, sometimes the men that are listening are really macho, so when a woman gives them this and they feel it, it is like we're gaining a point," Chidiac said.
Sarkis emphasized that just as Lebanon's nightlife will never burn out, female DJs are not a trend that will pass, but are now a fixture and will always be part of the scene.
"[Female DJs], just watch them in the club. You could come back and watch a man the next night. You would feel the difference — there is this energy, this groove. You can feel it," she said. "There is an energy that a woman can give that I don't think a man can give. This is what is really needed."
Photos by Melissa Tabeek