GABES, Tunisia — Wrapped in sheets on his bed, Atef Talmoudi, 46, is bathed by fluorescent light and surrounded by framed placards engraved with the word "Allah." Nearly paralyzed, unable to speak and his hands balled into gentle fists, Talmoudi's dark eyes stare at the wall beside him. His wife and teenage daughter sit on the edge of the bed, faces blank, as they speak about his condition.
Talmoudi had worked much of his adult life as a fisherman in the Gulf of Gabes, an area of the Mediterranean once known for its rich marine life. According to his friends and neighbors, after years of working around the port, also the site of a state-run phosphate refinery, Talmoudi's health began to decline.
"After he got married, he deteriorated little by little. First he was exhausted. Then he began to tremble. Now, he can no longer speak," said Mongi Chairat, one of Talmoudi's neighbors who works in the phosphate refinery, sitting at his bedside.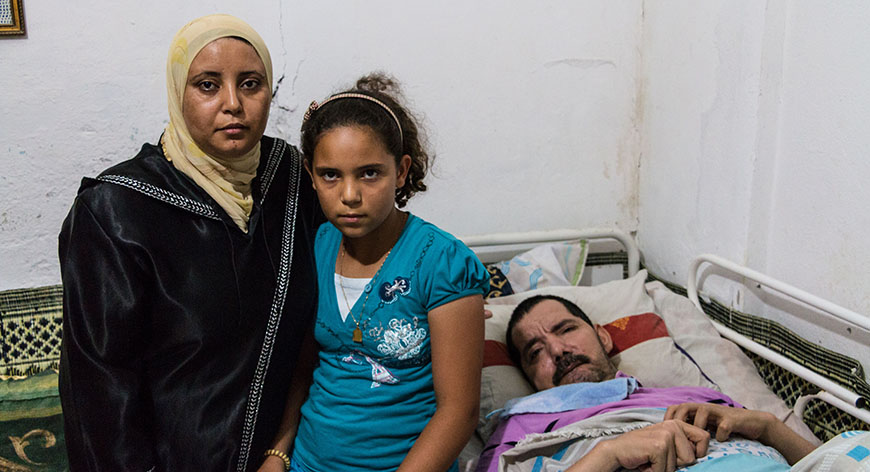 Atef Talmoudi, a victim of extreme phosphate pollution in Gabes, Tunisia, lies in bed surrounded by his wife and teenage daughter, Aug. 31, 2014.
Talmoudi's wife and daughter, along with Chairat, blame his condition on years of exposure to radioactive phosphate waste that was dumped directly into the sea in dark, sludgy streams. Phosphate, an essential component of agricultural fertilizers, is Tunisia's main export and plays a principal role in the national economy.
Najib Chairat (photograph & background), is now severely disabled and unable to work after being exposed to pollution in Gabes, Tunisia, April 15, 2014.
Last year, the largest market for Tunisia's phosphate industry, the European Union, added phosphate rock to its Critical Raw Materials List. According to a 2012 report by the Food and Agriculture Organization, a 2.5% increase in European phosphate consumption is forecast between the report's publication and 2016. Should production continue to rise, the pollution from it might become even more severe.
Gabes is a city of some 50,000 people in a governorate of more than 370,000. Since 1977, when the refinery began processing phosphate rock shipped from the interior, Gabes' dark green palm oases, wedged between desert and sea, have dried up as groundwater is diverted to the refinery. Many inhabitants have fallen ill.
In 2012, the Organization for the Protection of the Oasis of Chatt Salem, a local nongovernmental organization, conducted a health study of 100 families in the badly hit Chatt Salem neighborhood, which abuts the refinery. It found that 11.45% of families there have members suffering from some form of lung cancer, while 12.32% suffer from kidney disease.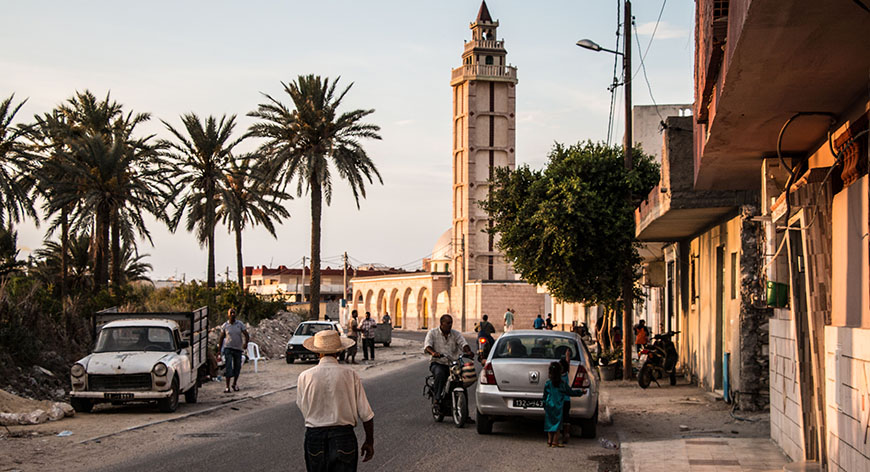 Chatt Salem is directly adjacent to a large phosphate refinery and many residents of the small neighborhood suffer severe health problems from pollution, Aug. 31, 2014.
The environmental degradation in Gabes has drawn attention from international organizations seeking to help since the ouster of President Zine El Abidine Ben Ali in 2011. Stefano Corrado, an environmental specialist with the EU delegation in Tunis, said that the Tunisian government is financially strapped. As a result, the Groupe Chimique Tunisien (GCT), the state-run company that administers the refinery, cannot pay for waste management without cutting into the bottom line.
"These are huge investments. Because of the lack of resources of the state, which is the biggest polluter, we help them financially," he said. Corrado claimed that a project to divert the tons of mildly radioactive phosphogypsum, acidic phosphate rock waste, inland has the green light from outside funders, but the project has not moved forward due to local suspicions about the government after decades of environmental neglect.
"[The government is] ready to do it," he said. "But they have to look for social acceptance, and they don't have the tools to get it. They are afraid, because the protests can be quite strong."
Eric Goldstein, deputy director of the Middle East and North Africa division of Human Rights Watch, who has researched the issue of pollution in Gabes extensively, contends that dumping inland would save the Gulf of Gabes, but it would also raise the possibility of harming other Tunisians.
According to Goldstein, "The air ejections [from the refinery] have negative respiratory effects, a result of the cadmium radioactivity." Sulfuric acid, a primary element in the phosphate refining process, is emitted from the refinery's smokestacks in clouds of rotten-smelling yellow gas that spread over Gabes. "It's an irritant, and more vulnerable populations are at risk," said Goldstein. He added, "My impression is that the gases are noncarcinogenic."
Being such a profitable industry in a country whose government is crippled by a dearth of revenue makes the push for greater production tempting. An employee in GCT's general secretariat, who requested anonymity, said, "Of course [environmental damage] will happen. As long as Third World countries have resources like phosphate, the first world will take it." Asked whether the GCT would increase phosphate output, despite the side effects, if international demand rises, he responded, "Of course we will. We must."
Moez Jemai, a journalist in Gabes who has covered pollution extensively, emphasized that the 2011 revolution broke the seal on dissent, allowing for some change. "Throughout 2011, pollution levels in Gabes were in decline because the refinery didn't produce a thing. The unemployed in Gabes held sit-ins demanding greater employment [from the GCT]."
The GCT refinery had become the economic heartbeat in Gabes, leading to demands for jobs, which clashed with calls to dismantle the refinery and bring a halt to the pollution. Although employment rose somewhat with the resumption of production at the end of 2011, locals say it was insufficient. The region of Gabes counts more than 20,000 unemployed, with nearly 9,000 of them holding university degrees. Firas Nasfi, a local blogger covering social issues, said that the refinery has hired 5-10% of applicants, and most of those are from the district of Hamma, 40 kilometers (25 miles) from Gabes.
Since 2011, grassroots organizations, such as S.O.S Environnement Gabes and For You Gabes, have aggressively protested the pollution and demanded that the government take greater action to curb environmental degradation in Gabes.
A truck pulls away from phosphate refinery in Gabes, Tunisia, Aug. 31, 2014.
Some in Gabes are optimistic about Tunisia's environmental future. According to Fouad Kraiem of the government-linked Regional Cell for Environmental Monitoring in Gabes, the parties involved in running the refinery complex and the Tunisia's National Office of Sanitation have signed an agreement to recycle the water used to process phosphate rock instead of dumping it into the sea.
Noting that some 8,000 workers are employed at the complex, Rahma Ben Youssef of the same organization said the workers "are not against more [phosphate] production, but they want a studied location for new refineries, air filters and water filters."
For Talmoudi, his family and neighbors, such efforts are too little, too late. His neighbor Chairat said, "After [Atef] fell ill, officials came to show sympathy. The head of the local hospital and the mayor came to see him. They said, 'I'm sorry,' but they did nothing."
All Photos by Nicholas Linn