On a cold evening in Istanbul, one may now encounter the unexpected when entering a nightclub: male belly dancers (in Turkish referred to as zennes, rakkas or koceks), who get the most somber crowd dancing until the early morning hours. The politics of the neo-Ottoman administration has had surprising effects in the last decade, one of which is the gradual yet steady increase in the popularity and availability of zennes across Turkey.
Tarik, in his mid-20s, told Al-Monitor what it means to be a male belly dancer in Turkey. After reassuring him that his real name not be revealed and photos not be published, he said, "My family does not know I dance for a living. In their worldview, zennes are male sex workers. I'm gay but I'm not sex worker. I make a decent living through my art." Indeed, it is a demanding job to perform on stage five times a week, in addition to performing at private parties.
Tarik explained that zennes are invited to dance at private gatherings — birthday parties, weddings, circumcision ceremonies, traditional henna nights (bridal showers) and even at get-togethers on the occasion of divorce. There are those who celebrate their divorce with a bang, according to Tarik. He added, "I have performed in several homes with only females at bridal showers. Even conservative families who may not allow go-go dancers or male strippers are comfortable with a zenne when grandma can also dance along. One young female told me, 'I feel like I'm in the Ottoman palace when you dance.' Belly dancing is our tradition, even the most prudish and stuck-up customers loosen up after 10 minutes with the music."
Diva at a performance
Although it is a tradition that dates back to the early days of the Ottoman Empire, both female and male dancers have faced bans and were forced to perform behind closed doors. Tarik's family is from Diyarbakir, though he was raised in Kastamonu, a city famous for its centuries-old zenne tradition. Videos of male dancers at weddings in Eregli in the Kastamonu region of the Black Sea are widely available on YouTube and other social media sites.
Tarik has been dancing since he was 15 in big cities and towns of the Mediterranean, such as Kas, Fethiye and Bodrum. He said, "Foreign tourists enjoy the nights the zennes perform, but I will be honest with you, it is the Turkish and Middle Eastern customers who sustain our art. They are the majority of our customers." Tarik is nothing like the zennes who perform in places such as Eregli. He is well groomed, with an earring in his left ear. He strolls the streets of Istanbul as confident as a male model. "I practice at least two hours every day in my home studio. I also have to take care of my body. I do resistance training for muscle toning and yoga for flexibility," he said.
Traditionally, zennes used to be young. In the days of the Ottoman Empire, boys at the age of 7 (mostly from non-Muslim families) started training and they performed until they could no longer hide their beards. That is no longer an issue, Tarik said. "I can dance with a beard, as long as it is stylish. However, body hair is still a no-no."
Another male dancer, Ali Murat Sahiner, in his mid-30s, is open about his identity. Sahiner, better known as Diva, has been dancing since 2000, and his family knows about his profession. He has danced at the most prestigious nightclubs in Turkey, such as Al Jamal, Cahide and Zarifi.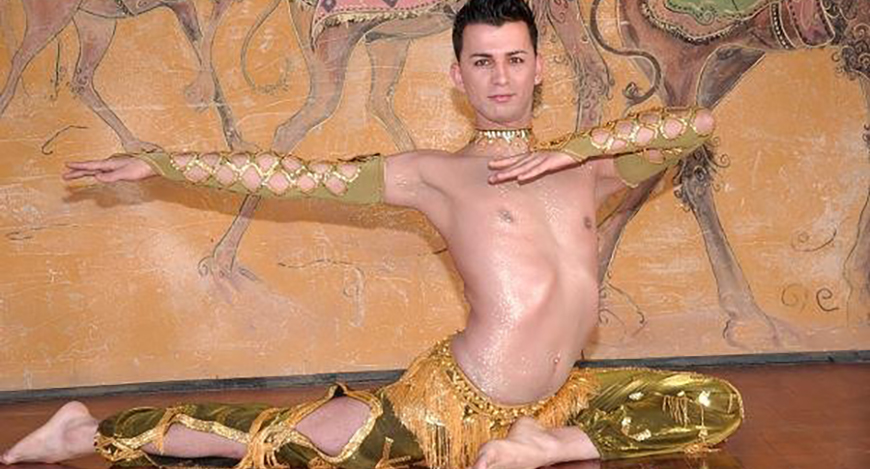 Diva shows a dancing pose.
Diva represents a growing trend of cosmopolitan male dancers in Turkey. He shared his story with Al-Monitor: "I quit my college education because I wanted to dance. I was not formally trained in dance, but I always loved it. In the early 2000s, my friends who had a restaurant in Ankara asked if I could perform one night because there was a shortage of male dancers in those days. That is how I started. Then I went Bodrum [a popular resort town on the Mediterranean] during the summer, and I now live in Istanbul and earn my living exclusively by dancing."
Diva is passionate about his art, and he is known to have inspired many young dancers. He said, "Initially, it was a secret but once I appeared on television, we could no longer hide it. My family was concerned, but now they understand this is my profession." Diva, like many other dancers, has a website since he does not hide his identity or wear a veil during performances for fear of cameras.
"Just like in any profession there may be dancers who are also sex workers. I do not know any. For me it is a profession because I truly enjoy dancing. It is difficult at times because you have to entertain but it is also rewarding if the audience applauds you, enjoys the dance and joins in. That is a huge satisfaction. It is just like art. Yes, there may be erotic moments and messages. It could be viewed as sexual or sensual, but really, it is just one of the possible feelings that dance generates, the focal point is the artist. The performance brings out different emotions and reactions from different people," he said.
Yet, belly dancing reaches far beyond the borders of Turkey. Indeed, the most famous belly dancer in Germany is a Turkish male dancer, Mehmet Sasmaz, who is better known by his stage name Zadiel. Zadiel told Al-Monitor, "My family initially did not know. I took belly dancing classes on my own. Then once I went on stage, they found out." Zadiel, who lives in Germany, added, "I earn about 500 euros [$608] for 20 minutes on stage in Berlin. However, that is not all. I also travel to dance and teach." Both Zadiel and Ali Murat travel extensively as instructors. Zadiel was invited to take the stage at the renowned Sultans of Raqs show as well.
Zadiel said, "The Internet has helped [to promote] our profession. People who are curious get to watch it online and then they can contact our managers to book us for a party or attend one of our shows. It has made male dancers acceptable." Asked about prejudice from conservative sections of society, Zadiel said, "I respect everyone's opinion. There is a prejudice against all artists all around the world. As a male dancer, I believe I'm privileged because the supply of male dancers is low. It makes me all the more exotic and raises my marketability."
Times have changed in the "New Turkey." Male belly dancers now dance with more masculine moves than in the Ottoman Empire, when they were expected to be effeminate. Since the 1980s, female belly dancing has been a heated topic of discussion in New Year's Eve celebrations. For decades, the main question was which TV channel would broadcast the best belly dancing show on the last night of the year.
While secular Turks go all-out to ring in the New Year with a bang, conservatives have long been against the celebration of New Year's Eve. This year's popular hashtag is #Noelkutlamiyoruz (We are not celebrating Christmas). All male belly dancers interviewed by Al-Monitor said they have been booked for New Year's Eve shows for months now, while Tarik posed a challenging question: "When do you think Turkey will be ready to have a male belly dancer on TV to do the end of the year countdown?"