The line for the bathrooms at the Israeli beer fest "Beers 2014" is long — after all, the beer here flows freely and takes its toll. Those in line are a bit unsteady on their feet, but I make use of the time to find out which of the dozens of boutique breweries and premium imported beer stalls are particular favorites. One name keeps coming up in a quick survey: ISIS.
There is indeed an Israeli microbrewery with the same name as the Islamic State terror organization — formerly known as the Islamic State of Iraq and al-Sham, or ISIS — but it's not a public relations gimmick. Ten years ago, its owner Itsik Levy from Dekel, a cooperative farm bordering the Gaza Strip, decided to turn part of his farm into a brewery and named his beer after the Egyptian goddess Isis (who, according to ancient Egyptian mythology, discovered barley).
"I'm considering a massive lawsuit over the use of our name," he says laughing. I ask him about Operation Protective Edge. "It was hard during the war," he says, "but we came up with a sales offer: Buy 120 bottles, get each for 11 Israeli shekels ($3) — and delivery to one's doorstep. We ran an ad on Friday morning and by noon our email was flooded. By Tuesday, we had run out." And with good reason. ISIS beer is superb.
Lidor Gonen of Ramat Gan is an ISIS beer fan, but his girlfriend, Dana Levy, is not. But while Dana doesn't really like beer, there's an impressive female presence the crowd and behind the taps, which goes to show that beer has undergone a gender revolution and long ago stopped being a man's drink, despite the advertisements of some commercial beer producers.
Inbal Weisman of the Jezreel Valley in the lower Galilee region says with a smile. "I already had a beer at noon. I make sure to have one a day, it's very healthy."
Inbal and her friends drag me along to the stall of Avinoam Talman. Ten years ago, he started brewing at home as a hobby, and today he manufactures Talman's Old Ale. The beer is excellent, but Talman is still a small brewer and has produced only 2,000 liters (528 gallons) so far. "I only have one kind of beer; there's no point in taking on more than I can handle," he says.
His story reflects the evolution of the entire industry. The Israeli market for boutique beers has picked up recently. Beer fans, tired of the limited selection of Israeli beers, started brewing their own, got good at it and decided to start selling. Their success is evident at the festival, which hosts dozens of microbreweries of various sizes from all over the country.
They offer an endless array of beers, including one named The Dictator, another made of hummus and buckwheat (gluten-free and kosher for Passover) by the Meidan Brewery and a beer named Mosko brewed by Amir Lev, an ultra-Orthodox young man from the town of Beit Shemesh.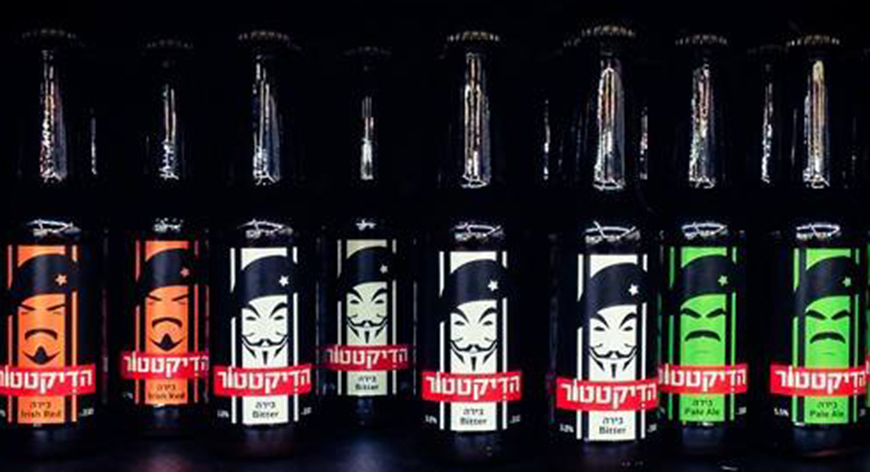 The Dictator beer is available in several styles (Photo by The Dictator Beer)
Mivshelet Hagalil (Galilee Brewery) from Kibbutz Moran has been brewing for three years and produces 1,000 liters (264 gallons) a week. One of its tasty beers is Hopla, an Indian pale ale (IPA). Five years ago, it was hard to find Israelis who had heard of this type of beer, bitter tasting but with a hint of citrus; today, almost every brewery makes it. They also offer pumpkin beer, actually brewed from pumpkins roasted in an oven to extract their sugars. The result is spicy and sweet.
"Israelis are not big beer drinkers," says Ofer Ronen of the Emek Ha'ela Brewery, which also offers a tasty IPA called Ugly Indian. "On average, Israelis consume 14 liters [3.7 gallons] a year. Germans drink 130 liters (34 gallons). This festival is a small step toward educating the Israeli palate. Not to drink more, but to become more discerning drinkers." The barman elaborates on Ronen's words. "Israelis like their beer very cold, which shrinks the taste buds," he says.
Daniel Shapiro of the Shapiro Brewery in the Jerusalem Hills talks of a revolution. "Once, you had to explain everything to people. Today, people know about ales, stouts and even ask me what kind of hops I use." Shapiro stepped up his production recently from 6,000 liters (1,585 gallons) a month to 10,000 (2,642 gallons). "The war was a difficult time. The business took a hit. People didn't go out as much. I received an emergency call-up notice and was recruited for reserve duty along the Gaza border. I didn't drink for a whole month. It was awful!"
Gadi Oren and Raviv Sagiv came to the fair from Na'aleh, a settlement in Samaria. Like many of the visitors, Sagiv brews beer for pleasure. Eran Tuval from the town of Rosh Ya'ayin is also an amateur brewer. "Israeli beer is well developed and is equal to international standards," he says.
The steep price of Israeli beer unites brewers and consumers. "You won't buy an Israeli beer for 14 or 16 shekels ($3.80 or $4.40) when an imported one costs nine shekels ($2.50)," says festivalgoer Niv. Vadim from the town of Holon agrees with him. "It's expensive here. In Prague, beer costs the equivalent of five shekels ($1.40) and here it costs 30 shekels ($8.30)."
The beer producers direct their criticism at Finance Minister Yair Lapid, who imposed a tax on alcohol in July 2013. Its effect is dramatic for microbreweries. "It put the entire business two years behind," says Ronen. "People tell me, 'Hike your prices,' but the Israelis refuse to pay so much. Beer is a popular drink that should be cheap."
"The tax hurts us and the consumers," Shapiro says, ''Drinking beer for 30 shekels makes no sense, especially for those who have traveled around the world and tasted a beer or two."
Proof of Lapid's "popularity" among producers can be found at The Dictator's stall. The label sports the faces of Saddam Hussein, Vladimir Lenin and Guy Fawkes. When I ask about the name, I'm told with a smile, "We launched the beer last year, about the time that Lapid came out with his alcohol tax."