Wearing baggy clothes and starter caps, teenage boys had come to Tehran's Friday Bazaar to hit on girls. Posing, they threw their hands in the air making gestures — gang signs. The odd concoction of a circle, two fingers and one finger on each hand was symbolic of the Iranian capital's area code: 021.
021 became the symbol and namesake of Iran's premier rap clan during the 1990s. Known as Rap-e Farsi, the Tehran movement was established by 021's lead rapper Soroush Lashkari, better known as Hichkas, or "obody." Today, he is referred to as the father of Iranian rap.
"Hip-hop began in America, but Iran has had one of the longest traditions of poetry of any in the world," said Iranian rapper Yas, in a 2008 interview. "Poetry is in our blood. If [Tupac] could sing about his life and pain and his culture, why couldn't I do the same thing in my own language, and that's where it all began."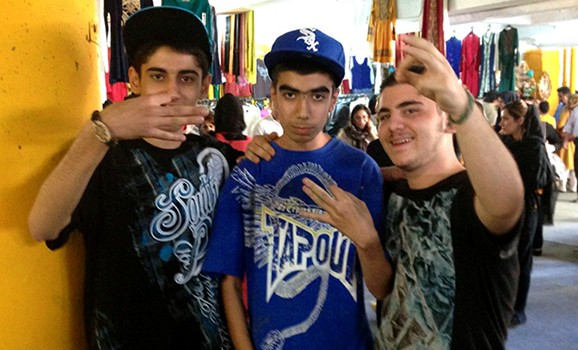 Three teenage boys throw the 021 sign, Tehran's Friday Bazaar. Photo by: Holly Dagres
This seems to be the trend among Iranian rappers. Seen as a music revolution to some, Iran's rappers are a part of the international trend of rap music that has taken the world by storm, including the Middle East and North Africa.
According to activist Lara Lee, "Hip-hop has since expanded beyond our borders to give voice to the muted masses of places like Gaza, Lebanon and Iraq — places suffering from racial inequality and foreign occupation, and the likewise negative fallout of ill-conceived US policies." In the case of Iran, rap's growth stems from societal pressure imposed by the Iranian government on its people and the consequences of US sanctions and foreign policy.
Iranian rap is not gender-biased. Salome MC is Iran's first female rapper, a low-key artist who started in 2002.
"I've heard from people 'I don't like female rappers,' or 'I don't like hearing people rap in Persian,' but a lot of those same people seem to respond well to Salome MC," says Iranian-American filmmaker Sahar Sarshar, who has just finished filming "Salome's Tale," a documentary on Salome's life and how she came into the limelight of Iranian rap.
We are aware of the Western concerns toward an independent Iran, who is not an ally,
without any foreign military bases, completely free, as it was Mosaddeq's dream ...
The shift of power in the region, 
the grudge of an occupier regime with nuclear bombs older than 5 decades,
there is no doubt, people want peace, governments look for power, sanctions, wars, bombs
(Salome MC Feat. Weapon-X, "No Revolution")
Sarshar continues, "Even though she is the first female rapper of Iran, she's also in my opinion more than her gender and nationality."
Getting the music across
Most Iranian rappers in the 1990s learned about the rap genre through illegally-distributed tapes and CDs, as well as through music channels on contraband satellite dishes. With the case of the new generation of rappers that form zirzamin or "underground" rap, it was introduced through fellow Iranian rappers and then later on through American rappers such as Eminem and Tupac Shakur, known for their lyrical mastery.
Nonetheless, Iranian music stores do not distribute rap albums for fears of reprisal by the government. But thanks to the Internet, Rap-e Farsi can be downloaded from websites like FarsiHipHop.com and shared by using torrents.
What drives these Iranian rappers is passion, as there is little money to be made in the rap game. Since their music is controversial, it is unlikely to be approved by the Ministry of Culture and Islamic Guidance. This is why these hip-hop artists must turn to word of mouth and sites like YouTube to get their music out there. In Iran, underground recording studios exist and concerts are held in homes, but they carry the risk of being shut down by authorities. In some instances, the rappers are able to make it big and end up on diaspora satellite channels and radio stations such as Radio Javan, but notoriety comes with a price.
This is Tehran,
A city where everything you see entices you,
Entices your soul till you realize
You're not human, just trash.
Everyone's a wolf wanna run like a sheep?
Let me open your eyes and ears.
(Hichkas 'God, Wake Up!')
Controversy
Although Iranian hip-hop has been around since the 1980s, it has become a popular medium since the post-election protests known as the Green Movement in 2009. At the time, many lyrics emphasized injustice committed by the Iranian government and the silencing of the jailed Green Movement leaders Mir Hossein Mousavi and Mehdi Karroubi.
With heavy lyrics, its no surprise the government has cracked down on some of these rappers. Iranian rapper Shahin Najafi — currently based in Germany — had a number of fatwas issued against him in 2012, the latest being by Ayatollah Naser Makareme Shirazi of Qom, for releasing "Naqi," a song with lyrics referring to Ali al-Hadi al-Naqi, the tenth revered Shiite imam.
Naqi, I swear on the cardboard Imam [Khomeini]
On the baby stuck in the womb, calling Ali [Khamenei]
On Sharia law course in the nose operation room
I swear on the Mullah, rosary and Chinese prayer rug.
(Shahin Najafi, "Naqi")
In a similar manner, self-proclaimed lesbian rapper and LGBQT rights activist Saye Sky has left Iran for fear of persecution. Her activities after her involvement in the 2009 protests caught the attention of authorities, when they tapped her phone. Sky fled to Turkey and has now sought asylum in Canada. A number of other rappers have followed her lead.
The hip-hop artists in exile tend to use boundless lyrics when rapping, while those inside the country tend to be subtle with commentary rather than engage in direct criticism of the Iranian government and its policies.
Despite the controversy, Rap-e Farsi is popular among Iranian youth as they identify with the lyrics, whether it is about house parties such as Zedbazi's "Mehmooni" (In The Club), or about the divide between the rich and poor such as Hichkas' "Khoda Pasho" (God, Wake Up!).
With 60% of Iran's 76 million people under age 35, it's no wonder that the "children of the revolution" turn to hip-hop, making it one of the most popular music genres around today.
Nonetheless, as with music across the globe, Rap-e Farsi has been going through its highs and lows, now with more auto-tune and R&B. Yet, as Sarshar notes, "I hope that Iranian hip-hop fans and fans around the world remember the roots of hip-hop and how it was created to inspire social change, to tell stories and also express [Iranian] poetry in a new way."
Entering a house party, walking down a street in Tehran with a pair of Faux Dr. Dre Beats or even overhearing the music in some passing cars, Iranian hip-hop can be heard, with lyrics that say things aloud for others who continue to sing along silently in their minds.