At the beginning of his term as a member of the Knesset (MK) for Labor, Moshe Mizrahi was sure that he could easily recruit most of his fellow MKs to the Parliamentary Lobby for the Struggle against Corruption in the Public Sector, which he chairs. After all, Israel is in the era of "new politics." When Mizrahi approached other legislators, he discovered that most fled from his invitation as if from a fire. It is not surprising behavior from MKs of the ultra-Orthodox Shas Party, whose chairman, Aryeh Deri, has been convicted of criminal activity and who Mizrahi asserts should not be allowed to serve as an elected official. It is also not surprising when it comes to members of the right-wing Yisrael Beiteinu, who are beholden to their party chairman, former Foreign Minister Avigdor Liberman, who was the target of investigation and wiretapping by the National Police Unit for International Investigations when Mizrahi was its head. But what about the Knesset members from Yair Lapid's Yesh Atid and from Naftali Bennett's HaBayit HaYehudi?  
After much pleading and great effort, Mizrahi succeeded in signing up 24 MPs — only one-fifth of representatives elected to the chamber. It seems that the 19th Knesset is in no rush to raise the flag of the fight against corruption.  
Mizrahi, 62, is a retired police commander. In the 1990s he led major investigations into prominent politicians and now regularly sees two of them — Deri and Liberman — at his new workplace, the Knesset. On the eve of the last election, Mizrahi joined the Labor Party, and since then he has been associated with Shelly Yachimovich, chair of the party, and supports her battle against MK Isaac Herzog for Labor's chairmanship.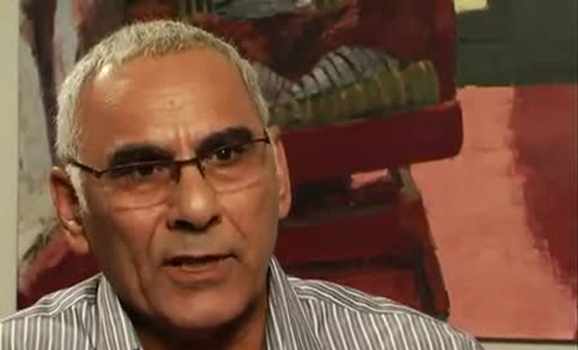 Labor Knesset member Moshe Mizrahi at the Knesset in February 2013. (photo courtesy of Mizrahi's spokesperson) 
The future  is still murky for two bills Mizrahi tried to advance in his first year as a Knesset member: One bill would require a mayor suspected of criminal wrongdoing to step aside until the conclusion of proceedings against him or her, and the other would prohibit ministers and MKs convicted of crimes from standing for re-election.
Last week, on Sept. 17, the Israeli High Court ordered the removal from office of Shimon Gapso, the mayor of Nazareth Illit, and Itzik Rochberger, the mayor of Ramat HaSharon, who are both accused of criminal acts.
Al-Monitor:  Can you explain why members of the Knesset are not enthusiastic about legislating a clear law on this [mayoral] issue, which would prevent the intervention of the High Court?
Mizrahi:  No, because it's supposed to be an interest that crosses party lines. In reality, there's such a large number of mayors who are involved in legal cases for years, yet stand for re-election, and it's ridiculous. It's very lucky that the High Court got involved. I'm always astonished at how they allow these people, who betrayed the public trust, to continue and serve as mayors. What's more, in some of the cases, they exploit their offices in order to prepare for the court case. It's unbelievable.
Here the High Court came in with a normative statement. But it's disgraceful in my view that the High Court had to intervene in such a matter. In normal countries, you don't even need a law like this. Someone who's criminally indicted just goes home. Here, the court in effect has to stand in for the absence of a law.
But it's not just the Knesset. I really don't understand why the attorney general and the prosecution fled from the scene. Why sit on the fence? I see this as indolence. What's happening in local government isn't new, and no coincidence. It's a phenomenon. Dozens of mayors are suspected of criminal misdeeds. In local government, there are tons of interests involved — bids, real estate — and zero supervision. A lot of investigations end up with nothing, but on the way the muck that's raked up is buried with the case and no one does anything about it. It's a weakness of the regulator. The Interior Ministry does not do its job as a monitor.
Al-Monitor:  Is it true that organized crime has penetrated local government?
Mizrahi:  It's not new. Former police commissioner Dudi Cohen bravely said so [in December 2010], but his statement was never followed up on. Check whether the minister of public security ever made a moral statement on the fight against corruption, and you won't find any. Check to see if the government ever sat for 10 minutes to debate the situation of corruption in local government, and you'll find that it's never happened.
So many investigations, so much rot, and no government can come out with a moral statement. I remember how [former] British Prime Minister Tony Blair dealt with the fight against corruption. He spoke out on this issue and created a special force to deal with the phenomenon, while we, instead of getting reinforcement from former Prime Minister Ariel Sharon, were accused by him of weeping and wailing.
Al-Monitor:  Are you aware that the chances your anti-corruption laws would pass are nil?
Mizrahi:  If they don't pass, it's because irrelevant considerations prevail. It's unconceivable that a minister who had been convicted could return and serve in the Knesset. Why do we need a law for that? I don't accept the argument according to which the public will decide in the election. I also expect that "Mrs. Clean," Justice Minister Tzipi Livni, who serves at the head of the Ministerial Committee on Legislation, would support these bills. Livni needs to take a central role in this struggle. The issue is that when you're a politician on this level, you need and depend on mayors to be re-elected.
Al-Monitor:  Now that you're on the other side, can you explain the authorities' weakness in facing down corruption?
Mizrahi:  The authorities really show a great weakness. You don't ever hear a moral statement against the phenomenon of corruption in local government. It could be that deterrence works the other way in this case. People in senior positions simply do not want to deal with it, because there's a heavy price. After all, they went after me with a vengeance.
Al-Monitor:  Who do you think most damaged the fight against corruption?
Mizrahi:  The high-water mark was the case of Aryeh Deri. The moment they let him excoriate the law enforcement system, the rules of the game changed. It was the first time they went after investigators personally and used political force to get involved in the investigation. Up until then, we weren't used to that, because the law enforcement system was respected. People paid a heavy price for many years for the Deri investigation. [Prosecutor] Yehoshua Reznik was supposed to be the state prosecutor. I was hurt by it, and they hung [police commander] Miri Golan out to dry for eight years. They wanted her out of commission, but it didn't work.
Al-Monitor:  Deri served a jail sentence and fulfilled his debt to society. Why are you still working against him?
Mizrahi:  There are no other countries where criminals serve in the parliament. Is this the message we want to send? It must be clear that anyone convicted of a disgraceful crime cannot be re-elected. I said it to Deri directly from the Knesset podium. I'm basically saying that the law enforcement system can never conquer the problem alone, and I'll go to the end with this principle. That's why I also refused to attend the launch of Rochberger's campaign, who's a member of the Labor Party, and I would expect that none of our Knesset members would have attended it, which unfortunately didn't happen. Yachimovich did the right thing by staying away.
Al-Monitor:  You're advancing two agendas: the fight against corruption and the movement toward a diplomatic agreement [with the Palestinians]. Are they connected?
Mizrahi:  Certainly, because of political considerations, they try to circumvent the High Court with all sorts of laws that are all based on a foundation of contempt for the rule of law. If that's how they relate to the court system, don't be surprised that that's the way they relate to the rule of law within the Green Line as well. The control of another people is a situation where you can never win, even if you're the greatest humanist.
Al-Monitor:  Does Prime Minister Benjamin Netanyahu deserve credit for restarting the diplomatic process?
Mizrahi:  When the process started again, I was optimistic. I thought maybe Bibi finally got it. What does he want, after all — to be remembered as a three-term maintenance worker? But I'm afraid that neither side has leaders brave enough for historic decisions."
Mazal Mualem is a contributing writer for Al-Monitor and formerly a chief political analyst for Maariv and Haaretz. She also previously worked for Bamachane, the Israeli army's weekly newspaper.