AL-HOL, northeast Syria — Misery hangs over al-Hol, the dystopian refugee camp in northeastern Syria where tens of thousands of wives and children of Islamic State fighters are interned. On a recent morning ragged boys waded through the mud in plastic slippers waving plastic rifles at newcomers. From behind a chain fence, their mothers were watchful through the slits in their niqabs. 
"Take your pick," said a Kurdish security guard who goes by the code name Eylul, in reference to potential interview subjects. "But no Europeans or Americans," she warned. Western governments, loath to repatriate thousands of their citizens, including countless orphans stuck in al-Hol, have likely asked the Kurdish-run autonomous administration here to not allow journalists to convey their plight because of the pressure it creates.
The day's menu — perversely, it really does feel like one is ordering at a restaurant — consists of a dizzying array of other nationalities. Russians, Moroccans, Turks or Trinidadians, who would we like to speak to? It can be arranged.
A young Russian woman with pale green eyes was presented to us at the gates of the notorious camp annex where the families of foreign fighters, accounting for roughly 15% of al-Hol's population, are held. They briefly opened to let through a woman pushing an African child in a wheelchair. Reporters are not allowed to enter because "it's too dangerous, they can attack you." 
The Russian's name is Aisha. The mother of two says she is from Surgut in Western Siberia. "I came with my husband in 2014. We did it for Allah. He is now with Allah." 
"We are Muslims. We don't regret coming here," she added, a hint of defiance creeping into her voice. 
Reem Soleiman, a Hindu convert from Mumbai, says she still cannot fathom how she ended up in al-Hol. A birdlike figure shrouded in black, Soleiman recounted how she met her husband, a Sunni Syrian, in Beirut where she was working at the Indian Embassy in the early 2000s. She converted from Hinduism to Islam and they moved to his native Deir Ez-Zor. 
When IS took over the city her husband was repeatedly beaten and jailed for smoking, she said. He begged her to go with him to Turkey with their six children. She refused. "I was too scared." He eventually fled, taking three of the children. She was left with the other three — two boys and a girl — moving with IS as the jihadis were driven out by US coalition airstrikes from one town to the next. "I need to get out of here fast. The other women here, they beat me. They say I am not Islamic enough. Please help me, I will die," Soleiman pleaded. Her story was impossible to confirm.
Conditions in this sprawling camp near the Iraqi border have gotten markedly worse since Al-Monitor's first visit 10 months ago. A bone-piercing cold has set in. Torrential rains have transformed the camp into a sea of brown sludge. Fierce winds have swept away more than a hundred tents. Black plastic bags caught on barbed wire penning the camp flap in the breeze, eerily evoking the jihadis' flag. 
A humanitarian crisis looms after the UN, yielding to Russian bullying, passed a resolution halving the number of crossing points for aid deliveries to Syria from four to two. Moscow's stance is in line with efforts to help reestablish Damascus' sovereignty over the whole of the war-battered country.
One of those axed was the al-Yarubiyah crossing from Iraq, a critical supply line through which the UN says 40% of all medical, surgical and health supplies reached the Kurdish-administered northeast, including al-Hol. 
"We continue to remain deeply concerned about the welfare of the tens of thousands of internally displaced people at the al-Hol camp, home to over 66,000 residents, 94% of whom are women and children," said David Swanson, the UN's regional spokesperson for the Syrian crisis, in emailed comments to Al-Monitor. An essential World Health Organization delivery of medical stocks for around 400,000 people had been scheduled to arrive via al-Yarubiyah this month. The UN body worries that it won't be able to make up for the closure with supplies from alternative hubs including Damascus, in part because of bureaucratic red tape.
Camp administrator Muhammad al-Bashir bemoans the lack of international support. "Foreign relief organizations are very slow," he told Al-Monitor. "It's been a year since the fall of [the Islamic State's last stronghold] Baghouz, and there are still 400 families without tents. The roads are filled with mud. There are no bathrooms. Only toilets. People have to bathe in their tents. Illness is spreading and children are dying just from the cold. I don't know why [the international community is] ignoring us." Since the start of the year, 20 children have burned to death after their tents caught fire from the gas canisters used for cooking. 
The Kurdish Red Crescent recently announced that 517 people, most of them children, perished in al-Hol last year, victims of malnourishment, war wounds and disease. Some 12 of them died due to camp violence. "Most are killed in beatings, by small knives or with hammers that were distributed to camp residents by the UNHCR to erect their tents," said Eylul, the security official. Girls can be murdered for refusing to cover their heads, boys for missing daily prayers. "Often we see children with burns; it's another form of punishment." An ad hoc Islamic police force of women and teenage boys known as Hisbah mete out such justice. 
Frustration and despair as much as the culture of violence ingrained by the Islamic State can drive such acts. Eylul was herself attacked twice by IS women. "One came at us with karate chops." An unknown number have escaped with the help of relatives outside. "They communicate by cell phones. It's near impossible to control this place — it's the size of a city. The strangest day is the one in which no problem occurs." 
Aisha, the Russian widow, said her biggest fear isn't her Kurdish captors. "Its the other crazy women here. I need to speak to a psychiatrist," she said through a Russian interpreter.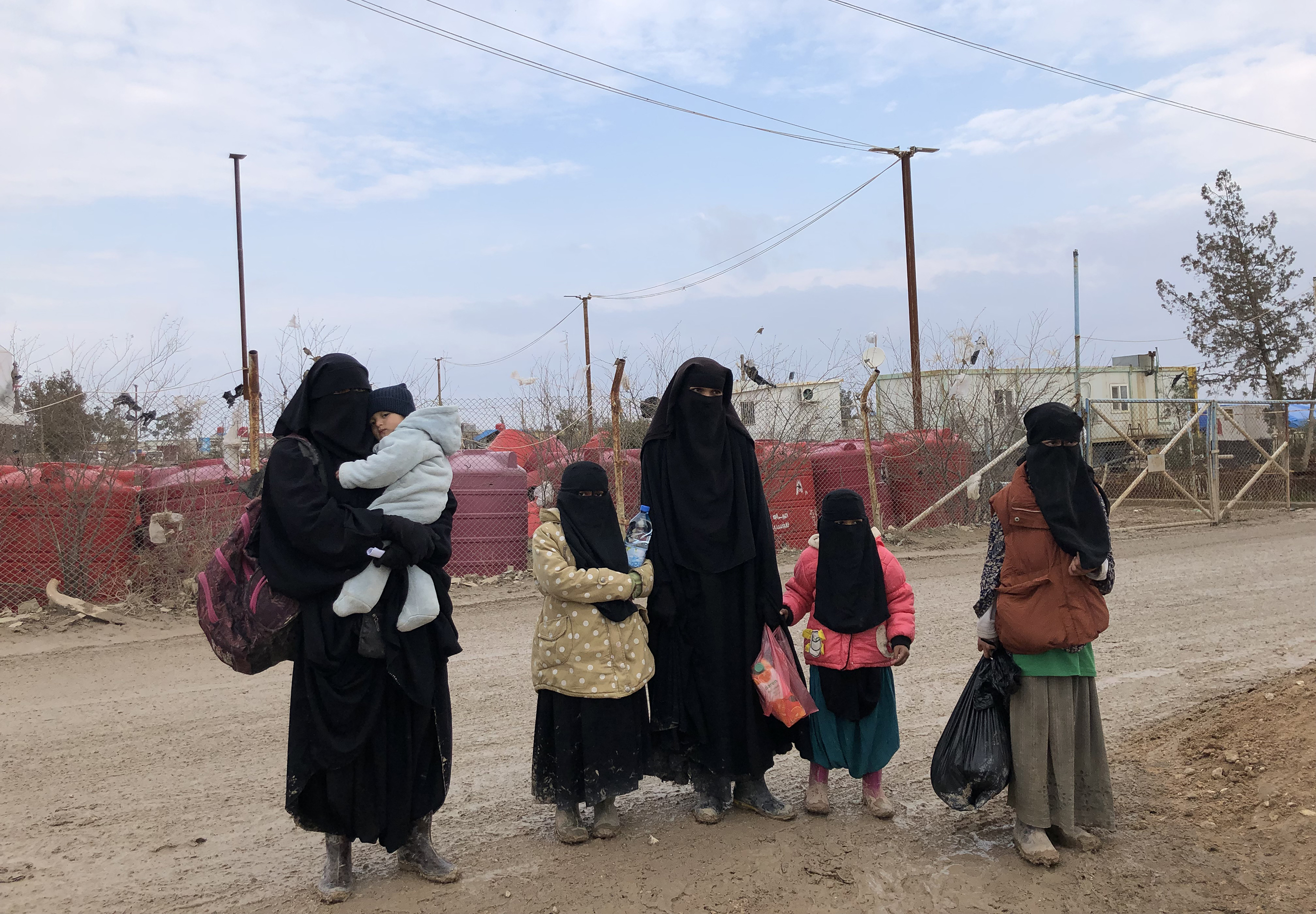 Women at Al-Hol camp in northeast Syria, Jan. 19, 2020 (photo by Amberin Zaman/Al-Monitor)
A looming challenge is how to stop the radicalization of the camp's male population. Once boys turn 16 they are sent away to different camps to prevent, among other things, sexual relations. Camp officials declined to say where the boys are sent, citing "security reasons." But some older boys disguised as women slip through the cracks. "We caught boys wearing burqas and niqabs. Marriages have taken place," Eylul noted.
"Al-Hol operates like IS headquarters," Mazlum Kobane, the commander of the Syrian Democratic Forces, the US-backed and Kurdish-led militia that waged the ground campaign against IS, told Al-Monitor in a recent interview. He aired bitterness at foreign governments' refusal to politically engage with the autonomous administration to deal with their nationals in SDF custody, choosing instead to repatriate some on an ad hoc basis "behind closed doors."
One reason is that they don't want to antagonize Turkey. Ankara insists that the SDF and its political arm pose a threat to its national security. In October, the Turkish army and its Sunni rebel allies invaded a chunk of northeastern Syria, dealing a further blow to aid efforts.
Eylul said with hospitals filled with wounded SDF fighters, serious cases at al-Hol were unable to receive treatment until a few weeks ago. 
Thanks in part to the steady flow of media coverage from northeast Syria, some Western governments have been shamed into stepping up. At least 17 countries, including Finland, Belgium and Kosovo, have already repatriated more than 650 children. But "the actions of these countries remain the exception, rather than the norm," UNICEF said in a statement. 
Bashir, the camp administrator, said, "Russian officials came and did DNA tests on 36 Russian orphans, but they haven't taken any back." 
Typically, though, governments want to take back children but not their parents because of the security risk they pose. The autonomous administration is pushing back and in a recent case involving Britons said it would only let the children go if their mother was allowed to travel back with them.
This month camp authorities transferred 21 foreign orphans to the smaller and better equipped Roj camp. Eylul said a seven-year-old orphan was recently found wandering in the market on his own. "We asked him: who are you, where are you from?" DNA testing proved that the child was American and he was repatriated to the United States. His identity, as that of other orphans, cannot be revealed for their protection.
Aisha said she has no desire to go back to Russia with her children anytime soon. "Even though we are surrounded by armed people here, I can practice my religion freely and wear my niqab. I have a small shop where I sell vegetables, which I buy from the camp bazaar. There is solidarity among some of us women. Others fight." 
Aisha drew a frail woman standing alongside her to her bosom, a fellow Russian from Daghestan called Summaya. Summaya is 27, but the expression in her eyes is that of an old woman. "She lost her husband and 11-month-old baby in a US airstrike," Aisha said. Summaya's remaining child, a five-year-old with a shock of blond hair, was wounded by shrapnel. He bears the scars on his face. Summaya finally breaks her silence. "I feel very bad," she said, and began to weep.